These Markets Offer Dream Homes in Diverse Styles, Settings
Friday, March 6, 2015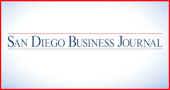 The top 10 residential real estate markets in San Diego County, as ranked by median price for 2014, range from Point Loma in the south to Cardiff in the north. As a group, 1,965 homes were sold during 2014 compared with 2,186 in 2013 — a 10 percent decline.
The two ZIP codes in Rancho Santa Fe, 92067 and 92091, were the top two ranking areas in the county for median price. The 92067 ZIP code is the master planned community known as the "covenant," which was formed several decades ago to protect the area from runaway development and to preserve the look and feel of the community. Some of the county's most spectacular estates are within the boundaries of the covenant. In 2014, 179 single-family, detached homes were sold for a median price of nearly $2.5 million. On average, it took 102 days to sell a home in this area, one of the highest among all other ZIP codes in the county.
One distinctive property fits the definition of "estate" perfectly. It is the highest-priced listing in the area at 16337 Los Arboles. Originally listed at $40 million, it is now offered for $24.5 million by Deborah Greenspan and Eric Iantorno of Pacific Sotheby's International Realty. Known as "Rancho Los Arboles," it is a Monterey Spanish-style home built in 1992 on 9-acres. The property includes a 13,000-square-foot main residence, three detached guesthouses, two mosaic glass-tiled pools, a dining pavilion with seating for 30, regulation tennis court, large gym, equestrian facilities for nine horses and an 11-car garage. The property borders 36 miles of dedicated trails for riding and recreation.
An example of a recent sale in the 92067 ZIP code is at 15922 Las Planideras, Rancho Santa Fe. The listing agent was K. Ann Brizolis, also with Pacific Sotheby's. The home sold for $6 million in October of last year. It has six bedrooms, nine baths and is 12,585 square feet. The buyer's agent was Eilis McKay of Barry Estates Inc. The home was built in 2007 and is on 2 acres.
The 92091 ZIP code is still considered Rancho Santa Fe, but is outside the strict rules and geographic area that is within the covenant. The 92091 area had 38 sales for a median price of just under $1.9 million. The average days on market were 86, or 18 percent less than the covenant sales. Among the communities in this ZIP code is The Bridges at Rancho Santa Fe, a 540-acre exclusive enclave, and the Robert Trent Jones Jr.-designed golf course. Bob Jackson is the director of real estate for The Bridges at Rancho Santa Fe Sales Co. and has several active listings and recent sales.
La Jolla ranked next after the two ZIP codes of Rancho Santa Fe. The 92037 ZIP code generated 318 sales with a median price of $1.6 million. The days on market were 67, a 15 percent improvement compared with 2013. La Jolla's luxury real estate is quite diverse, from hilltop estates to lavish beach homes and virtually devoid of large tract developments.
Del Mar, a quaint village just north of Torrey Pines Beach, remained fairly steady in 2014 as compared with 2013 in the number of homes sold — 193 in 2014 versus 188 in 2013. The median price of $1.6 million was nearly 9 percent greater than 2013.
Coronado's median price of $1.5 million also remained constant when compared with 2013. However, the days on market of 68 in 2014 was a 17 percent improvement compared with 2013.
The luxury real estate market in San Diego is different from the market for single-family homes, with a median price of $500,000. Each multimillion- dollar home is unique and appeals to a broader market beyond the borders of the county. Many of the sales are cash and include buyers from all over the world.
Send luxury real estate items to sglidden@sdbj.com.