Kratos Receives Orders Worth $4.1 Million
Tuesday, March 10, 2015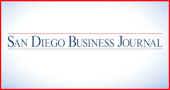 Kratos Defense & Security Solutions Inc. said on March 10 that it received orders worth $4.1 million for specialty electronics that will eventually go in U.S. Navy aircraft.
The integrated microwave assemblies will go on an unspecified Navy airborne electronic attack platform. The new contracts are from existing customers and continue existing work.
Kratos (Nasdaq: KTOS) is a holding company based in the University Towne Center area of San Diego. Its Electronic Products Division will manufacture the electronics at its CTI facility in Whippany, N.J.