Local Marine Corps Bases to Benefit From $25 Million Contract
Wednesday, March 11, 2015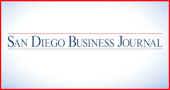 Lion-Vallen Industries of Dayton, Ohio received a one-year, $25 million contract to provide logistics services at U.S. Marine Corps bases.
Almost one-quarter of all work will be performed in San Diego County, with 13 percent at Camp Pendleton and 9 percent at Marine Corps Air Station Miramar.
Under the deal announced on March 10, Lion-Vallen will manage, support and operate the Marine Corps Consolidated Storage Program individual issue facility and unit issue facility warehouse network. The work entails managing individual combat clothing equipment; chemical, biological, radiological, and nuclear defense equipment; soft-walled shelters and camouflage netting; and a contractor-owned, contractor-operated asset visibility capability system.
Another 23 percent of the work will be performed in Barstow, with small amounts in Twentynine Palms and Yuma, Ariz.
The Marine Corps Logistics Command of Albany, Ga. awarded the contract.