CFO Kevin Royal Leaving Maxwell Technologies
Tuesday, March 17, 2015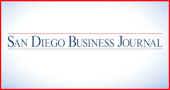 Maxwell Technologies Inc., a local energy storage and power delivery manufacturer, announced that Senior Vice President and Chief Financial Officer Kevin S. Royal will step down from his position.
Royal, who has been with the company for six years, will remain until a successor is named and a transition is made.
Maxwell announced that an executive search for a chief financial officer is now underway.