WEALTH: LINDEN AND NEAL BLUE QUIETLY STEER GA AND OTHER BUSINESS PURSUITS
Behind the Controls
Friday, March 20, 2015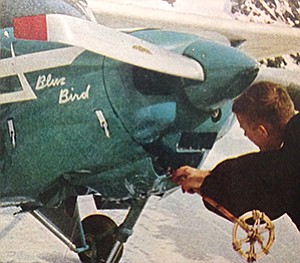 Their Predator aircraft flies high enough to avoid detection, but J. Neal Blue and Linden S. Blue seem to prefer the opposite approach. The low-key industrialists fly under the radar.
The businessmen behind La Jolla-based General Atomics (GA) and its affiliated companies are among San Diego's wealthiest individuals, but they don't put their wealth on display. The brothers, ages 80 and 79, are discreet.
Linden Blue, vice chairman of GA, is the more public of the brothers, showing up at monthly defense contractor breakfasts, or at evening events, and giving an occasional lecture. He declined to be interviewed for this article, saying he did not believe he qualified for a list of wealthiest San Diegans.
Neal Blue, chairman and CEO of GA, makes fewer appearances, prompting one acquaintance to describe him as a recluse. It's probably too strong a word, as he attends select functions. In the fall of 2013, Neal Blue accepted the International von Kármán Wings Award — recognizing great feats in aviation — during a ceremony at CalTech in Pasadena.
A request to speak to Neal Blue, made through General Atomics, was declined.
The San Diego Business Journal questioned more than a dozen people in San Diego's wealth- management, philanthropy, congressional and business communities. Only one offered an estimate of the Blues' wealth, putting Neal Blue's fortune at $1 billion and Linden S. Blue's at $750 million.
The brothers owe their wealth to a large portfolio of businesses that encompasses aviation, uranium mining, nuclear engineering, real estate and oil-and-gas exploration. Profit and loss at General Atomics and the brothers' other enterprise, Cordillera Corp., is hidden under the mantle of private ownership. A few securities filings offer a glimpse of dealings from decades ago.
General Atomics invests in internal research and development — but again, the amount is not public.
The Blue family does not put its name on educational, cultural or philanthropic institutions, though General Atomics has funded some educational programs and, according to one former elected official, gives a lot to the community without seeking credit.
General Atomics heavily supports the House and Senate campaigns of politicians from all over the United States — both Republicans and Democrats. It raised eyebrows in 2006 when three Washington investigative news organizations reported that GA paid for $660,000 worth of overseas travel to representatives, spouses and congressional staffers between 2000 and mid-2005. (The report authors — the Center for Public Integrity, American Public Media and Northwestern University's Medill News Service — made the findings as part of a much wider investigation of private entities funding congressional travel. The General Atomics report is available at
http://bit.ly/1ENJTKw.)
Splitting Atoms From Chevron
General Atomics deals in nuclear reactors and other exotic technology. In addition to fine-tuning conventional reactor technology, the business has been working for decades to create efficient nuclear fusion. Its broad technology portfolio also includes an electromagnetic catapult as well as arresting gear to launch aircraft from U.S. Navy carriers and to stop the planes when they land.
General Atomics Aeronautical Systems Inc. — technically a GA affiliate and now based in Poway — put the Predator family of unmanned spy and strike aircraft into the hands of the U.S. armed services, the CIA, and certain foreign governments. The systems let pilots fly the aircraft, by satellite, from the other side of the world. GA also builds sensors for such aircraft.
Together, the businesses employed 6,700 people in San Diego in 2014, up from 6,300 the previous year, according to the San Diego Business Journal's 2015 Book of Lists.
The Blues bought General Atomics in 1986. Defense contractor General Dynamics founded GA in 1955 and ownership later passed to Gulf Oil Corp. Chevron bought Gulf in 1984 and — apparently seeing a need to focus on the core oil business — sold GA to the brothers in 1986. Some accounts say the Blues paid $50 million, others $60 million.
In 2008, Fortune Magazine estimated that GA's assets were worth billions, a fact that could not be verified independently.
It is also unclear how many members of the Blue family own stakes in General Atomics and Cordillera. It's unclear whether the companies have any debt and if so, how much. Someone had to fund the expansion of its factory to turn out Predator aircraft for its growing list of customers.
By one measure, GA is the biggest defense contractor in San Diego County. The business was the top local recipient of defense contracts in the Pentagon's 2013 fiscal year, winning $2.1 billion of work, according to the 2014 study published by the San Diego Military Advisory Council, a civic-military group. That measure, however, is a bad stand-in for annual revenue, as defense contracts frequently stretch over many years.
Colorado Roots
Born into a prosperous and politically astute family in Colorado, the Blue brothers seem to have handled their investments deftly in the decades that followed.
The Blues seem to owe their business sense, and their connectedness, to family. Mother Virginia Neal Blue was a partner in the Denver residential real estate firm of Blue and Blue, and was the first woman elected to executive office (treasurer) in Colorado.
Both sons were accepted to Yale. With their love of aviation and some salesmanship, they landed on the cover of Life Magazine. A 12-page photo spread documented "the Flying Blue Brothers" and their 110-day tour of Central and South America in a single-engine Tri-Pacer (provided by aircraft builder Piper Corp.) during the summer of 1956. The Blues crossed the Andes nine times by flying over mountain passes. They met members of a headhunter tribe and less colorful locals, expatriates and the president of Nicaragua.
After graduation, the Blues sought their fortunes in farming and ranching in Central America, as well as real estate in the United States. Their projects included a cocoa and banana plantation in Nicaragua.
It was a time of change in Central America. Fidel Castro's regime took over Cuba in 1959, and the U.S.-Cuba relationship deteriorated in the months and years that followed. Nevertheless, the air route to Central America naturally went over Cuba. In a 2005 interview, Linden Blue recalled being en route from the United States to Nicaragua in 1961, having filed the proper flight plan, and getting radio instructions from Cuba telling him to land in Havana. Blue said no, that he would return to Key West. He soon found himself flying beside Cuban fighter planes. Blue was forced to land and spent 12 days in jail. The Cubans finally let Blue go, but less than two weeks later, CIA-backed insurgents from Central America attempted to invade Cuba in what came to be known as the Bay of Pigs incident. Blue told his interviewer from Airport Journals that he eventually learned that all of his Cuban cellmates had been killed.
Part of the Blues' younger years were spent in the U.S. Air Force. Linden S. Blue was at one point drawn to the family business of holding elected office. He served for a time on the Denver City Council, but then turned his attention to the aviation industry. He held high-level posts at Gates Learjet Corp. before becoming CEO of Lear Fan Ltd. Blue also served as CEO of Beech Aircraft Corp. and as a director of Raytheon Co. (NYSE: RTN).
Friend Peter Farrell calls Blue humble and hard-working.
"He's got a huge amount of integrity," Farrell said.
Family Dynamics
From the outside, the Blues' intertwined lives seem to be a mixture of work, intellectual stimulation and adventure — usually with airplanes thrown into the mix. One of the brothers' current businesses is jetCenters of Colorado, a fixed base operator providing fuel, food, hangar space and other services to small plane pilots at Denver's Centennial Airport, Colorado Springs and Ft. Collins. Separately, Linden Blue has taken a shot at building business jets through Spectrum Aeronautical of Carlsbad. Like Predator, the business jets are made of composite materials, meaning they are lighter and more fuel-efficient than their competitors. Spectrum was particularly active in 2006 and 2007. Today, the business is dormant as it waits for more funding, said Austin Blue, Linden Blue's son and Spectrum's president. "We're still hopeful, though," Austin Blue said.
Birth order affects the relationships of siblings, and two anecdotes may cast some light on brothers Linden S. and Neal Blue.
Farrell, the founder and chairman of medical device company ResMed Inc. (NYSE: RMD), said that when he discusses business problems with Linden Blue, Blue's response is often "I'll check with Neal."
"I gather Linden defers to Neal in a business sense," Farrell said.
Family dynamics may not have changed much over 60 years. When problems meant their Latin American odyssey had to continue past summer into the fall of 1956 — their Tri-Pacer literally needed new wings — it was "more important" for Neal to get back to Yale for his senior year, Linden recalled in the Airport Journals interview. Linden, then a junior, stayed with the aircraft in South America while Neal began classes in Connecticut; Neal returned to South America when the plane was airworthy again.
The Blues seem eager to pass along their enthusiasm for flight. General Atomics has supported the Reuben H. Fleet Science Center as well as the San Diego Air & Space Museum. The Blues have supported other causes while shying away from credit, according to Brian Bilbray, the retired San Diego congressman. Case in point: In the late 1990s, GA offered their supercomputers — normally used for high-energy physics and nuclear calculations — to help map the human genome.
Asked about GA's campaign contributions, Rep. Darrell Issa, R-Vista, said GA is not alone and that Qualcomm Inc. (Nasdaq: QCOM)'s political action committee is also a big contributor to political races.
Bilbray and Issa — like Republicans and Democrats from all areas of the country — have relied on GA during campaign season. Between 1998 and 2010, the Bilbray campaign took in $60,000 of General Atomics donations; General Atomics gave Issa $41,200 between 1998 and 2014, according to the Center For Responsive Politics' Open Secrets website.
Rep. Dana Rohrabacher, R-Huntington Beach, has also received campaign funds from the Blues' company — GA is no different from any other interest group or company, the congressman said.
Rohrabacher said the Blue brothers take a "visionary approach" when thinking up technological solutions to big problems that society faces, not just in power production, but in sectors such as highway and rail transportation.
On a personal note, Rohrabacher said he and Linden Blue established a friendship out on the water. The two enjoy surfing. The congressman listed several spots in Orange and San Diego counties that the two have tried. One photo shows former NASA Administrator Dan Goldin with the two; all have boards, wet suits and unkempt, wet hair.
Rohrabacher said that neither he nor Linden Blue pretend to be the best surfer in the world.
"Like me, he's out having fun," the congressman said.
Neal Blue's outside pursuits are less clear, but it's a good bet that he loves an airplane ride just as much as his brother.
The two Yale men who made the cover of Life are still out there. Only these days, they're under the radar.