San Diego's Wealthiest #1: Gwendolyn Sontheim Meyer
Friday, March 20, 2015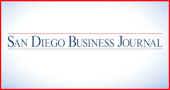 Position/Status: Philanthropist
Estimated Net Worth: $3.7 billion
Age: 53
Residence: Rancho Santa Fe
Source of Wealth: Heir to founders of the Cargill company
Gwendolyn Sontheim Meyer is an heiress to the agribusiness Cargill Inc., the largest privately held company in the U.S. with estimated annual sales of about $130 billion. Cargill sells food, processes crops, trades commodities, sources ingredients and offers financial risk management. Cargill operates in more than 60 countries and employs more than 120,000.
The Cargill-MacMillan families still own an estimated 88 percent of the company. Meyer owns 9 percent of the company, Forbes estimates, but she is not believed to be active in the company's operations.
Meyer's most visible activities are in the equestrian community. She lives in Rancho Santa Fe and competes and trains horses in show jumping and dressage. According to dressage-news.com, Meyer's stable has purchased prize-winning horses for Olympic medalists Guenter Seidel and Beezie Madden.
Meyer serves on the board of Feeding America San Diego and is associated with the Aquila Foundation for Education.