Callaway Golf Shares Close Up at $9.55
Monday, March 23, 2015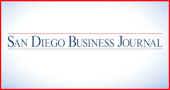 Shares of Callaway Golf Co. gained more than 11 percent in value on March 23, and then backtracked 3 percent in after-hours trading.
Callaway (NYSE: ELY) makes clubs and balls and is part of Carlsbad's golf equipment cluster. It ended the trading week March 20 at $8.58. Shares gained nearly a dollar the following Monday, closing at $9.55.
Yahoo Finance reported that Imperial Capital upgraded its rating of Callaway, to outperform, on March 23. More than three times the normal amount of shares traded hands.
Meanwhile, the Dow, Nasdaq and Standard & Poor's 500 indices all showed moderate declines on March 23.
Callaway Golf has been working to turn itself around under CEO Chip Brewer, who joined the company three years ago.