Biocept to Collaborate With UCSD Moore Cancer Center
Tuesday, March 24, 2015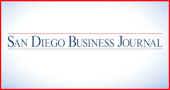 Biocept Inc., a San Diego-based molecular oncology diagnostics company, announced Tuesday that it has entered into a clinical collaboration with the University of California, San Diego Moores Cancer Center.
The collaboration will help determine the clinical utility of detecting biomarkers present in circulating tumor cells and cell-free circulating tumor DNA in blood samples for non-small cell lung cancer patients using Biocept's OncoCEE LU platform and CEE-Selector technology.
Biocept (Nasdaq: BIOC) offers a highly sensitive blood-based method for the detection and monitoring of cancer mutations, which can help inform treatment decisions based on genomic information.
The company is engaged in clinical study collaborations designed to demonstrate the utility of its liquid biopsy diagnostics to detect biomarker status in cancer patients, and for the assessment of tumor treatment response over time.