GKN Aerospace Signs $200 Million Contract With Rolls Royce
Tuesday, March 24, 2015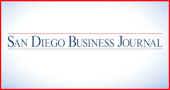 GKN Aerospace — which has factories in El Cajon and Mexicali, Mexico — said earlier this year that it agreed to supply Rolls-Royce PLC with components for the latest version of the Trent 1000 engine.
Boeing's 787 passenger jet uses the engine. The deal, announced in mid-January, is worth $200 million.
GKN will provide the rear fan case as well as the outer guide vane mount ring. At full production, GKN said it expects to provide 150 engine sets per year.
Advanced fabrication methods will cut material costs, GKN also said.
GKN is based in Redditch, U.K., near Birmingham. A spokeswoman said in October that the company does 75 percent of its work on commercial projects and 25 percent on military projects.