Novatel Wireless Acquires Oregon-Based Feeney Wireless
Monday, March 30, 2015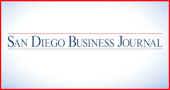 Novatel Wireless Inc. said on March 30 that it acquired Feeney Wireless, an Oregon company that specializes in electronics for the Internet of Things.
Sorrento Mesa-based Novatel (Nasdaq: MIFI) said that it will pay $25 million in cash and stock. In addition, the sellers will be eligible for up to $25 million in potential earn-out payments over four years, depending on Feeney Wireless' financial performance.
The Internet of Things is the idea of common household or office devices sharing data with one another, to make the owner's life more convenient.
Novatel said that it expects the transaction to be immediately accretive to earnings, adding $3 million in EBITDA in 2015. (The financial metric of EBITDA — earnings before interest, taxes, depreciation and amortization — does not fall under the umbrella of what accountants call GAAP, or generally accepted accounting principles.)
As part of the financing for the transaction, Novatel Wireless' largest shareholder, HC2 Holdings Inc., exercised approximately $8.6 million of warrants early to purchase Novatel Wireless common stock. Otherwise the warrants, issued in September, could have remained outstanding until September 2019.
Also as part of the transaction, Novatel Wireless granted inducement stock options to 91 FW employees, who will be able to acquire an aggregate of 323,000 shares of Novatel Wireless common stock.
Based in Eugene, Ore., Feeney Wireless specializes in both fixed wireless and mobile cellular-based wireless solutions. The business offers products, system integration and services related to the Internet of Things.