REGION HAS BOTH OUTDOOR AND CULTURAL ATTRACTIONS
Carlsbad Flights Connect Skiers to New Mexico Slopes
Thursday, December 5, 2019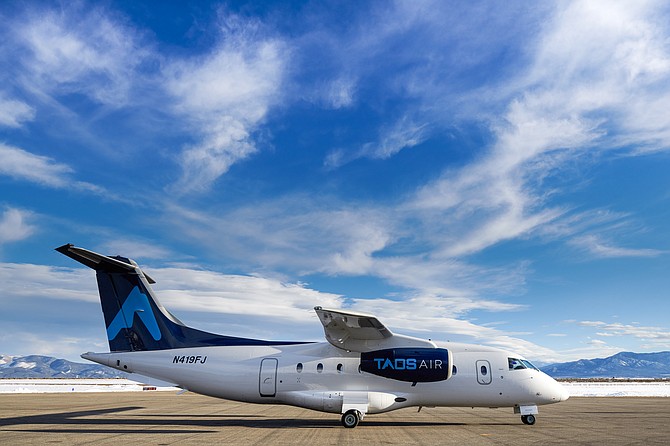 Taos Air, the airline launched out of Taos Regional Airport last year by Taos Ski Valley Inc. in New Mexico, will begin direct charter flight service to and from McClellan-Palomar Airport in Carlsbad starting Jan. 9.
"Californians have a strong connection to Taos for both its outdoor adventures and the art and cultural scene," said David Norden, Taos Ski Valley's CEO. "Southern California represents the third largest out-of-state market for Taos Ski Valley visitors, and we know many Californians are Ikon and Mountain Collective passholders."
One-Way Flights Start at $180
One-way flights on Taos Air from Carlsbad start at $180 and hold up to 30 passengers, said Norden, adding that Taos Air passengers get four days of complimentary ski or snowboard rentals and complimentary transportation from the airport to the Taos Ski Valley resort, which is about 8 miles away.
"The flight is extremely competitive with typical commercial airlines even with extraordinary convenience and charter flight experience of Taos Air," said Norden, adding that Taos Air passengers don't pay baggage fees or parking fees. Winter service will consist of one flight to and from each destination every Thursday, Saturday and Sunday or holiday Monday, for a total of six round trips per week.
In its first season in operation, studies conducted by Southwest Planning & Marketing show there was an economic impact of over $2 million in Taos, Taos Ski Valley, Angel Fire, Eagle Nest, Questa and Red River by Taos Air fliers. Last season, Norden said Taos Ski Valley had more than 225,000 skier visits. "We anticipate similar increases with the service expanding to Southern California," he said.
Lodging Options
Once in Taos Ski Valley, visitors have an array of lodging options, said Norden, from the recently opened, slope-side hotel The Blake, named after the founding family, with rates starting at $229/night. Additionally, visitors have many other choices, including staying in the Town of Taos, which is about 30 minutes away and has dozens of other options, from "resort-like properties to quaint bed and breakfasts," said Norden.
Taos Ski Valley is undergoing a $300M revitalization effort that began about five years ago, according to Norden. The resort was family-founded, owned and operated from 1955-2014, when The Blake Family sold it, he said.
"The new private ownership has driven the revitalization effort that includes new lifts, new on-mountain infrastructure, a new world-class hotel, a new children's center known as the Rio Hondo Learning Center, new event spaces and a focused, concerted effort on integrating sustainable, environmentally sound business practices across the company."
Taos Air is 100% carbon-offset through a partnership with NativeEnergy, said Norden.
Carlsbad's McClellan-Palomar Airport is a public airport in North County owned by the County of San Diego. The Taos Air Carlsbad addition is joined by flights to and from Los Angeles' Hawthorne Municipal Airport, as well as Taos Airlines' two inaugural flights to and from Austin and Dallas.