DINING: INVITING ATMOSPHERE SEEKS TO DRAW YOUNGER CROWD
Middle Eastern Fast-Casual Eateries Spice It Up
Originally published December 8, 2019 at 12:03 p.m., updated December 9, 2019 at 8:31 p.m.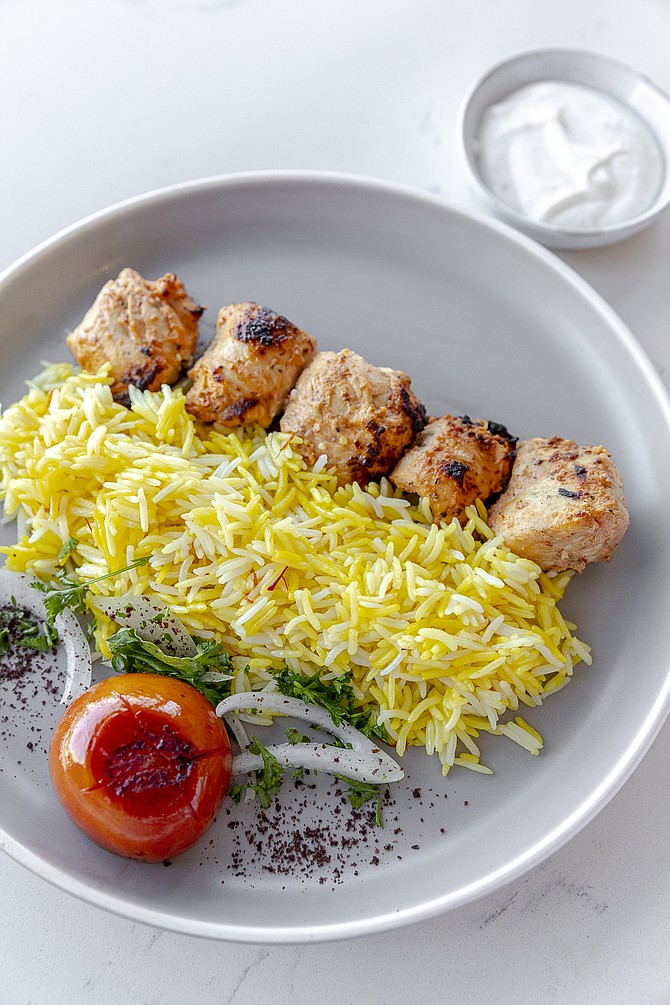 Nawar Miri felt Middle Eastern food, unlike Mediterranean food, was underrepresented in San Diego. He also felt some of the few Middle Eastern restaurants already established around town were not only lacking in authentic flavor, but also not creating an inviting environment for a younger demographic. So, in 2018, Miri and his partner and executive chef Ibrahim AlSharief launched their Middle Eastern fast-casual concept, Simsim Outstanding Shawarma.
Two Locations
Last year, the first Simsim location opened in Clairemont. And, in late November, a second Simsim eatery opened in Carmel Mountain. With 35 employees combined, the company is projected to make between $1.5 million and $2 million annually, according to Miri.
"There is a void of true authentic Middle Eastern food in the local market… none are bringing true flavors from back home here," said Miri, adding that he uses about 12 spices in his shawarma, including sumac, coriander and curry. "We wanted to bring mainstream, Middle Eastern cuisine to the area. Something basically where you could be Persian, Iraqi or Palestinian, and it would taste good to you. That was the goal. We are Iraqi Catholic. We make food the way grandma made food, and you can't get that when you go to most places."
Miri said he purposely took a modern approach in terms of décor at Simsim because it was important for him to offer his patrons conventional Middle Eastern food in a fresh space.
"Not everyone is doing Middle Eastern concept with décor that wasn't traditional," he said, adding that he wants families, business people and even couples out on a date night to feel welcomed by the inclusive Simsim atmosphere. The interior of the new 2,400 square-foot space is bright and has terrazzo and cork accents, lots of greenery and indoor and outdoor seating.
Free Tea
Part of creating a welcoming environment at Simsim meant offering complimentary tea all year round, said Miri. "It is a big part of our culture — we offer tea," he said. "We have cardamom black tea and cardamom milk tea all year around for free. We absorb the cost, because, it was a critical element to what we wanted to put together."
Miri explained shawarma is historically known as street food, derived mostly from parts of Germany. It goes by various names depending on the region, he said. For example, Greeks call it gyros. In kabob shops, they are referred to as doner. And, Middle Easterners call it shawarma. Simi said, while shawarma is becoming a buzz word in the local food industry as of late, he still finds himself having to educate many of his patrons who aren't familiar with the term yet. "There is a huge educational curve going on in the United States in general, "he said, "but people are becoming more educated."
Shawarma meat is most commonly cooked vertically on a broiler that spins, Miri said. It is first marinated, he said, then hand-stacked on the vertical broiler stick, which spins and rotates. In comparison, kabob, which is more widely known and enjoyed in San Diego, is marinated in chunks then put in a char broiler where it is cooked.
Spices Grinded
Miri said Simsim's shawarma is marinated in 12 spices, all of which he gets in the actual seed form and then grinds in-house. It is much fresher and more flavorful, he said, although also more labor-intensive. He said in the Carmel Valley store, he and his partners recently invested in more upscale grinding machinery that allows the chef to grind more spices in less time.
"We are a made-from-scratch kitchen," Miri said. "We get our beans in 50-pound bags, soak them for 24 hours, cook them and then make our hummus. This way, it is silkier and smoother. Our process takes longer and we are a more process-driven company. We take the long road, not the short road. Our hope is that it stands out in terms of the flavor profile, etc."