UDG AIMS TO EXPAND FOOTPRINT, ESPECIALLY IN WEST COAST
Potential $31 Million Deal Shows Canale's Work Paid Off
Sunday, December 8, 2019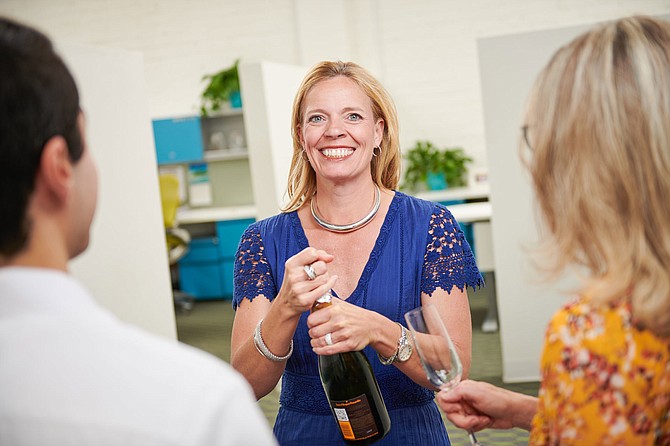 Carin Canale-Theakston founded Canale Communications. Her twin goals: build the largest life sciences communications firm on the West Coast, and serve as what she called an "entrepreneurial example" to her then-infant daughter.
She reflected on the ambitions following Canale Communications selling to UDG Healthcare in a deal worth up to $31 million. A decade after launching Canale, and another child later, Canale-Theakston said reality exceeded her vision.
To her first goal, Canale Communications started with five employees and now has 28 employees — and hiring. Canale-Theakston said while rankings don't exist, the company appears to be the leading life sciences communications company in California.

From a Credit Card
"I am proud that I grew this from nothing — a credit card — to what it is today," Canale-Theakston said over the phone.
Ireland-based UDG, a holding corporation for Ashfield Healthcare Communications, paid $20 million upfront, with an additional $11 million over three years tied to profit targets.
Despite the sale, Canale-Theakston will remain on as CEO. San Diego will stay the company's mothership.
Leadership Team to Remain
"Our leadership team, brand and the day-to-day work will remain the same," she said.

What will be different, Canale-Theakston said, is that the company can tap UDG's expertise and resources as Canale Communications takes on more late-stage clients. The firm's wheelhouse has been startups.
"Where our service offering stops is often when clients are getting closer to market. If we can keep those clients and bolt on other services, that was really part of the opportunity we saw," Canale-Theakston said.
The company has worked with more than 300 biotech, medical device, digital health and pharmaceutical companies. They range from companies on their first round of funding to billion-dollar publicly held companies such as Guardant Health, Halozyme, Turning Point Therapeutics and Johnson & Johnson.
Canale specializes in corporate communications, public relations, investor relations and creative services.
Following the deal Canale will do more medical affairs, publication planning, patient advocacy support, online advertising and marketing of commercialized products.
UDG Healthcare employs more than 8,500 people and operates in 26 countries.
"They bring a distinct and highly complementary service offering for our health care and life sciences clients and further strengthen our U.S. footprint especially in the West Coast biotech industry," said Matt Jacobson, the executive director of Ashfield, in a statement.
Beyond her company, Canale-Theakston is the vice chair of Biocom's board, and co-chairs the Biocom capital development Committee. She is also a director of the San Diego Venture Group.
Moved Into Biotech
While a fixture in biotech, Canale-Theakston got her start in technology public relations. With the tech market crashing nearly two decades ago, she moved into biotech.
Besides Canale, another prominent services provider in San Diego life sciences was recently acquired. ZRG Partners bought Toft Group, a company founded locally that head-hunts candidates — emphasizing women and millennials — for companies at the intersection of biotech and tech.