BUILDING: FROM DEALERSHIPS TO SCHOOLS, CO. TAKES HIGH ROAD
Builder's Priority Is Company Culture
Monday, December 9, 2019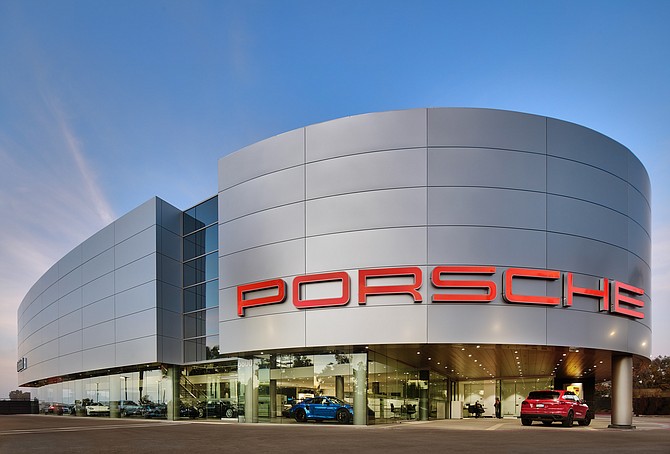 Dempsey Construction Co. is the little company that could — and did.
Founded in 2010 by John Dempsey with a staff of three and about $2 million in contracts, the Carlsbad company has grown exponentially over the past nine years to have annual contracts of more than $90 million in 2019 and a staff of 65.
Dempsey Construction initially focused on San Diego County projects but has expanded its reach with projects throughout California, Arizona and Nevada.
"We were fortunate to have our timing align with a growth market, so we were able to benefit from the construction demand," said Nick Alford, Dempsey Construction vice president.
By the time John Dempsey formed his company, the Great Recession that crippled so many other construction companies was pretty much over.
"We missed most of recession and we were small so we didn't need much work," Dempsey said.
The company quickly capitalized on the surge in construction activity that followed.
Growing 'the Right Way'
Alford said the company could have grown even faster, "but we wanted to grow the right way and be very careful about the employees and people we bring on board."
"We need someone that not only has the skill set but also is a culture match," Alford said. "We hope the market continues. We definitely want to grow but we want to do it smartly with the right people. We're not looking to double or quadruple our volume in the next 10 years. We don't have and end goal of X-million that we need to do. We're focused on right-sizing."
In 2013, Dempsey Construction acquired Legacy Building Services.
John Dempsey said that he wound up in construction almost by accident.
A Boston native, Dempsey, 58, moved to San Diego when he was 13 and went to Torrey Pines High School, class of 1979.
He didn't have a career in mind back then, but said he started working construction when he was 14 and worked as a carpenter during school breaks.
Dempsey earned a bachelor's of science degree in economics from the University of California. Davis in 1983.
"When I finished college, I wasn't really sure what opportunities were available to someone with a degree in economics," Dempsey said. "I interviewed with the usual suspects — finance, brokerage, computer hardware manufacturers — but none of them felt right."
A friend suggested commercial construction, something Dempsey said he never considered.
"I knew I wanted to be a business person, but I didn't know much about big construction as a business," Dempsey said. "The contractors I had worked for over the years were all one-man operations."
Lusardi President
Dempsey wound up at Lusardi Construction, where he stayed for 28 years, working his way up to company president before leaving in 2010 to form his own company.
"I wanted to create a company that has the same values as I do — authenticity, respect, trust, innovation, performance and kindness," Dempsey said.
Most of the company's work is in San Diego, Orange and Riverside counties with occasional work in the Bay Area, Las Vegas and Phoenix.
Alford said one San Diego project that stands out for him "just for the impact it had on the community" was the $5,6 million renovation of a Kearny Mesa office building the company did earlier this year for the Children's Workshop.
Dempsey Construction took what was a fairly standard office building, stripped it down to its concrete shell, and transformed it into a magical land of airplanes and spacecraft specially designed to meet the needs of autistic children.
When the Children's Workshop moved in, "It was a pretty cool moment," Alford said.
"It was truly bringing someone's dream and vision into reality."
Although it doesn't specialize, Alford said the company has done many school and automotive projects.
Impressing Porsche
Among the more challenging was a new Porsche dealership Dempsey Construction built in Carlsbad earlier this year for Hoehn Motors.
Plans called for the 71,614 square-foot new building to fit on the same 1.5-acre site as an 18,800 square-foot building that was razed.
The solution was to go up three stories, but that posed its own challenges with interior ramps leading to indoor parking spaces and showrooms on the first and second floors.
Dempsey Construction also had to meet exacting specifications set by Porsche.
Ted Hoehn, vice president of Hoehn Motors, said Dempsey Construction "made it seem easy."
"The (Porsche) manufacturers were so impressed with Dempsey's work that they referred them to their other dealers that were building facilities," Hoehn said. "They had a sharp team and they were on time and on budget. They always took responsibility for any issues and basically handled it with no questions asked, no finger pointing."
Dempsey Construction also has done several projects for La Jolla Country Day School and Mark Marcus, assistant head of the school for operations, said he keeps going back to the company because "they're very thorough, they're very quality oriented."
"I've seen a few different contractors and Dempsey's by far one of the good ones," Marcus said, adding that the company has consistently come in on or under budget.
"They did a remodel on my upper school, my library and helped me with kind of a refresh on my lower school and they also remodeled our kitchen," Marcus said. "I like them a lot."
In addition to school and automotive projects, Alford said Dempsey Construction has done industrial, hospitality, senior living "and what we call special projects."
Those special projects included renovating broadcasting studios in Kearny Mesa, Las Vegas and Phoenix.
"It's very technical, as far as you've got a lot in a confined space. There's a lot of coordination," Alford said of the broadcast studio jobs. "The IT (information technology) requirement is huge. It's basically like a mini-data center."
The company also worked on renovation projects at San Diego's Liberty Station that included remodeling an old theater into a combination restaurant/boutique cinema.
Job Satisfaction
Looking back on his career, John Dempsey said that he "absolutely" would recommend construction as a career.
"If you have the right mindset for it, it's the greatest business in the world," Dempsey said. "You can touch and feel the results of your work every day. You can drive by, shop in, eat in and sleep in what we build."