SDBJ INSIDER: EDF's Solar Flair
Monday, December 9, 2019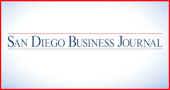 San Diego-based EDF Renewables North America and Shell Energy North America announced the signing of a 15-year Power Purchase Agreement related to a 132 megawatt tranche of the Palen Solar site known as Maverick 7 Solar Project. The project expects to deliver clean electricity by the end of 2021.
Terms of the deal were not disclosed.
Palen Solar is located in Riverside County on 3,140 acres of federal lands within a Solar Energy Zone.
EDF Renewables North America flies under the radar in San Diego despite being one of the largest renewable energy developers in North America, according to the company.
Tristan Grimbert is president and CEO.
••••
Biocom, an association for life science companies and service providers, announced the appointment of Karmin Noar as executive director for Biocom Institute, a 501(c)(3) nonprofit.
The institute aims to strengthen the workforce and future leaders in life sciences.
Noar will foster actions and initiatives focusing on STEM education, the institute said.
"Karmin has a strong track record of developing, implementing and managing successful workforce development programs," said Joe Panetta, president and CEO of Biocom. "Whether it's developing the future workforce, recruiting new talent or engaging employees in volunteerism or professional development, Karmin has the knowledge and experience to continue and expand the important work of Biocom Institute."
Prior to joining Biocom Institute, she served as director of programs at the San Diego Workforce Partnership.
••••
Nothing like waking up in your cubicle to find Santa Claus, aka payroll, has left you a gift.
According the specialized staffing firm Robert Half, "Among the 28 U.S. cities in a survey, Dallas, Miami and Houston have the largest number of organizations that offer year-end bonuses.
'Nashville, Austin, Denver and Minneapolis have the most managers who said their company plans to increase bonuses this year.
"Miami, San Diego and Los Angeles have the most workers who expect year-end bonuses."