APP CREATOR SEES ROOM FOR EXPANSION TO INCLUDE BOOKS, POSSIBLE TV SHOWS
There May Be Gold in Those Kids' Goals
Tuesday, December 10, 2019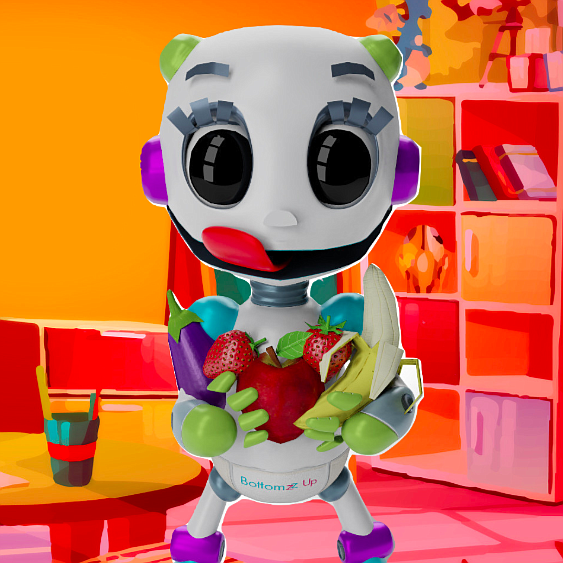 Seven years after founding BottomZz Up, a potty-training product via her multimedia production company eCubed Designs LLC, local single mother Lynn Ell Tilker has launched her first mobile app, B. Bot World. The app, designed to help parents and pre-K kids through major milestones and social behaviors, is projected to make $478,000 in revenue in 2020 and reach $2.4 million by year three, according to the company.
Designed for children between the ages of 2 and 5 years old, the character B. Bot started as a mascot for the BottomZz Up potty-training solution, said founder and creator Tilker, who describes it as a 3-dimensional, gender-neutral character.
He was "so fun and appealing for little children that the decision was made to expand the character's reach into its own digital solution for potty training," she said. "Once we designed the first module, it became apparent the reach could go beyond potty training to more milestones and key social behaviors and the platform was developed."
Learning a Lot
B. Bot will include dozens of modes, each with a social, emotional or developmental focus, said Tilker, in addition to skills-based learning including everything from manners to hygiene and more. The application was developed by Hourglass Interactive LLC, while Foothill Entertainment, behind entertainment properties such as "Peppa Pig", is executive producers, according to Tilker.
"Every element of every game has been thoughtfully and intentionally designed to encourage cognitive development, problem solving skills and critical thinking," she said, adding that research correlates healthy social emotional development during the critical preschool years with future academic success. "B. Bot World supports this goal with a whole-brain approach to learning and an emphasis on balance and healthy choices."
Players can customize B. Bot's eyes, hands, joints and clothing and can feed it healthy foods and drinks, said Tilker.
Winning
A "gottogo! Meter" tracks B. Bot's food intake and announces when he's full and when he needs to go to the potty. If B. Bot makes it to the Golden Throne on time, kids are rewarded with balloons and one of several mazes, puzzles or other preschool age-appropriate games.
"B. Bot will be there every step of the way, encouraging kids with positive reinforcement, graphic rewards and a special song," said Tilker, adding that a tab tracks each of B. Bot's successful trips to the Golden Throne, further motivating kids.
B. Bot was recently awarded the Best Parenting App award for 2019 by babyMaternity Magazine, said Tilker. She said she is in the midst of rebranding eCubed Designs LLC to MudPie-Media Group LLC. Tilker hopes to expand the brand by adding new modules to the app, merchandise, books, toys and apparel as well as develop a television animated show on the character down the line. She's already showcased the concept to two large industry markets, said Tilker, and has received interest from potential global production and distribution partners.