HOUSING: CHANGE WILL BE GRADUAL LEVELING PLAYING FIELD FOR BUYERS AND SELLERS
Millennials to Say Bye to Boomers, Hello Homeownership
Wednesday, December 11, 2019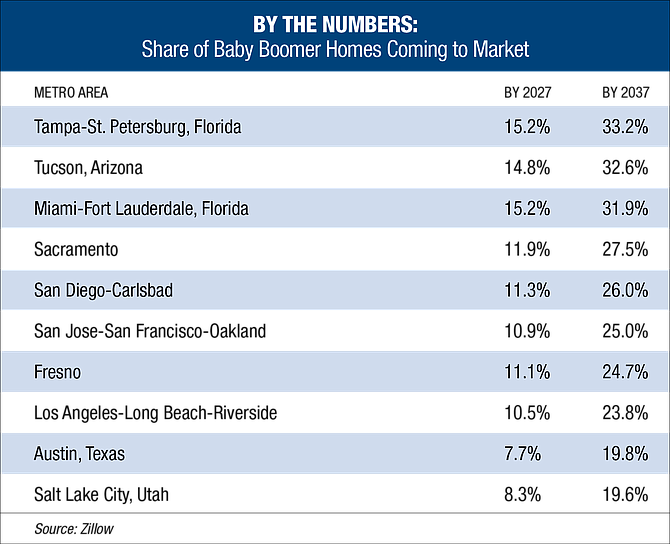 Baby boomers will ease the housing crunch when they die.
So says a report from Zillow, an online real estate brokerage.
By 2037, about 26% of the existing homes in San Diego County will be up for sale as boomers leave them, either because they die or move into assisted living centers or nursing homes.
"The main finding here was a lot more houses are going to be back on the open market as the baby boomers age out of housing," said Jeff Tucker, an economist with Zillow.
While the thought of the younger generation waiting for aging boomers to die off may be a tad uncomfortable for the post World War II crowd born between 1946 and 1964, the numbers don't lie.
"A lot of it is mortality, there's no way around that with this subject," Tucker said. "A lot of it also is folks who are no longer able to live on their own because they may be moving to retirement communities, rentals or assisted living facilities, skilled nursing homes or other options as they get older."
Coastal Property
In coastal San Diego County, which has an older population than the county as a whole, 39 percent of existing homes will come to market in 2037 as baby boomers move out, according to Zillow.
Father inland, the influx of baby boomer homes coming to market will be lower.
In eastern Chula Vista, for example, Tucker said only 17 percent of existing homes will come to market from baby boomers.
Nationally, Zillow predicted that upwards of 20 million homes will be hitting the market through the mid-2030s as baby boomers vacate their homes.
That's a little more than a quarter of the existing housing stock.
In traditional retirement markets, such as Florida and Arizona, the number of homes coming to market from the baby boomer exodus could be nearly two-thirds of existing homes.
'Silver Tsunami'
A "Silver Tsunami" is what Zillow called it.
"When you stop and forecast what's going to happen in 20 years, it shouldn't be surprising but it's such a big change from the housing market of the last 10 years. We've had this drumbeat of a story of a shrinking inventory, tight housing markets where the sellers have all the advantages," Tucker said. "It will be one where sellers will have to be more creative to attract buyers and buyers will be able to extract concessions and be in a much better negotiating position."
Prev Next