CO. ROLLS OUT PREMIUM AND HIGH-TIER CHIPS FOR 5G
Qualcomm Predicts 5G Devices Will Be Available in Q1 2020
Sunday, December 15, 2019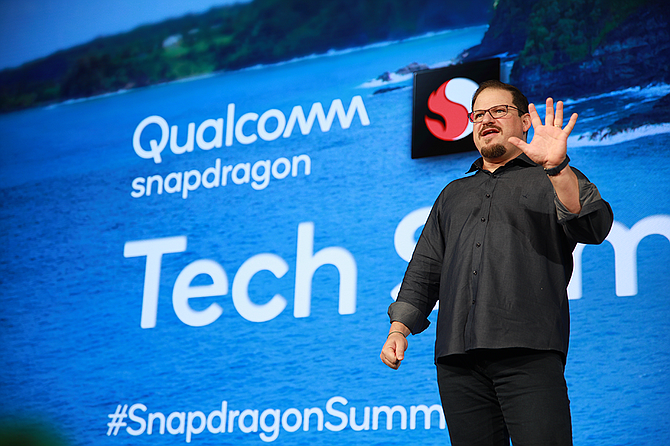 Qualcomm Inc. introduced a trio of chips for fifth-generation (5G) mobile devices at its 2019 Snapdragon Tech Summit earlier this month in Maui, Hawaii.
The San Diego-based corporation debuted its model 865, a top-of-the-line product billed as the world's most advanced 5G mobile platform. It will go into the flagship devices of wireless handset makers. Consumers will be able to buy devices using the chip in the first quarter of 2020.
Also introduced were the 765 5G mobile platform — a chip for high-tier devices just below the premium tier — as well as a 765G chip optimized for mobile gaming. Commercial devices running on both chips will also be available in the first quarter, according to Qualcomm (Nasdaq: QCOM).
5G will send and receive data far faster than industry standard 4G LTE networks. The technology will also minimize latency, or lag time.
"5G will open new and exciting opportunities to connect, compute and communicate in ways we've yet to imagine and we are happy to be a key player driving the adoption of 5G around the world," said Qualcomm President Cristiano Amon in his keynote address at the conference. "Our Snapdragon 5G mobile platforms announced today will continue to show leadership in the industry and deliver on the promise of scaling 5G in 2020."
325 Operators Plan 5G Networks
Also planned is a 600-series chip for mid-tier phones, which will make 5G technology even more broadly available.
Qualcomm said its chips will not tax a mobile device's battery, allowing a full day's use between charges.
5G wireless networks are proliferating around the globe. There are more than 40 such networks now. Qualcomm said some 325 operators in 109 countries are investing in 5G.
Qualcomm said it expects more than 1.4 billion 5G smartphone shipments by 2022, and forecasted 2.8 billion 5G connections by 2025. In addition to selling microchips that support 5G, Qualcomm sells licenses on the patents it has for key aspects of 5G technology.
More than 230 5G devices have been launched or are in development, the company reported.
More announcements about 5G handsets may come at the annual CES consumer electronics show, set for Jan. 7-10 in Las Vegas.
South Korea Dispute Takes Another Step
Separately, Qualcomm received legal news from the Seoul High Court in South Korea in early December.
Qualcomm had appealed a 2016 decision from the Korea Fair Trade Commission (KFTC) to fine the company approximately $868 million. The commission said Qualcomm interfered with rival chip makers' business activities. Qualcomm challenged several aspects of the KFTC decision and got mixed results.
"We are gratified that the court rejected the KFTC's finding that our licensing terms are not fair, reasonable and non-discriminatory, and reversed the KFTC's remedial order to renegotiate those licenses," said Don Rosenberg, executive vice president and general counsel of Qualcomm, in a statement distributed by the company. "We disagree with the court's decision to accept other parts of the KFTC order and will immediately seek to appeal those provisions to the Korea Supreme Court."