Colepepper Plumbing & Drains to Rebrand Company
Monday, December 16, 2019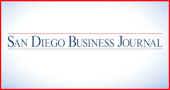 Colepepper Plumbing & Drains, a local plumbing company, has announced a company-wide rebranding effort. According to a press release, the goal is to give Colepepper a fresh and contemporary visual presence online and beyond.
The rebranding will be led by New Jersey-based advertising agency KickCharge Creative and will feature a new logo, according to the company. The image of a blue, green and orange hot pepper wearing sunglasses and holding a wrench will appear on the company's new truck wraps and website.
"Our culture has become very visually oriented, so it's crucial for companies to stand out from the nonstop stream of information and images," said Mitch Kenney, owner of Colepepper Plumbing & Drains. "We wanted a strong, bold brand that reflects our confidence as a company and give us the 'pop' that's so important in the digital era."
The website's redesign also offers updated features and a new layout as well a mobile site and enhanced content, including a blog, coupons and special offers, according to the press release.
Travel & Hospitality reporter Mariel Concepcion can be reached at mconcepcion@sdbj.com or 858-634-4625.