TECHNOLOGY: TRIO OF BUSINESSES PURSUES MARKET WORTH TENS OF BILLIONS
Cubic Acquisitions Face a Common Foe: Traffic Congestion
Monday, December 16, 2019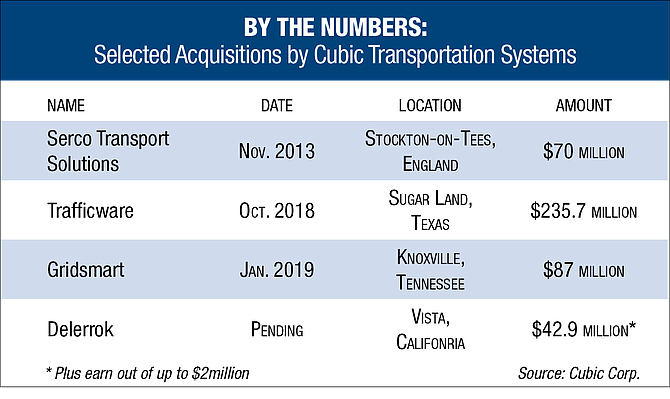 It has been roughly one year since Cubic Corp. brought aboard a couple of large acquisitions in the traffic management space.
In that time, the San Diego tech corporation has integrated the acquired companies into its transportation business and, in some cases, found new homes for the executives that ran the businesses.
Jon Newhard, who came to Cubic with its acquisition of Trafficware in October 2018, has been tapped to lead an umbrella organization called Cubic ITS. The initials stand for intelligent traffic management.
Newhard will remain in Trafficware's offices in the Houston area and oversee the two other offices of Cubic ITS: Gridsmart in Knoxville, Tennessee and Cubic's European office in Stockton-on-Tees, in northern England.
Cubic (NYSE: CUB) acquired Trafficware in October 2018 for $235.7 million. The business offers signal timing and traffic analysis software. Joe Custer, who previously handled finance, strategy and business development for Trafficware, is being promoted to general manager of the business.
Three Layers of Congestion
Management
Matt Cole, president of Cubic Transportation Systems in San Diego, said the three businesses making up Cubic ITS offer three layers of congestion management technology.
Cubic acquired Gridsmart in January for $87 million. After a transition period, Gridsmart's founder left the firm and Cubic promoted Jeff Price, Gridsmart's chief technology officer, to run the business.
Gridsmart offers video detection technology with "awesome capability," Cole said. It includes a distinctive bell-shaped camera that follows vehicles through intersections, as well as specialized software.
The second layer of the multilayer approach is Trafficware's signal timing and analysis software, which offers city transportation departments a way to optimize traffic at an urban core.
The original Cubic ITS business, bought in 2013 from Serco, covers the third layer: an overall layer of traffic control and people flow in cities as well as the regions between cities. Its software forecasts 30 minutes into the future, letting transportation departments anticipate and react to traffic issues. Cubic recently named David Powell as manager of the European office.
An Integrated Portfolio
The worldwide market for traffic management products and services is in the double digit billions of dollars, Cole said.
Cubic has competitors in the congestion management space. They include Siemens and Kapsch. Cole was quick to say, however, that "no one really has an integrated portfolio" like Cubic's. Gaining three businesses in the ITS market offers a "powerful" combined solution as well as ample cross selling opportunities, the executive said.
Cubic has a wider business in transportation. It offers fare collection technology for mass transit systems in the world's biggest cities, including New York and London. It also has a defense contracting side of the house, which specializes in military training as well as C4ISR electronics (the initials stand for command, control, communications, computers, intelligence surveillance and reconnaissance).
In the just-ended fiscal year, Cubic's transportation arm brought in 57% of the company's revenue, or $850 million (out of total revenue of $1.5 billion). Backlog is "healthy," Cole said.
In the mass-transit area, Cole said Cubic is reviewing opportunities in Ireland as well as Canada. Toronto has the largest mass transit system in North America not supported by Cubic, he said. Cole added that his business is monitoring opportunities in Southeast Asia, India, Europe and Latin America.
Cubic made a move to expand into smaller mass-transit markets with the acquisition of Delerrok Inc., a fare collection technology company based in Vista. The $43 million deal is expected to close by the end of the year.
NextCity's Three Pillars
The entire thrust of the Cubic ITS business ties in with Cubic's NextCity theme, company executives said.
NextCity has three pillars, Cole said.
The first is the convenience of using a single payment technology for multiple ground transportation services. The San Francisco Bay Area has roughly 20 different public transit operators, but a commuter can use a single account to pay for rides. "To the consumer, it looks like an integrated system," Cole said. Such a payment system can even extend beyond the local bus or light rail line — to pay for parking, expressway tolls, ride-sharing services or the next hot transportation technology.
A second pillar is also built around consumer convenience. Under the NextCity vision, a commuter can plan, manage and pay for a journey, using mobile payments.
The third pillar offers technology for the people in the background who provide the transportation. Specifically, Cole said, NextCity offers applications and tools to manage congestion more effectively.