DINING: DINERS AND EVEN CHEFS FIND A CREATIVE EXPERIENCE
Dinner Lets You Savor Sights, Sounds and, of Course, Food
Monday, December 16, 2019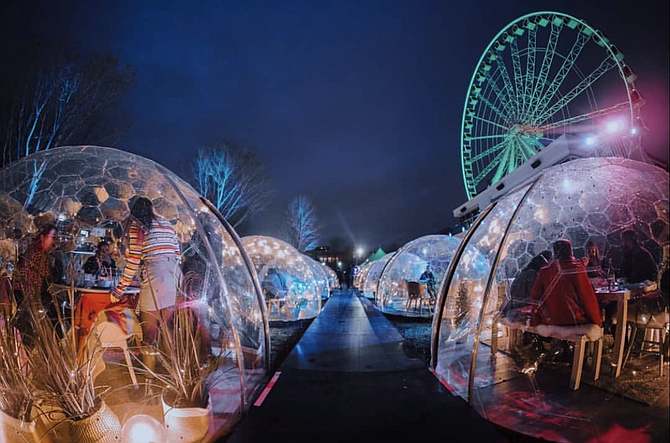 From February 6, 2020 to March 8, 2020, Dinner With A View will set up its pop-up dining experience — where guests dine in domes — in San Diego's Liberty Station. Dome reservations are priced at $199.99 and dinner reservations are $109.99 per guest (a dome must first be reserved before a dinner reservation can be made). The organization projects 10,000 to 12,000 patrons will dine in its domes during the entirety of the event.
According to partner and event organizer Steve Georgiev, the San Diego event will have 30-35 domes located at Liberty Station's Central Promenade, with each dome, or human-sized snow globe, seating between four and six guests. The intimate, clear, frameless geodesic domes are made to look and feel like terrariums, each highlighting terrains found around the world, according to the company.
The Logistics
A minimum of four guests is required per booking and gratuity, taxes and ticketing/processing fees are not included in the price. The pop-up will have three daily seating — at 5:30, 7:30 and 9:30 p.m. — and will take place from Wednesday to Sunday.
"Dinner With A View was initially a pilot project that we hosted in Ottawa (Canada)," said Georgiev. "After the great success, we hosted two full-scale events in both Toronto and Montreal (in early 2019) where we saw a great deal of interest and sold out both events. Our vision is to be in as many cities as possible as a traveling, limited-time pop-up dining experience. We want as many people to experience our event as possible."
First Stop San Diego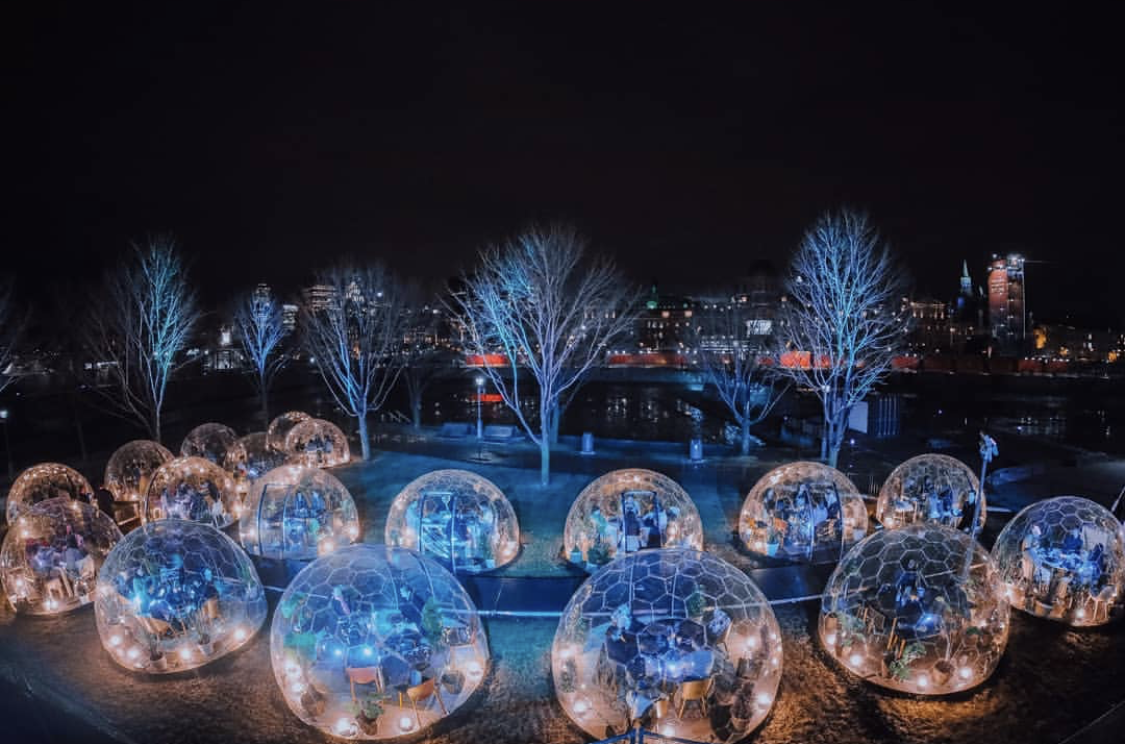 Georgiev said San Diego became the first stop in the United States for Dinner With A View because of the amount of support and responses the pop-up experience received from San Diegans on social media.
"We have been watching the San Diego food scene explode in recent years and knew this was the perfect city for our next pop-up event," said Georgiev. "Dinner With A View offers the magical and memorable dining experience we know San Diego has been craving, set in the heart of one of the city's most prized communities, Liberty Station. We cannot wait for everyone to come together for an enchanting evening under the stars."
Laurie Albrecht, director of Liberty Station, said the San Diego attraction is an ideal location for Dinner With A View and installations like it.
"In seeing how well executed their previous events in Montreal and Toronto were, we are honored to host such a unique experience at Liberty Station and be the first stop in their U.S. expansion," she said. "At Liberty Station our mix of history, architecture and art makes us the perfect venue for interactive installations such as this. We wish Dinner With A View nothing but success in San Diego and hope to welcome them back next year."
A Taste for Adventure
According to a report called "The Rise of Pop-Up Dining Events and the Experiential Diner" by Eventbrite, the global platform for live experiences, the fastest growing trend on its platform is the pop-up dining experience.
"The food and beverage industry is cooking up more events than ever before — with the number of food and drink events on the Eventbrite platform increasing every year," the report reads. "We analyzed more than 40,000 of these events in our 'look at top food and drink event trends' and found that the fastest growing trend was the pop-up dining experience (82% growth). Pop-up dinners are one-time food events that offer guests a taste of something different. Whether it's an unexpected location, a personal interaction with the chef, or a unique menu or theme, these events cater to the 'experiential diner,' who craves not just an amazing meal, but a new and exciting dining experience.
"This shift toward ticketed experiences is also creating a new kind of entrepreneur — up-and-coming chefs are turning to events to build their brand and highlight their creativity without necessarily being tied to a brick and mortar restaurant."
The Workforce
While Dinner With A View has a team of dedicated staff members whose role is to organize the transportation of the domes, the full-size mobile kitchen where the food is prepared, and all the other components of the event, approximately 85 local employees are contracted on an as-needed basis during the duration of the pop-up, Georgiev said.
Dinner With A View works with local event spaces to host the experience in unique and interesting spots in each city, said Georgiev. Although he couldn't divulge quite yet what San Diego chef would partner with Dinner with a View, he did say the event generally partners with seasoned chefs that have participated in and won culinary contests such as
Bravo's "Top Chef". The chef will develop a three-course blind menu featuring meat, fish and vegan options made with locally sourced ingredients, he said. A full beverage menu will be available for purchase during the 1.5 hour reservation.
At the time of this interview and just three days after kicking off sales, Dinner With A View had sold 50% of its seating, according to Georgiev. San Diego will be preceded by a Dinner With A View event in Vancouver and followed by Chicago in the Spring and Washington in the Fall.
For now, the Dinner With A View team is anticipating a successful event right here, in S.D.
"San Diego is a culturally rich city with a huge passion for food," Georgiev said. "It made perfect sense to bring the event here."