HEALTH: PROTOCOLS MADE FOR TREATMENTS, TRACKING
ERs Pledge to Make Senior Care a Priority
Monday, December 16, 2019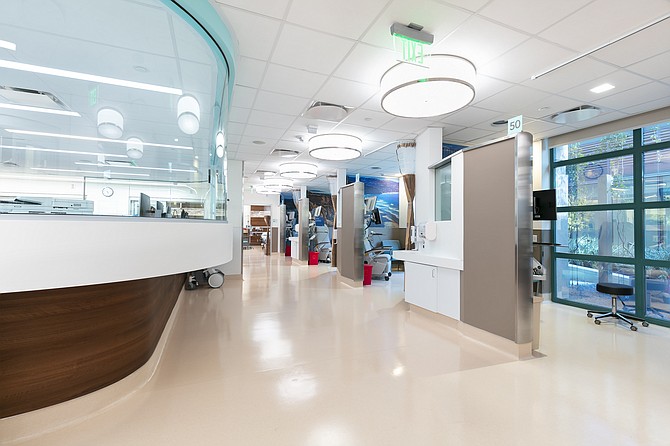 Windows letting in natural light. Nonslip floors. Sound-absorbing walls.
These architectural features jumped out during a tour of the Gary and Mary West Emergency Department at UC San Diego Health's Jacobs Medical Center. Also noticeable were artworks of San Diego mainstays — such as sandstone La Jolla bluffs — meant to reorient patients. The absence of beeping machines also stood out in the hospital environment.
The senior-tailored wing opened last year.
In a brightly lit hallway, nurses noted they assess new patients for everything from mobility to cognitive issues to medication history. The analyses extend to living situations, including looking for signs of elder abuse.
Senior screening and treatment protocols will soon be coming to more ERs in San Diego, in recognition of the aging population and payment models that put the onus on hospitals to prevent readmissions.
Making the Pledge
Under a pledge signed by regional hospital leaders on Dec. 9, a majority of San Diego hospitals will have accredited geriatric emergency departments by 2021.
The American College of Emergency Physicians, or ACEP, awards three levels of accreditations — at a minimum requiring special protocols and staff with geriatric training.
Gold status also calls for senior friendly architecture and an array of data tracking patient outcomes. UC San Diego Health's senior unit became the first in California to achieve the mark last year.
"We're trying not only to treat patients, but understand the underlying cause of what brought them to the emergency room," said Dr. Ted Chan, chair of the department of emergency medicine at UC San Diego Health.
Compared with other emergency rooms, early data on the senior wing showed a 12% decrease in patients returning to the unit in 30 days, and a 20% drop in hospital readmissions in that span, according to Chan.
Better care isn't the only intent. Hospitals get dinged financially for high rates of readmissions.
"Part of what we're trying to do is prove we can bend the cost curve," said UC San Diego Health CEO Patty Maysent.
Philanthropists Gary and Mary West, who founded the nonprofit West Health, and the county are contributing $700,000 toward the regional ER effort.
In a news conference at Jacobs Medical Center in La Jolla, Gary West said geriatric emergency units on average save $8,750 per avoidable admission.
Saving Billions Nationally?
"If scaled nationally, what we're doing here today could translate into $20 to $30 billion per year in avoidable hospital admission costs," West said.
The Wests have committed $40 million to expanding senior-centric ERs around the country. More than 112 health systems have ACEP geriatric accreditation, with San Diego set to be the first county with a majority of hospitals holding the designation, potentially making the region a model.
West said even if hospitals aren't in the position to construct new ERs or make structural upgrades, assessments for cognitive decline and other measures go a long way in improving senior care.

Along with UC San Diego Health, signing the accreditation pledge were Alvarado Hospital Medical Center, Kaiser Permanente San Diego, Palomar Health, Paradise Valley Hospital, Scripps Health, Sharp HealthCare, Tri-City Medical Center and VA San Diego Healthcare System.
All four of Scripps Health's emergency rooms will earn geriatric emergency accreditation by the end of next year. That will largely revolve around updated care protocols, with new buildings or architectural changes possible long term.

Dr. Valerie Norton, chief operations executive physician at Scripps Mercy, said the health system already conducts in-depth screenings for seniors, but the methods sometimes vary.
"This will standardize our work," she said.
Highlighting the shift in emergency care, Norton cited the hypothetical example of an 85-year-old woman who comes to the emergency room with a broken wrist.
Traditionally, she might receive pain medication, an X-ray and a wrist splint — and then be discharged. But a geriatric emergency model calls for mobility tests and other screenings.
"Have we made sure that this is not the first of a long series of falls? Do we know this person can take care of themselves at home? Do we know this person actually understands how to go to the pharmacy to fill a prescription, and how to call to make an appointment with the orthopedic surgeon?" Norton said.
If not, case managers may be assigned to assist patients with post-hospital tasks.
Echoing Scripps, Tri-City said accreditation would formalize its work in care coordination, risk reduction and education.
ER Use
Seniors make up a growing slice of ER visits, including those that resulted in admissions.
In 2018, adults over the age of 60 accounted for 300,100 ER visits in San Diego County, or nearly 30% of total ED visits.
Six years earlier, they represented about 25% of total ER visits, according to data from California's Office of Statewide Health Planning and Development.
A greater number of seniors are expected in ERs, if only because of sheer demographics.
San Diego County now has 413,000 seniors, making up about 13% of the population, a number expected to double by 2030.
Sharp HealthCare said its four emergency departments are largely located in senior-heavy areas.
"Most seniors live in the Metro region of the county and South Bay's senior population is growing the fastest," said Dan Gross, executive vice president of Sharp, in a statement.
"We are right in the middle of that growth, and we look forward to preparing our team members and facilities to meet this important need by the 2021 target date."
County Board of Supervisors Chairwoman Dianne Jacob said at the news conference that the senior ER push dovetails with the county's Aging Roadmap, a blueprint for meeting the needs of older adults in the region.