RESIDENTIAL: CO. USES VIDEO TO CREATE COMMUNITY CONNECTION AND SALES
For Real Estate Marketing, It's Lights, Camera, Transaction
Monday, December 16, 2019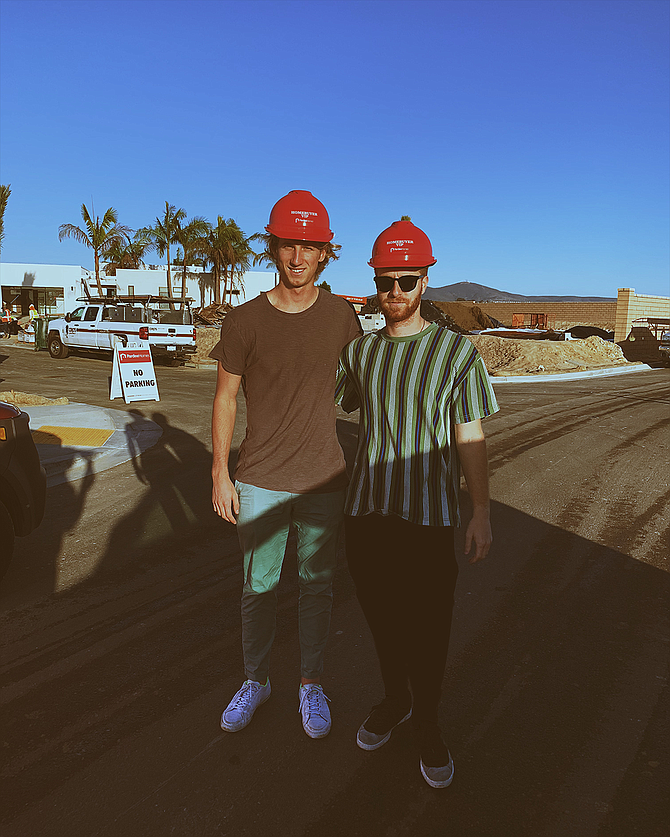 Two San Diego County men with an interest in video filmmaking and drones two years ago formed a company to make and market video presentations of real estate projects.
Their clients include builders, brokers and architects.
While it's becoming increasingly common from real estate brokers to use videos to highlight property they're selling, Property Showcase Group formed in 2017 by Chandler Short and Ethan Louis Lew goes beyond the property itself to tell a story.
For instance, a video they used to promote the sale of a million-dollar Solana Beach home went into the history of Solana Beach.
"Rather than focus on the house, we did a story on Solana Beach," Lew said. "Our intention with every video is to tell a story, sit someone down for an interview, find interesting stuff."
Their theory is that real estate deals are as much about a community as they are about a house that's up for sale.
The Cast
Sometimes, the company uses actors and models to help tell the story, maybe show someone walking through a community or playing a sport.
"Our bread and butter is creating films, documentary style films," Lew said. "We try to make interesting stories about real estate companies and projects that people would like to watch."
They also oversee the placement of the videos and other material on social media.
Often, a company might recognize video as a good tool but not know what to do with the videos they get, Short said.
Social Skills
That's where Property Showcase's ease with social media comes in, posting and promoting videos and blogs on such sites as Instagram, Twitter, Facebook, LinkedIn and YouTube in a way that draws followers.
"We grew up with technology," Lew said. "We grew up with a lot of life lived online, on a screen."
Short, 23, and Lew, 25, met through a mutual friend after college and discovered a shared interest in video and real estate.
A 2014 graduate of Westview High School in Rancho Penasquitos, Short said that he wanted to become a professional soccer player.
"I got into filmmaking by editing my own soccer highlight videos, which I sent out to college coaches around the U.S. Creating these videos made me realize the power of video marketing because I was offered scholarships in all three NCAA divisions," Short said. "I just found kind of an early passion in editing videos. That's kind of what sparked everything."
After studying business and economics for two years at St. Lawrence University in Canton, N.Y. on soccer scholarship, Short returned to San Diego.
Lew, 25, graduated from San Diego Jewish Academy in Carmel Valley in 2012 and studied urban planning and politics at New York University in New York City.
"There was a point in time when I wanted to be a U.S. Senator, believe it or not," Lew said.
A keen interest in drones is what indirectly led Lew to found Property Showcase with Short.
When drones started having cameras in them, Lew used them to shoot videos.
"Flying drones really got me interested in cinematography," Lew said.
It's an interest that paid off as Property Showcase uses drones for the aerial footage it uses in its videos.
"Almost all of our videos start with a drone shot," Lew said.
The Price
When Lew and Short formed Property Showcase, the company was charging $300 to $500 for a video presentation, Short said, adding that the company's going rate on a project is now $7.000 to $10,000 or more.
Short said Property Showcase has helped produce more than 475 videos ranging from 30 second social media spots to nine-minute documentaries, including one that the company did on the tallest residential tower in Nashville, Tenn. — 505 Nashville.
The company is small with a full-time staff of four augmented by freelancers, but it has big ambitions with a goal to grow internationally.
"We want to be the most notable agency for real estate storytelling around," Lew said.
Brett Dickinson, a La Jolla realtor with The Brett Dickinson Team at Pacific Sotheby's, said Property Showcase helped him in the sale of a $24 million La Jolla Shores home and built up his firm's social media presence.
"They're young guys but they're innovative. They work hard," Dickinson said. "A lot of people who work in the industry, they don't necessarily have deep interpersonal skills. I think they do a very good job of that." Before he hired Property Showcase, Dickinson said he didn't do much with social media.
"I really didn't do it in a real organized way," Dickinson said. "They've really been able to grow my social media presence."
To help market a $20 million home in Bird Rock called Waterfront, Dickinson said Property Showcase is producing multiple videos telling the story of the neighborhood and the property, including informal interviews with the husband and wife talking about what they did to the house and why they're selling it.
So far, the videos have 5,000 to 7,000 followers on social media, Dickinson said.
"People are very interested in the story," Dickinson said.
Pardee Homes based in Pasadena initially hired Property Showcase Group to create videos of homes for sale at several of their projects in Pacific Highlands Ranch.
"We were so pleased with their work, we hired them again to create a series of videos to help potential homebuyers explore the features, amenities and benefits of Pardee's master-planned communities and the neighborhoods within," said Jimmy Ayala, division president of Pardee Homes in San Diego.
Valuable Content
"They were easy to work with and helped us create valuable content for the Pardee Homes website, social media and sales office," Ayala said.
Extending the company's reach beyond San Diego County, Property Showcase helped with the sale of a $7.5 million home in Charlottesville, Va.
"This was one of, if not the most prominent property in Charlottesville," said Ann Hay Hardy, an associate broker with Frank Hardy Sotheby's International Realty in Charlottesville.
"We did a lifestyle video for the property, rather than just a property showcase. It was very different than the presentation we normally do, and it was effective," Hardy said. "They then moved on to bring that expertise to the firm's social media presence. We are currently working on a film for our area and our firm. I remain impressed."