NAVY IS STUDYING HOW TO EQUIP AIRCRAFT WITH WEAPONS
Northrop Grumman Receives Contract To Upgrade Fire Scout Electronics
Wednesday, December 18, 2019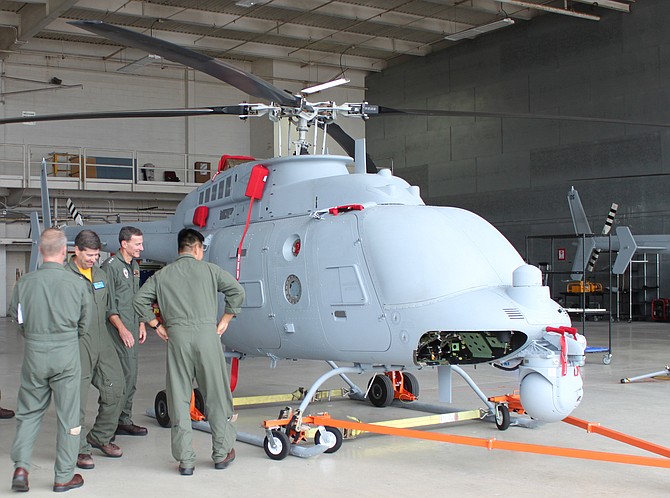 The following are selected defense contracts awarded to San Diego County companies in November and December. They have either been announced by the U.S. Department of Defense or by the contractor itself.
The U.S. Navy awarded Northrop Grumman Corp. a $9.1 million delivery order to upgrade the electronics in eight unmanned MQ-8C Fire Scout unmanned aircraft systems.
Fire Scout is a commercial helicopter from Bell Helicopter Textron Inc., adapted for unmanned flight by Northrop Grumman (NYSE: NOC). The program is based in Rancho Bernardo. The Navy plans to fly the aircraft off of ships, using it initially for reconnaissance, situational awareness and precision targeting support.
The new order calls for the production and delivery of eight AN/ZPY-8 radar modification kits, eight forward access panel modification kits and all associated nonrecurring engineering and qualification efforts in support of mission processor unit upgrades. Some 37 percent of the work will be performed in San Diego with the balance in Santa Clarita; Fort Worth, Texas; and Lititz, Pennsylvania. Work is expected to be completed by April 2021. The Naval Air Systems Command of Patuxent River, Maryland awarded the contract, announced on Dec. 9.
Leonardo Airborne & Space Systems builds the AN/ZPY-8 radar, also called the Osprey.
The Fire Scout helicopter is able to travel 150 nautical miles, stay on station for up to 12 hours, and return to its ship while carrying a 300 pound payload. The Navy said the program reached initial operating capability — essentially meaning it's ready for battle — in June. The Navy plans to buy as many as 38 of the helicopters.
Separately, the Navy said that it plans to continue to study ways of putting weapons on the MQ-8C.
Specifically, the Navy plans to enter exclusive negotiations with Bell Helicopter to engineer and develop a prototype for an aft cabin door to accommodate potential weapons stores. The government announced the plan on Nov. 25 on its Sam.gov contracting website.
According to the notice, the Navy completed weapons studies in late 2019. Bell previously conducted a structural analysis of adding weapons sockets to the MQ-8C.
Kratos to Monitor Satellite Signals
Kratos Defense & Security Solutions Inc. said it received a $7.7 million contract to provide satellite signal communication services to the U.S. government. The contract for geolocation global support services includes a base year and four option years. If the government exercises all of its options, the value of the work could be as much as $39 million over five years.
Kratos (Nasdaq: KTOS) made the announcement on Dec. 6.
The business will provide continuous radio frequency monitoring services for government leased bandwidth on commercial satellites as well as bandwidth on military satellite communications. Kratos will also support resolving interference, using mitigation strategies and geolocation activities. Kratos plans to use its Monics and satID products to identify, isolate and locate interfering signals.
Kratos said its monitoring services will let its U.S. government client efficiently use leased bandwidth, saving money and resources while ensuring that critical satellite communication links remain in operation.
The San Diego business offers RF monitoring services — also referred to as spectral services — with a global network of antennas and sensors necessary to provide 24 hour per day, seven day per week bandwidth monitoring, detection and geolocation interference in the C and Ku bands. Kratos' sensor network currently consists of 20 worldwide sites hosting more than 80 fixed and steerable sensors and antennas in the C, Ku, X and S bands. The radio frequency bands are similar to VHF or UHF in over-the-air television broadcasting.
"Kratos technology assures that U.S. multi-domain operations continue unabated. This service is just one of the many ways Kratos is aligning commercial capabilities with U.S. government strategies by ensuring satellite communication links in support of national defense," said Phil Carrai, president of the Kratos Space, Training and Cybersecurity Division, in a statement distributed by Kratos.
Kratos' Microwave Division Receives Orders
Kratos also said in November that its microwave electronics division received approximately $15 million in orders for C5 systems — that is, Command, Control, Communication, Computing and Combat systems. Kratos did not name its customer or customers, nor did it say how many orders it received. According to Kratos, its microwave electronics division is a leading provider of C5 products in support of missile, radar, missile defense, electronic warfare, communication and other systems.