BIOTECHS AND OTHERS WEIGH OPTIONS ON HEALTH PLANS
Small Firms Decry Clampdown on Association Insurance
Wednesday, December 18, 2019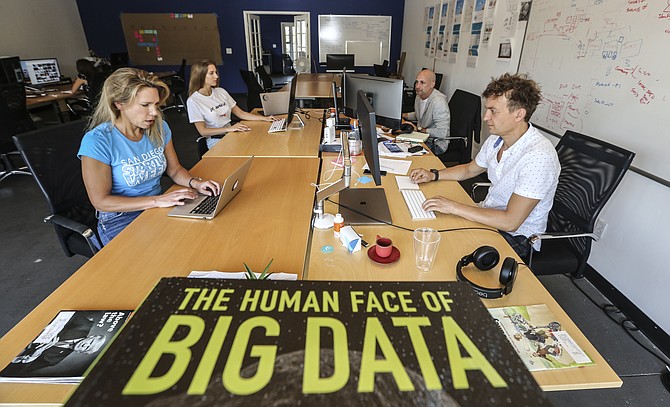 Xcom Labs joins forces with other small companies to buy insurance for its employees. The coverage is less expensive and more comprehensive than what the startup would find alone, helping Xcom lure big-name talent.
But next fall Xcom will have to shop for a new health plan.
By 2021, California companies with fewer than 100 employees can no longer pool together for insurance through industry trade groups, according to new state rules.

The Department of Managed Care earlier this month clamped down on "association health plans," alarming San Diego's tech, biotech and craft beer industries.
In the aftermath, insurance brokers are evaluating alternatives to these plans — and one trade group said it could even push back on the state rules.
Representatives of small tech and life sciences companies — a hallmark of San Diego's economy — said they rely on association insurance to compete with larger employers for talent.
That's the case for Xcom, a wireless technology upstart based in San Diego. Its employees hail from tech titans like Qualcomm, Google and Microsoft, which thanks to their size have greater leverage when negotiating health rates.
"You need to make sure you're providing great health care benefits for employees. Otherwise they're going to go to those larger companies," said Tamar Elkeles, chief human resources officer of Xcom.
But groups like the Alliance of Community Health Plans say association plans siphon away healthy employees from insurance markets, increasing premiums for others.
It's largely up to states to regulate these plans. In a Dec. 9 letter to insurers, the Department of Managed Care said under Senate Bill 1375 — which took effect in January — small employers cannot band together with companies in the same industry to act like a large company.
"By July 1, 2021, no small employers should be purchasing large-group market coverage," states the letter, adding companies can keep the insurance option in 2020 to give time to find another plan.
'Exploring All Avenues'

Insurance brokers are examining pooled insurance alternatives, which have a high bar to clear. A new arrangement must deliver similar rates to association plans within the confines of state law.

"We're exploring all avenues," said David Duenas, the life sciences practice leader at Hub International, which brokers an association plan through the California Life Sciences Association.
As of last month, the plan included 85 small employers. Meanwhile, companies with 100 employees or more can stay in the plan.

Possible alternatives for small businesses include professional employer organizations, or PEOs. These arrangements act as the HR department for small businesses, and can pool together companies for lower health rates in a way that might pass muster with the state.
But Duenas said because PEOs go beyond insurance and take on back-office operations, they must also be competitive on that front, one potential challenge of the model.
"You have to be competitive on payroll, you have to be competitive on workman's comp. There has to be other areas of financial differentiation and value," Duenas said.
Association plans are among the perks that entice membership in trade groups like Biocom, the California Life Sciences Association and the California Craft Brewers Association.
Biocom CEO Joe Panetta said along with the organization exploring other insurance offerings for smaller employers, its lawyers are reviewing what he called the Department of Managed Care's interpretation of the law.
"The door is open for us to take the challenge ourselves to potentially push back on whether that's a proper interpretation," Panetta said. He added if it is indeed a sound interpretation, a legislative fix is another possible route.
The Department of Managed Care said the new rules stem from Senate Bill 1375, which took effect in January. Put forward by then-Sen. Ed Hernandez, the bill was in part a response to association plans lacking comprehensive benefits that are mandated under the Affordable Care Act.
Panetta said because Biocom's plan offers broad coverage, SB 1375 wasn't on the radar of the trade group and insurers when under consideration.
"We didn't believe … that the legislation would have applied to the kind of plan that we have," he said.
Biocom Plan Members Mull Options
Dawn Barry is the president and co-founder of genomics startup LunaDNA, which has 22 employees and is enrolled in Biocom's plan. She said San Diego has a reputation for breeding small life sciences companies, and the new rules hamper their ability to hang with pharmaceuticals and tech behemoths.
"We have a very unique composition of small and big companies," Barry said. "Sometimes it's hard to find the mid-size companies. But I do think it's critical that as we compete with bigger companies for talent that we're on the same playing field."
Kleanthis Xanthopoulos — the CEO of Irras AB, a medical device company that's part of Biocom's plan — said he's hopeful that a comparable alternative emerges. What if one doesn't come?
"I don't even want to think about that," Xanthopoulos said, adding startups shouldn't be forced to choose between plowing cash into benefits or research and development.
A 2016 promotional video from Biocom states that on average its plan saved member companies $1,000 annually per employee in premiums. Health claims data show life sciences employees are generally healthier and younger than other industries, the video says.
Washington v. Sacramento?
While California curtailed association plans, the Trump administration has sought to expand them in a pitch for greater business flexibility.
But a judge this spring invalidated the effort, calling it an "end-run around the Affordable Care Act."
Even if the Trump administration wins on appeal, California could ignore its rules.
"States have broad authority to regulate" such arrangements, said Sabrina Corlette, co-director of the Center on Health Insurance Reforms at Georgetown University.
This summer, the Department of Managed Care signaled a clampdown on association insurance in a draft letter to insurers.
That led insurers to freeze enrollment in the plans, though companies thought the state might reverse course. Anthem and UnitedHealthCare did not respond to interview requests.
Association plans struggle if they lose employers or fail to attract new ones. So, with small employers set to be kicked out of the plans, how will this impact rates for large companies staying in them?
Todd Bennett — the division director of employee health and benefits at Marsh & McLennan Insurance Agency, which brokers Biocom's plan — said it's too soon to say.
"The large-group portion is substantial in size and should be stable on its own," he said. "I don't think we can assume this would be negative for large groups."
Elkeles, the chief human resources officer of Xcom, a 75-employee outfit, said association plans are only part of the picture.
"These trusts are set up because the insurance rates are so high," she said. "So this is part of a larger conversation."