DESIGN: PROXIMITY OF WORKSPACE, LIVING SPACE PRESENTS CHALLENGES
Firm Has Hot Hand Designing Stations
Thursday, December 19, 2019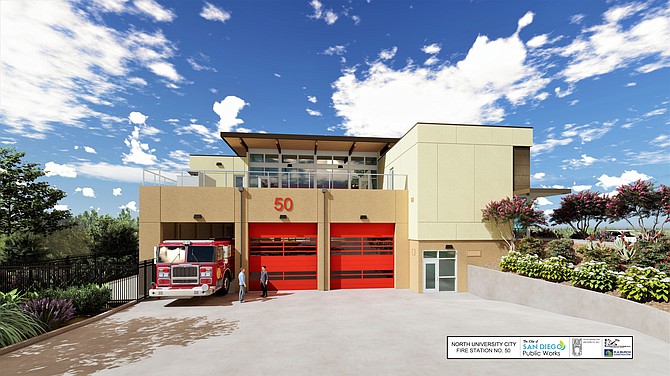 Fire stations really do have poles for fire fighters to slide down to get quickly from floor to floor, just like they did in decades past.
But the new stations are far different in nearly every other way from their predecessors, said Naveen Waney, principal and president of Platt/Whitelaw Architects.
The North Park firm and Safdie Rabines Architects based in Mission Hills were in charge of planning the $10.8 million Station 50 under construction for the San Diego Fire-Rescue Department in University City at 7177 Shoreline Drive at the Nobel Drive intersection.
"This was a complicated project which presented a number of challenges," said Taal Safdie, founding partner of Safdie Rabines Architects.
Safdie Rabines was responsible for the design of the building and Platt Whitelaw was the executive architect who executed the design with the contractor.
"The restrictive site and steep topography made easy access a challenge. We had to provide careful grading to ensure easy maneuverability and worked with the city to coordinate traffic control during emergencies," Safdie said. "The site was adjacent to environmentally sensitive land and we wanted the fire station to have minimal impact on the canyon."
The solution was to build a station with living quarters above the apparatus bays rather than alongside the building as is typical with fire stations.
This is the third fire station Platt/Whitelaw Architects has designed for the city, and the firm also is designing Palomar Fire Station 79 in Pauma Valley for San Diego County.
Station 50 is scheduled for completion in the summer of 2020.
The Contractors
General contractors on Station 50 are EC Constructors Inc. of Lakeside and R.A. Burch Construction of Ramona in a joint venture.
"The most unique and tricky part about a fire station is you have all these diverse functions that need to be separated from each other," Waney said. "The work areas need to be robust and durable. They take quite a beating, and the residential areas need to be friendly and sort of make you think you're home."
The design also must conform to strict standards set by the city.
"They include everything from room definition and what the rooms should include, to equipment needs and alerting and communication requirements," Waney said.
The city also required that Station 50 be LEED certified as energy efficient.
To achieve LEED certification, photo voltaic panels will be installed over the parking area and special energy efficient building materials are incorporated into the design, including double insulated glass windows that reflect heat, LED lighting throughout the building with sensors that turn lights on and off depending on how much daylight enters at any particular time, and a white thermal plastic material on the roof instead of metal, Waney said.
Sleeping Accommodations
Where old stations had dormitory-style sleeping quarters and were designed for men only, the new stations are designed to accommodate men and women.
Instead of a dormitory, Station 50 has 10 individual sleeping quarters of 110 square feet each.
Two of them that will be used by captains have their own bathrooms. The others share restrooms.
Aesthetics also were a factor in designing the station.
"Community context is important. You can't stick out like a sore thumb," Waney said. "You have to be careful with the architecture and the landscaping."
The first two floors are mostly concrete with a light tan tint, similar to some of the nearby residential developments.
The third floor is wood and stucco in what Waney described as a "grayish-tan" tone.
"There's a lot of daylight and glass and stucco," Waney said. "It's a little bit more of a residential quality."
Room to Maneuver
The firm also had to take special care in designing the driveways to ensure that ladder trucks didn't get hung up as they leave the station, Waney said.
The station will include exterior art work by Susan Zoccola chosen by the San Diego Art Commission.
Made of perforated metal, the piece is about 30 feet tall and 18 feet wide and "kind of reflects" the topography of the canyon and streams that run through it, Waney said.
The three-story building has 13,401 square-feet of space, including a 735 square-foot deck on the third level, according to city specifications.
The 5,977 square-foot first floor is the heavy-duty work area where fire apparatus will be parked. Ceilings are 17 feet high with 14 foot-tall garage doors to accommodate the apparatus.
Station 50 will have room for two fire crews and an ambulance crew, said Deputy Fire Chief James Gaboury.
The city several years ago had to remodel some older stations because they weren't big enough for new fire engines to fit inside.
Older stations averaged 3,000 square feet to 4,000 square feet, Gaboury said.
The first floor of Station 50 will include a workshop, a locker room where firefighters store their turnout gear — the clothes, boots and helmets they wear to a fire — and a washroom where they can clean off after returning from a fire.
The 5,977 square-foot second floor will have a watch room, the building lobby and a communications room.
The 4,746 square-foot top floor is the living quarters and is meant to have more of a homey feel, Waney said. It also has a 735 square-foot deck off of a dine-in kitchen with multiple refrigerators, a commercial-grade stove and steel countertops.
"They're set up more like a commercial kitchen than a residential kitchen," Gaboury said.
In times gone by, the kitchen was more of an after-thought.
Station 50 is one of several new stations being built or planned to meet shortfalls in response times that were identified in a 2017 study by Citygate Associates, Gaboury said.
Recent Stations
The city has opened new fire stations in City Heights, Little Italy, Mission Valley, Point Loma and renovated stations in La Jolla, Mira Mesa, North Park and Southcrest.
The goal is to respond to emergency calls within seven minutes and 30 seconds 90 percent of the time, said Gaboury, the deputy fire chief.
A new station was needed on the east end of Nobel Drive because of the new development in UTC, Gaboury said.
About those poles.
In station 50, there are four poles in sets of two.
The poles are in closets of sorts with doors that have to be opened to reach the pole so there isn't a big hole in the floor that someone could fall through.
The poles are at opposite ends of the building.
One pole in each location goes from the third floor to the second and another pole goes from the second floor to the first floor.
"From your bedroom, you run out, you go through a hallway, you get to the pole. You climb onto the pole and you get down to the next level," Waney said.
A single pole going from the third floor to the first floor would be too big of a drop.
"You'd come down like a sack of potatoes and that wouldn't be good," Waney said.