SDBJ INSIDER: Creating a Roman Holiday to Remember
Sunday, December 22, 2019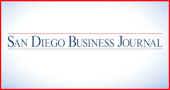 If a chariot is how you roll, you will appreciate the work two San Diego companies did for Caesars Palace Las Vegas.
Brand consultancy Courageous and advertising agency Do Not Disturb have crafted a social media campaign that deserves two thumbs up from your inner emperor.
"Where most of the hospitality world focuses on simply showing amenities, we wanted to make sure that we to,ld a compelling brand story with fun videos happening throughout the luxurious resort," said Daniel Andreani, co-founder at Do Not Disturb.
In the campaign Rome and Vegas feed off each other's energy like Caesar and Cleopatra.
"We always talked about showcasing Caesars Palace as a place for fun luxury," said Ryan Berman, founder of Courageous. "You can see the fun in the stories and the luxury in the art direction."
Berman founded Courageous with his partners Billy Collins and Sean McGrath in January of 2019.
Do Not Disturb was founded in 2017 by creative veteran Andreani and experiential expert Sophie Masson.
••••
Back in the real world, San Diego-based Citadel Defense Co. has worked with three undisclosed U.S. Government agencies for six months to deploy counter-drone technology.
The threat of drones was seen in a September attack on Saudi Aramco oil processing facilities in Saudi Arabia, causing extensive damage.
Throughout the pilot program, Citadel's Titan technology has been successfully operated in real-world missions for counter drone protection at live events, the company said.
"Our team has been impressed with the multi-agency collaboration that will safely integrate counter drone technology into everyday operation," said Christopher Williams, CEO of Citadel Defense. "Our technology is proven and immediately available to protect high value assets."
Citadel Defense is privately held company and reports having 11-50 employees.
"Citadel's solution is designed and engineered to meet end users' top priorities — protection, safety, and ease of use, Williams said.
••••
Petco continues to show how to stay relevant in a disrupted world. Its list of gifts for our furry friends includes an eye-catcher. It is the "Embark Vet Dog DNA Breed Identification Kit, which allows you to identify your dog's relatives and connect with other dogs that share DNA." Find out what makes up your marvelous mutt or top dog.