SDBJ INSIDER: Goodbye, Old School
Sunday, December 22, 2019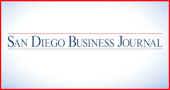 Investors and global partners were onboard for BlueNalu's cell fish tasting.
The San Diego-based company, an innovative food company developing seafood products directly from fish cells, prepared yellowtail amberjack using various techniques.
"We have made considerable advancements in a relatively short amount of time," said Lou Cooperhouse, president and CEO of BlueNalu. "Our company's science and technology team was formed just 18 months ago, and we are now focused on launching our products into a test market during the next 18-24 months."
BlueNalu was founded in 2018.
"…To create a whole-muscle product from fish cells that are grown without genetic modification required considerable innovation," said Chief Technology Officer Chris Dammann. "Scientifically, the achievement of going from blank canvas to food product so quickly cannot be understated…"
••••
Sometimes a gut check is a gut check.
San Diego based Sun Genomics announce a partnership with DexaFit, an operator of evidence-based fitness and wellness centers.
According to Sun Genomics, DexaFit's customers will have access to its "deep microbiome analysis and insights that are the first important step for improving their gut health, which has emerged as a critical component of overall health, well-being and performance."
Sun Genomics said it offers comprehensive microbiome analysis and customized probiotic solutions under the Floré brand that improve overall health through personalized science.
"We are in the middle of a revolution in which people are taking control of their lives through solutions that provide the information and insights on their behavior and health, and DexaFit is at the forefront of that movement," said Neal Gidvani, chief operating officer, Sun Genomics. "We are excited to work with them (DexaFit) to make gut health an integral part of every patient's overall health and wellness."
Sunny Jain is CEO and founder of Sun Genomics which was founded in 2014.