MOBILE BUSINESS TO GO ON BACK BURNER FOR NOW
Smokin J's Opening Brick and Mortar Store in Old Poway
Sunday, December 22, 2019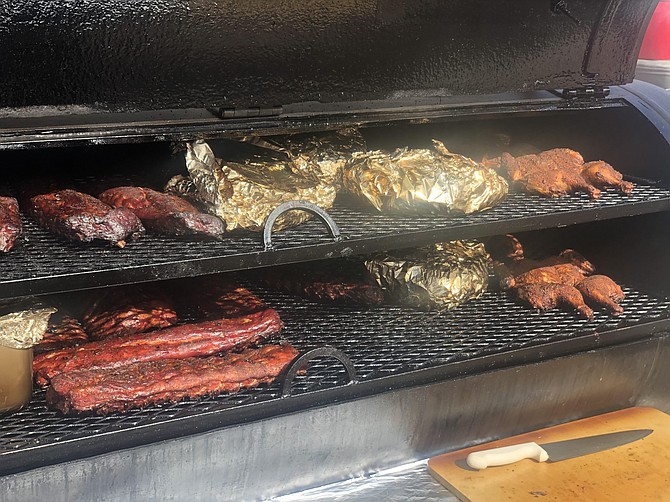 At its peak and since launching in 2017, Smokin J's BBQ has averaged 60 events a month between corporate lunches and dinners at apartment complexes around the county.
Now, brothers and Smokin J's BBQ founders Jeremy George and Joshua George are further cementing their San Diego footprint with the scheduled opening of the first Smokin J's BBQ restaurant in Poway on Dec. 14. The brick and mortar, with 625 square feet of indoor and outdoor space, is located at 14053 Midland Road in Old Poway Village.
While the brothers appreciate the opportunity to grow Smokin J's BBQ through its mobile business, Joshua George said they were ready to set up shop in their hometown.
"Doing the office lunches and apartment dinners was amazing in that it really helped us develop our skills and helped Jeremy develop his food and his technique, and it was great," he said, "but it was also a grind. Setting up and tearing down, four to eight times a day, and traveling 100 miles a day to get from event to event to event. That is a grind and it wears you out. It's just not something you can do for so long. We are incredibly grateful and though it was a hustle, it allowed us to get where we are now."
Smokin J's BBQ got started in 2017, after Jeremy George became inspired by his travels and his background in the culinary industry to launch a local BBQ concept. He brought Joshua George in, who was living in Australia at the time, after he asked him to loan him $5,000 to buy his first smoker and to be his business partner. Jeremy George kicked the business off making his rounds through the plethora of local farmers markets in town. In mid 2018, after remotely helping his brother for about a year and shortly after the business began to rapidly grow due to contracts with offices and apartments, Joshua George moved to San Diego to be more hands-on with the business.
Jeremy George said it was their meat supplier's idea for them to go after offices and apartments in the early part of 2018. He also said it has been relatively easy for Smokin J's BBQ to land those contracts.
"It's actually pretty simple," he said. "We have all our insurance and licenses and everything from the city and the county that says we are allowed to be a mobile vendor and insurance that covers us at any event we do. I call around town, find people that are interested… . I organize with them about a month out… we show up, set up stand, and (tenants) come out and buy food."
Joshua George explained that Smokin J's BBQ started off doing approximately two or three events per month and, at its peak, was doing 60 events a month. He said the company would work the office buildings in the afternoon and then head straight to the apartments for dinner. He said Smokin J's BBQ has three smokers on trailers and would normally work two lunches and two dinners at four different locations via two trucks a day.
But, because the George brothers plan to put all their effort in the restaurant moving forward, they will progressively scale back the mobile aspect of the business, said Joshua George.
"We actually just recently had the unfortunate loss of one of our top cooks, who was set to take over the mobile business for us," said Joshua George. "She had some issues come up where she was no longer able to work with us although we had trained her to take over the mobile which meant we wouldn't have had to scale it back as much. But, unfortunately now that she left us, we will have to scale back significantly for a few months while we get the restaurant on its feet and running."
Jeremy George said, while they grow the restaurant, they will still take on a select number of catering jobs as well as office deliveries. Once the restaurant is up and running, he said, then the two will reevaluate how to move forward on the mobile side and hopefully grow it again at that point.
In the meantime, Smokin J's BBQ fanatics can visit the Poway location for some of its signature dishes. The menu features classics like pulled pork, smoked brisket, baby back ribs and smoked chicken, as well as mac n' cheese, Cajun fries, fresh-baked cornbread, collard greens, smoked beans and more. It also boasts rotating specials like the "rib of the month" as well as seasonal items like smoked duck and smoked turkey.