HOUSING: FULL-SERVICE EFFORT TARGETS AN $11 BILLION MARKET
A Ventura modular home made by Dvele based in La Jolla is listed at $1.3 million. In March, Crescent Real Estate pumped $14 million into the venture. Photo courtesy of Dvele
Sunday, December 22, 2019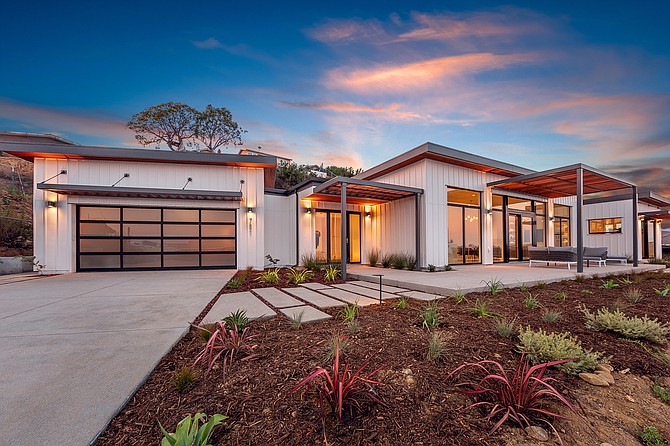 Think of a home that comes in pieces, is assembled on site and sells for more than $1 million.
As incongruous as that might sound, that's exactly what home builder Dvele did in Ventura.
Based in La Jolla, Dvele manufactures modular homes in a Loma Linda factory and trucks them in pieces to buyers as far away as Colorado.
The company was formed in May 2017 by brothers Kurt and Kris Goodjohn and moved its headquarters to La Jolla earlier this year.
Kurt Goodjohn said he and his brother initially thought of San Francisco for the company headquarters.
"After a while, we really couldn't justify the financial cost of starting up there," Goodjohn said. "Since we acquired our factory just south of L.A., we then started to think about planting our roots in L.A."
A traffic jam made them rethink the plan.
"One day, when I was stuck in a three-hour traffic delay, I started to wonder why none of us had suggested San Diego," Goodjohn said.
The company name, Dvele, is a Norwegian word that roughly translated to English means "to dwell," Goodjohn said.
"Kris and I have Norwegian heritage," Goodjohn said. "Prefabrication is prevalent in Scandinavian countries and we wanted to honor our heritage as well as the roots of what got us into modular in the first place."
Dvele has a staff of 15 in the Bird Rock neighborhood of La Jolla and about 90 workers at its factory, said company President Matt Howland.
The modular home market is expected to be more than $11 billion in 2019.
From Permits to Grading
Dvele handles everything from permitting and site preparation to design in consultation with the buyer to the manufacturing and delivery.
"We're one of the few modular companies that actually does the full gamut," Howland said. "We handle the dirt work, any excavation, the grading. We do the full architecture, engineering. We handle all of it. We try to make it as easy as possible."
Buyers can pick a model from Dvele's website then refine details with the Dvele staff after the Dvele inspects the site to ensure that it's suitable.
"We'll kind of guide you to the right product," Howland said.
$1.3 Million House
Just completed, the 2,000 square-foot Skyview model home built on spec in Ventura is on the market for about $1.3 million.
Depending on how the modular sections are arranged, Dvele has models starting at about $170,000, Howland said.
"We really are spanning quite a range," Howland said.
The size of a Dvele home is somewhat limited by the width of the streets leading up to the home site, Howland said.
The houses generally range from one module to eight, Howland said, adding that a typical module ranges from 600 square feet to 800 square feet.
"If someone wants a huge expansive bedroom, we can absolutely do that," Howland said.
The design is what Howland called "Scandinavian farm houses" with mostly flat roofs, often with wood siding and finishes
A typical home has five modules, but they can come as small as one module, Howland said.
Delivering the Modules
Dvele prepares the foundation for the home on site, then delivers the home modules from the factory by truck and lowers the modules onto the foundation by crane.
"It's a pretty fun event," Howland said.
So far, Dvele has sold about 25 homes, although it has yet to break into the San Diego County market.
Buyers run the gamut demographically.
"We've got a couple of people in their early 30s looking for smaller homes as kind of their first home and then we've got others who are retired," Howland said.
Sustainability
A key attraction is that the homes are made to be highly energy efficient and designed for sustainability.
Among other things, the homes come with air filtration systems in every room to remove particulates, a water filtration system on every faucet and use building materials from companies that disclose the chemicals, processes and toxicity testing results of their products.
"We see the future very differently than the way traditional home builders have seen things for the last 200 years," Goodjohn said. "The home, to us, is a central component to a well-functioning society."
Because they can be made so quickly — ready for occupancy in as soon as six months — modular homes also would be a good choice for people rebuilding in California after a wildfire, Howland said.
Before starting Dvele, the Goodjohn brothers founded Karoleena, a Canadian company in British Columbia that made modular homes.
After selling Karoleena in 2016, Kurt Goodjohn said he and his brother "realized that there weren't many people on the planet with as much experience and vision in the (modular home) space as the two of us." To capitalize on the experience, the brothers bought what Goodjohn said was the "struggling modular factory" in Loma Linda, upgraded it and formed Dvele.
"Our purpose is to create a new generation of self-powered, healthy homes that will transition to a clean energy future," Goodjohn wrote in a description of Dvele's evolution.
$14 Million From Crescent Real Estate
In the past year, the company has grown 300 percent, Goodjohn said, although he declined to provide revenue figures. He said that the company is "just starting to really pick up steam." Dvele got a boost in March when Dallas-based Crescent Real Estate pumped $14 million into the venture.
In the past, manufactured housing was sometimes seen as inferior.
"Unfortunately, years of driving to produce the cheapest product at the expense of quality gave the manufactured housing space a very bad reputation," Howland said. "Most of those were fairly poor quality. They were not really energy efficient."
Dvele hopes to change that.
"Once our homes are in place, they are identical to a traditional site-built home," Howland said. "We're aiming for a very, very high quality product, higher than you traditionally get even if you hired a custom contractor."