CLEAN TECH: FOUNDERS BUILD ON YACHT AND WINDMILL EXPERIENCE, RAISE $1 MILLION
Wind Turbines on Wheels Drive Uprise Energy's Business
Sunday, December 22, 2019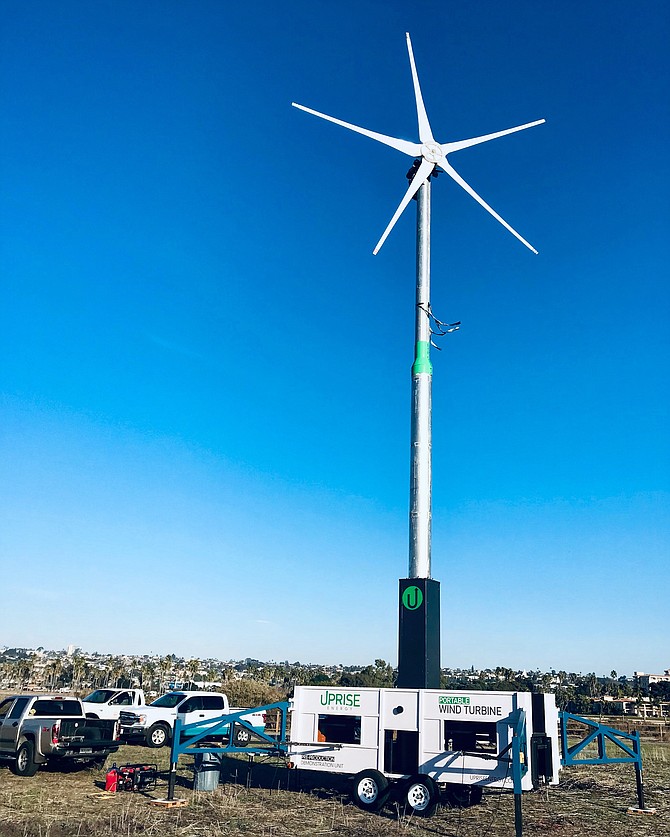 Wind turbine specialist Uprise Energy was recently selected as a top three finalist in the clean tech category during the annual Most Innovative New Product Awards, presented by Connect and the San Diego Venture Group.
In operation since 2017, the startup has raised more than $1 million from friends and family. The company recently closed out its Series A round of financing and expects to open a Series B round in the second quarter of 2020.
Uprise Energy produces an electricity-generating wind turbine that can be trucked to a location and set up. Its foray into the wind industry began when John Knight's maritime company, Knight & Carver Yachtcenter, was contracted to develop an innovative solution to combat serial blade failures in existing wind turbines around the globe.
John Knight's son, Jonathan Knight, co-founder and CEO of Uprise Energy, worked as a general manager for the Knight & Carver Wind Group division. Leveraging his expertise in advanced composites and fiberglass, he led a profitable 400-person wind operation developing thousands of new class wind blade solutions.
Changing Direction
In 2011, Knight and Carver successfully exited their company and the father-son duo transitioned into the wind industry to develop the world's first commercially sized mobile wind turbine. The renewable energy company aims to tackle one of the world's most pressing challenges — accessible power.
According to the World Bank's Global Tracking Framework, 1.2 billion people  —  a number almost as much as the population of India  —  don't have access to electricity, and 2.8 billion have to rely on wood or other biomass to cook and heat their homes. "Energy is fundamental to modern life, yet in 2019 there are many people who still experience this energy poverty around the world," the younger Knight said.
To combat this global disparity, the tech startup is bringing to market its Uprise Energy Mobile Power Station. The 10 kilowatt portable wind turbine is a transportable product that utilizes Internet of Things (IoT) technology to deliver low-cost energy worldwide.
"Our wind turbine ships in a standard shipping container. You can tow it with an ordinary vehicle and implement our machine on-site without needing special training or additional site improvements," Knight said. Connected to weather information, the system autonomously monitors its machine health, raises its blades to an upright position to catch the wind, and then automatically lays itself down into its protective storage unit to avoid damage.
In addition, the company's "Dancing with the Wind" feature uses advanced fiberglass materials to maximize the power in variable wind, playing an integral role in business creation and product development. Company officials say their competitive edge is that units can be easily delivered to remote sites, set up in one hour, and produce enough electricity to support 100 villagers in low wind speeds.
Deploying Service
For the past two years, the team innovated, designed and successfully tested their technology with large mining and construction companies in Australia. Uprise landed its first lucrative pilot project in Indonesia. Terms of the deal were not disclosed.
Transitioning out of the development stage into production, multiple units are being built in-house in Serra Mesa to treat the high demand for an alternative inexpensive energy solution.
Focused on generating revenue in 2020, the company plans to operate in commercial markets that include construction and mining, military operations, humanitarian, temporary job sites and disaster relief efforts.
Lessons Learned
Before entering commercialization, Uprise conducted several performance studies to craft the best blade on the market. "With the average wind speed around 10 miles an hour, we wanted to tailor our turbine specifically for this ideal environment," Knight said. Working with their preeminent blade designer from the Knight & Carver era, they modeled over 2 million unique blade shapes before selecting a concept that best suited their expectations.
As a result they developed a blade with 48% coefficient power compared with the standard blade model, which produces in the mid-range of 20% coefficient power.
"In the beginning our design process posed some pretty unique challenges but it's something that we are doing remarkably well in." Knight said.
A Threefold Path to Growth
Rapidly growing at 15 full-time employees, the company has garnered support from an entrepreneur and angel investor whose San Diego gaming company was acquired by Epic Games earlier this year. "He loves what we're doing and is very pleased about the way our team is growing," Knight said. "We are glad to have him on board."
Uprise Energy has a threefold plan to expand the business, including:
● Remain an incubation farm to fully commercialize its 10-kilowatt units and perfect the technology.
● Create a template that can be duplicated in other factories around the world.
● Build concepts around a 50-kilowatt unit and engineer future renewable energy machines.
"With around three billion people lacking access to electricity, our products can offer them accessible and affordable power. The possibilities are endless," Knight said.