ALL ROOMS WILL BE PRIVATE ROOMS; SOME FLOORS TO BE DEDICATED TO SPECIFIC CARE
$277 Million Modernization Plan Brings New Tower, New Touches to Care
Thursday, December 26, 2019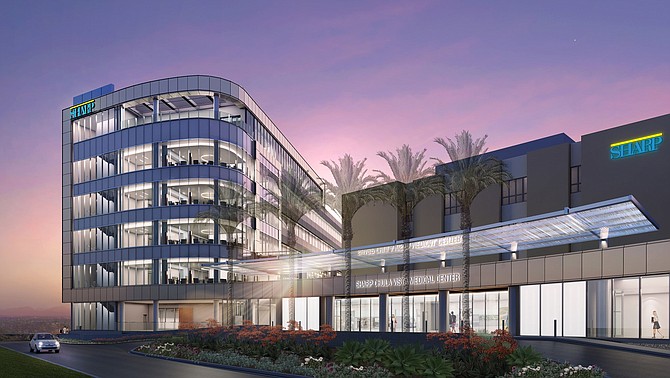 Sharp HealthCare is readying the $244 million new tower at Sharp Chula Vista Medical Center to open in January.
"We want to make sure that our patients in the South Bay don't have to go outside of the South Bay to get care," said Pablo Velez, CEO of Sharp Chula Vista. "We want to provide that care right here in the community."
The seven-story tower with its shiny glass façade was recently named project of the year by the Design-Build Institute of America.
"That tells you a lot about how we were very meticulous about the design," Velez said "It's not only a beautiful place, but one of the safest hospitals by design that I've seen in the entire country. That was one of the reasons that we won that award," Velez said.
Separating Functions
The safety comes from how the new tower was designed to separate functions to reduce the possibility of spreading contamination.
For instance, each patient room has a sink and work station at the entrance where nurses can wash their hands on entering and leaving and have gowns and gloves readily available.
There are separate elevators for staff, visitors and food and nutrition delivery.
"When we looked at the sterilization processing area, the management of equipment and sterilization is separated into three different components so there's no possibility of cross contamination," Velez said.
The design-build team on the project included Hensel Phelps as the general contractor, the design firm SmithGroup, and AVRP Skyport architect.
"Our design was inspired by the new tower's location, perched high on a hillside overlooking San Diego and the Pacific beyond," said Bonnie Khang-Keating, director of SmithGroup's San Diego and Los Angeles offices. "The Ocean View Tower at Sharp Chula Vista exemplifies its community in an accessible, transparent design that evokes a feeling of refuge and healing."
The building is LEED certified with high performance windows that allow for natural light help keep it cool, it has high-efficiency LED lighting throughout that cuts energy use by more than half and drought tolerant landscaping.
Trees that were on the site were transplanted.
Rooftop Cafe
At 197,000 square feet, the tower is the first new hospital built in the South Bay in the past 40 years and Sharp HealthCare said it was the company's largest single investment to date.
The tower has 106 private patient rooms and six large operating rooms, including a hybrid room that allows for advanced surgical and imaging procedures in the same room.
"All of our rooms are going to be private rooms," Velez said.
The private rooms are to allow visits by large families.
"We will allow a family member to stay overnight with a patient to accommodate that," Velez said.
There also are entire floors dedicated to specialized cardiac, stroke and cancer care.
The tower also has a new hospital entrance, lobby, pharmacy and kitchen.
Topping it off is a rooftop café with panoramic views.
"We have created this amazing environment in a hospital setting that is absolutely beautiful," Velez said.
From the rooftop cafe, visitors can look south to Mexico, east to the mountains, west to the Pacific Ocean and north to downtown San Diego.
Construction of the hospital tower was part of a modernization program that also included $30 million in addition to the $244 million construction cost of the building to reconfigure the entrances and exits to the hospital. It also included new utility lines.
"There was a road one-way in and out of the Medical Center court," Velez said. "We tried to fix that so we have a loop road going around the campus and you could enter the campus from a number of directions. The flow of cars is a lot better with this new tower."
Velez said the new hospital tower was needed to cope with rapid population growth in South County with construction of new apartment and housing developments.
"Our South Bay community has been growing and growing and pretty often, we have patients waiting in the emergency department for an in-patient bed," Velez said. "The other thing that happens is that sometimes we have to wait to do some surgical procedures."
Both of those issues should be solved with the opening of the new hospital tower.
An Open House
An open house is scheduled for Jan. 11 with the official opening of the hospital tower set for Jan. 14.
"We want the community to come and see for themselves the great facility we built for them," Velez said. "This is an amazing project that is going to serve our community for many, many years to come."