Biogen pays Ionis $45M Upfront to License Experimental Alzheimer's Drug
Thursday, December 26, 2019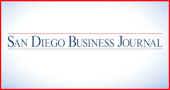 Carlsbad-based Ionis Pharmaceuticals recently licensed its experimental Alzheimer's drug to Biogen, earning $45 million upfront and potentially an additional $155 million in milestone payments.
Ionis is also eligible to receive sales royalties, if the drug – which is in early-stage clinical testing – eventually wins approval.
The potential therapy, IONIS-MAPTRx, is designed to cut down on the production of what's called MAPT, or microtubule-associated protein tau, in the central nervous system. MAPT is thought to contribute to or cause neurodegenerative diseases like Alzheimer's.
Under the deal, Ionis will keep running a phase 1 clinical study and an extension study. Biogen will handle subsequent clinical studies and commercialization.