COLEPEPPER PICKS LOGO THAT POPS; UPDATES WEB PRESENCE
Plumbing Company Makes Acquisition, Rebrands To Standout in Crowd
Thursday, December 26, 2019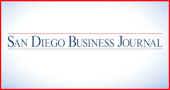 In November, Carlsbad-based Colepepper Plumbing & Drains acquired local plumbing company, Arthur Brown Plumbing. In early December, Colepepper Plumbing finalized a complete companywide rebranding effort led by New Jersey advertising agency KickCharge Creative.
Now, Colepepper's owner and founder, Mitch Kenney, says he is ready to grow the local company in hopes of making it the No. 1 plumbing brand in all of San Diego.
"Our culture has become very visually oriented, so it's crucial for companies to stand out from the nonstop stream of information and images," said Kenney. "We wanted a strong, bold brand that reflects our confidence as a company and gives us the 'pop' that's so important in the digital era."
Kenney, who launched the company in 2014 and has a total of 24 employees, said the Arthur Brown Plumbing acquisition came about when its owner, Phil Rado, announced his retirement from the business. That is when Kenney stepped in to purchase the company and take over the operations. The terms of the deal were not disclosed.
Streamlining Operations
The new agreement with Arthur Brown, founded in 1966, helps streamline operations for each company, said Kenney, adding that Arthur Brown employees have all remained in existing service areas and that both companies will remain as separate entities.
"Combining operations like this just makes sense," Kenney said. "It's a great opportunity for Colepepper to efficiently reach new customers and new service areas, and homeowners and business owners who have relied on Arthur Brown through the years will see the same level of service they're used to while also enjoying the value and responsiveness that come with a streamlined business infrastructure."
Mobile Site Refresh
In terms of the rebranding of Colepepper, it features a new logo accompanied by a cartoon image of an orange hot pepper wearing glasses and holding a wrench. The image will appear on the company's new truck wraps and website, according to the company. The website's redesign also offers updated features and a new layout as well a mobile site refresh and enhanced content, including a blog, coupons and special offers.
"We've adjusted the visual and digital sides of the Colepepper brand, but we're not changing our commitment to quality service, fair prices and reliability," said Kenney. "Colepepper will still be delivering the best plumbing value and customer experience to the San Diego area."