REDEVELOPMENT: EMPTY DOWNTOWN STRUCTURE NEEDED ADA FIXES
Foley Development Spends $3.5M to Refit Garage
Sunday, December 29, 2019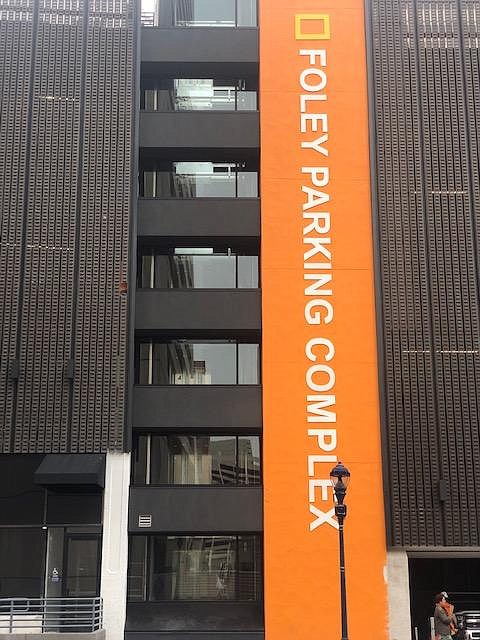 San Diego developer Tim Foley bought and renovated a downtown parking garage that sat vacant for more than a decade because it didn't meet federal standards to be accessible for the disabled.
Despite a shortage of downtown parking, the eight-story garage with 268 spaces "was closed for no other reason than it didn't meet ADA (Americans with Disabilities Act) compliance," Foley said.
Foley said he bought the garage a year ago for $5.6 million and spent about $3.5 million renovating it.
'One Floor at a Time'
To bring the garage up to ADA standards, Foley said he had to install a new staircase and glassed-in elevator, going through eight floors of concrete to make room for them.
Using giant saws to cut through, "we had to core through eight floors of concrete," Foley said. "We had to core through one floor at a time."
Before Foley bought the garage, the only access to the upper floors was a single staircase in a corner of the building.
The renovation included adding a second staircase, a glass elevator and a ramp leading to the elevator.
Foley said he used glass for the elevator because it has views of San Diego Bay from the fourth floor up and to provide a better sense of security for those riding inside.
"It's a pretty good view going up and down," Foley said.
A private security company also patrols the building.
"I do understand many downtown have been wondering what all the construction was on 5th and A. Now we can tell them," Foley said.
Brick and Mortar Goes Digital
Demand has been so intense that Foley said that spaces reserved for monthly parkers were sold out before the garage even opened.
About 200 spaces will be set aside for monthly parking and those are already taken.
In addition, Foley said there's a waiting list for 140 spots.
"We got just mobbed by office buildings, law firms," Foley said. "We had pretty much every neighboring building asking to rent 100 slots, that kind of demand."
Along with the structural changes to the garage, Foley said he's bringing in a system that will require parkers to use a cell phone application to pay for parking spots.
Foley said the system was provided by New Orleans-based Premium Parking, which will manage the garage.
"It's all phone app based," Foley said. "I'm an old school guy. In our meeting, I'd say, 'I'm not going to download an app to park my car.' They looked at me like I'm crazy."
The Spot Market
Parkers use their phone to pay for parking and can use it to reserve a space in advance.
The fee depends on the time of day and demand.
"Every spot has a different valuation, so when you park there, it will charge accordingly," Foley said.
Hourly parkers pay in advance, and the app will send a text to their cell phones telling them when their time is nearly up and asking if they want more time.
"The one thing nice about an app based parking system is it manages that all for you," Foley said.
As part of the garage renovation, Foley remodeled 10,000 square feet on the first floor of the garage for retail shops and redid the sidewalks.
So far, Foley said about 7,000 square feet of the retail space has been leased to Hair Club for Men, a hair restoration and replacement company according to its website.