Kinnate Raises $74.5M for Cancer Programs
Sunday, December 29, 2019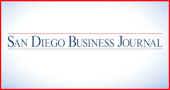 Kinnate Biopharma raised $74.5 million in a Series B round to advance several cancer drugs into human clinical testing and fund new research, the San Diego biotech said Dec. 20.
The company's programs fall under the banner of kinase inhibitors, which are designed to thwart cancers from metastasizing. Kinnate has yet to disclose which cancers it's targeting.
"This Series B financing positions us well to mature our candidates to clinical proof-of-concept," said Stephen Kaldor, co-founder and CEO of Kinnate, in a statement.
New investors OrbiMed, Nextech Invest and Vida Ventures took part in the round, along with existing investors Foresite Capital and Eshelman Ventures.
In connection, Kinnate added three board members: Carl Gordon, managing partner at OrbiMed; Brett Zbar, managing director at Foresite; and Michael Rome, partner at Foresite.