Halozyme Reports Record Royalties in Q3
Wednesday, November 3, 2021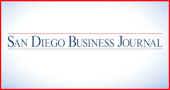 Halozyme Therapeutics (NASDAQ: HALO) saw a big jump in revenue and record quarterly royalties in Q3. On Tuesday, the San Diego-based biopharmaceutical company posted financial results -- and Wall Street applauded. 
Revenue for the third quarter was $115.8 million, compared to $65.3 million in Q3 2020.  
The year-over-year increase of nearly 90% was primarily driven by a rise in royalty revenue and increase in product sales, according to the company. 
Revenue for the quarter included $58.6 million in royalties, an increase of 145% compared to $23.9 million in royalties in the prior year period.   
"Our strong 2021 performance continued in the third quarter," said Dr. Helen Torley, Halozyme's president and chief executive officer. "We continue to project that full year royalty revenue in 2021 will be more than double 2020 royalty revenue." 
"Our topline growth in turn resulted in strong profitability for the quarter," Dr. Torley added. "We look forward to additional study starts before year-end as our partners continue making progress in the clinic developing products utilizing our ENHANZE technology, with the goal of providing patients with additional treatment options." 
Halozyme licenses its ENHANZE technology to leading pharmaceutical and biotechnology companies including Roche, Baxalta, Pfizer, AbbVie, Lilly, Bristol-Myers Squibb, Alexion, argenx, Horizon Therapeutics and ViiV Healthcare.  
The company derives revenues from these collaborations in the form of milestones and royalties as its partners make progress developing and commercializing products being developed using ENHANZE.
Last month, the company completed a Board-authorized three-year share repurchase plan that began in November 2019.  Under the program, a total of 22.3 million shares were repurchased for $550 million, at an average price per share of $24.72. 
With the release of its latest earnings report, the company also increased the lower end of yearly revenue and operating income guidance ranges to reflect the strong third quarter results. Halozyme now expects revenues of $430 million to $445 million, increased from prior guidance of $425 million to $445 million, representing year-over-year growth of 61% to 66%. 
Investors reacted favorably to Halozyme's Q3 update, sending the stock up more than 2% to $40.