HEALTHCARE: REVAMPED DECOR FOCUSES ON PATIENT COMFORT
FS Design Redoing Interiors at Palomar Medical Center
Thursday, January 20, 2022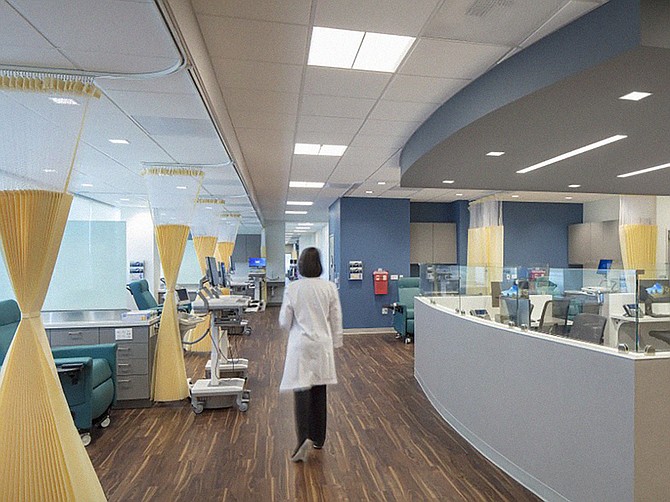 Cold, sterile maybe even scary used to be words that might come to mind in describing a traditional medical center or outpatient clinic. Now, try warm, inviting, even comfortable.

Those are the feelings 
FS Design Group
 hopes to achieve with their designs for the interiors of Palomar Medical Center, a three-building complex under construction adjacent to Palomar Medical Center Escondido on Citracado Parkway.

The $25 million interior improvements are part of the 56-acre expansion of the campus that is estimated to cost $110 million.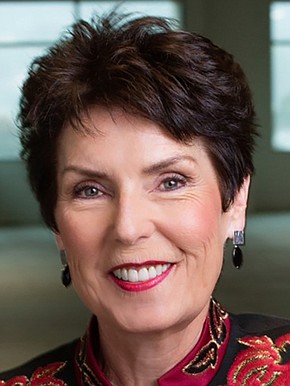 "A state-of-the-art environment in a medical facility is important but it can be intimidating," said Bre'an Fox, principal and senior designer of FS Design.

"To balance this, we are blending in a hospitality feel that is calm and inviting to help reduce the anxiety and promote healing," Fox said. "What we've definitely seen is there's been a visible shift in our entire industry to bring more to health care, in our case, more warmth, more feelings of comfort or attractiveness."

Everything from flooring and wall coverings to comfy furniture and the use of wood accents is a far cry from the institutional look of old. Gone are the harsh, flickering fluorescent lighting, replaced by LED fixtures that give off a softer light similar to a warm sunny day outside.

Clear signs and markings are meant to make it easier for people to find their way through the center.
Relaxing and Healing

Reflecting Palomar Health's branding, the overall color scheme is what Fox described as cyan blue, darker blue, bits of white and accent colors of orange.

"We've wrapped all of the spaces in more of a wood tone, everything from rich walnut woods to a lighter, beach driftwood tone," Fox said.

The first three-story, 80,000-square-foot building of the medical center was finished in January.

Construction on the second building is expected to be finished in late summer as is construction of the shell of the third building, Fox said.

Fox said that key rooms such as the infusion center where patients sometimes spend hours and the break room for the staff are along the windows to give sweeping views from the hilltop and allow plenty of natural light to enter.

In the past, closet-sized staff break rooms were notorious for being stuck in dark recesses of buildings. "We're trying to shift their break room to the perimeter glass line where they can go relax, look outside, just kind of bring the level of angst down," Fox said.

Diane Hansen, CEO of Palomar Health, said that FS Design "was thoughtful in the design choices and truly creating an environment where people feel comfortable being treated in a professional, warm and inviting office."

"It's nice to have spaces that promote relaxation and healing for patients and offer respite for their family and caregivers," Hansen said.

Align Builders is the general contractor for the medical center and Raymond Fox & Associates is the architect.
Similar Project

Raymond Fox is Bre'an Fox's husband and she said that she founded FS Design Group in 1992 in association with her husband's architectural work.

FS Design is applying many of the same designs in the renovation of the labor and delivery floor and the outpatient pavilion of Palomar Medical Center Poway.

"While there are minor adjustments to the physical plan, this refresh focuses on introducing the new Palomar Health hospitality ambiance which includes clean, contemporary design lines, warm wood materials, subtle textures, and soothing blue tones from their branded color palette," Fox said. "Palomar Health's team wants their new mothers and babies to enjoy the atmosphere of a beautiful hotel while experiencing the security of their state-of-the-art facility and talented staff."

Design work is nearly finished, with completion expected at the end of 2022.

In the adjacent Outpatient Pavilion building, FS Design is designing a 17,000-square-foot Ambulatory Surgery Center with five operating rooms.
 
"Patients will enjoy a similar contemporary but warm and inviting environment that their neighbors in the Escondido area will appreciate in the new medical office buildings on the main campus at Citricado Parkway," Fox said.
Complex and Costlier Designs

About 55% of FS Design's work is medical projects such as the Palomar Medical Center, Fox said. The firm also designs more typical office buildings.
 The medical projects are more complex and costlier. Fox said an office project costs about $80 to $90 per square foot compared to $200 to $210 per square foot for a medical project.

"With a medical space, you're really focused on two clients. It's the public the patients who are using the space and the staff that works there," Fox said.

In an office environment, "We're really catering to the employees who use the space," Fox added.

Office designs also are more open than medical centers, and the design typically has to hold up for shorter periods of time.

"When we do medical, it's upwards of 20 years," Fox said. "The durability of the design has to span those years. We endeavor to make it kind of a state of the art design but we don't want it so trendy that it's dated within three to five years."
FS Design Group

Founded: 1992
Principal: Bre'an Fox
Headquarters: Mission Valley
Business: Interior design
Employees: Seven
Notable: Boutique design firm formed in association with architectural firm
Website: 
www.fsdesigngrp.com

Contact: info@fsdesigngrp.com; 619-296-3500