BUSINESS OWNS 9 MILLION SQUARE FEET OF COMMERCIAL SPACE IN THE LOCAL MARKET
Irvine Co. Expands San Diego Offices
Thursday, January 20, 2022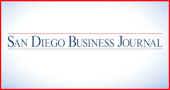 Irvine Company
 is expanding its San Diego operations as the company predicts a big year in 2022.

Irvine is one of San Diego County's biggest office and life science property owners, with about 9 million square feet of office and life science space.

As 2021 came to a close, John Turner, who became San Diego County regional vice president of Irvine, said that leasing for the year was "on pace with our performance in 2019, and it's up significantly in Del Mar Heights."

Figures for 2020 are often discounted because so many businesses shut down for part of the year due to the COVID-19 pandemic.

"We expect 2022 to be an even busier year with many experts predicting continued economic growth," Turner said.

Joining Turner in the expanded San Diego offices were Chris Gash as vice president of operations and Scott Diggs as vice president of leasing. Roles also were expanded for Nicole Ramos and Madalyn Wariner, senior operations directors.
Companies Seek Attractive Workplaces

Turner said that Irvine in 2021 leased nearly 1.5 million square feet of office space and life science space in Del Mar Heights, UTC, Mission Valley, Sorrento Mesa and downtown San Diego.

Among the companies signing leases with Irvine during the year were Gordon Rees Scully Mansukhani, Solomon Ward Seidenwurm & Smith and Tipsy Elves downtown and Turning Point Therapeutics at Gateway at Torrey Hills.

Turner said that since the pandemic began, companies are "even more focused on a workplace that gives their employees a reason to come to work."

"There's increased demand and utilization of our outdoor workspaces that allow teams to connect and collaborate together comfortably," Turner said.
 "Customers also continue to be focused on creating environments that promote overall health and well-being so their teams can return to the workplace with confidence."

As a possible sign of optimism in the market, Turner said that "customers are signing both long- and short-term leases."
Repurposing Older Properties

Further cause for optimism comes from a report by the commercial real estate brokerage Kidder Mathews. The firm said that 2021 finished with a bang for what had been a sluggish office market.

"The San Diego office market recorded approximately 7.5 million square feet of leasing volume," Kidder Mathews reported, with the market performing especially well in the second half of 2021.
Irvine Company

Founded: 1864
Chairman: Donald Bren
Business: Real estate investment
Employees: Nearly 4,000
Notable: The company's San Diego County holdings consist of 9 million square feet.
Website: 
www.irvinecompany.com

Contact: 619-615-8000