ESG: 'CONSCIOUS CAPITALISM' INSPIRES CEO
Tycoon Goes 'Beyond Zero'
Monday, June 6, 2022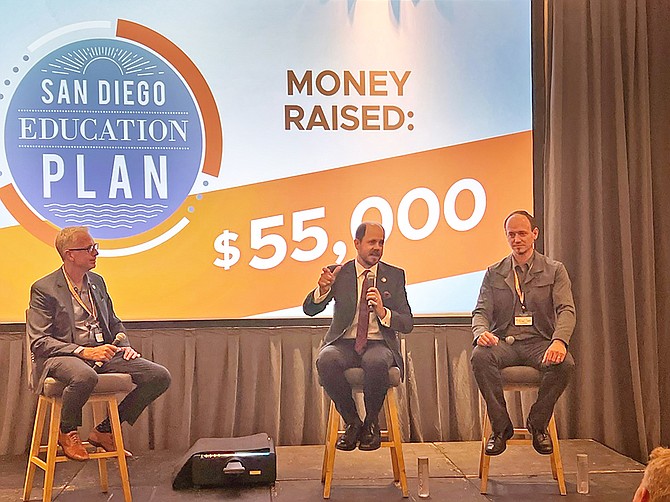 The life story of carpet tycoon Ray Anderson is still inspiring change, even after his passing in 2011.
 
On May 25, 
Conscious Capitalism San Diego
 (CCSD), along with partners The San Diego Business Journal and Better Business Bureau, sponsored the California premiere of "Beyond Zero" – a documentary film about Anderson's mission to make his carpet manufacturing company Interface 100% sustainable. The premiere event held at Coasterra drew around 150 people and raised $55,000 for education.
 
"This partnership has enabled us to launch and fund the San Diego education plan which is going to provide this film and all of its curriculum to every educator in San Diego County free of charge," said CCSD Co-Chair Laura Hall.
Inspired Journeys  

While introducing the film, Hall and fellow CCSD Co-Chair Michael Harth shared their own journeys to sustainability in business.
 
"I spent most of my career in the fashion industry and the fashion industry, my industry, definitely needs to become more conscious," Hall said. "In fact, the dirty little secret about fashion is that most experts think it's the second dirtiest industry on our planet after oil."
 
Hall said she witnessed firsthand the dirty side of fashion at a factory in Asia while working with Ralph Lauren.
 
"That was a wakeup call for me and I got to see up close and personal how not to treat people and how not to treat the planet," she said, adding that the trip inspired her to seek out ways to affect change in her business that ultimately led her to the Conscious Capitalism movement.
 
Harth said he discovered Conscious Capitalism eight years ago while assessing the bigger picture of his company LAZ Parking, which he helped found and grow into the country's largest privately owned parking company.
 
"When we started the business, it was about just hiring people and getting clients and making money and cash flow and survival and all those things that you do when you run a business to make ends meet," he said. "But as we started maturing and our business started getting more successful and started getting more profitable, we started asking ourselves, 'What is the most important part of this business?' And we realized it was the people."
 
Harth said by focusing on a "people first" mission of creating opportunities at LAZ, the company not only maintained an 86% retention rate for salaried employees, it also grew its revenues.
 
"We are a capitalist society, we're in business to make money, but we need to balance things. When businesses start thinking beyond just profit, the reality is they grow – they become more profitable," he added before announcing the start of the film.
Conscious Carpet Company
 
"Beyond Zero" is the story of Ray Anderson, founder of Interface, a successful manufacturer of tile carpeting for offices. The film follows the company's journey from industrial polluter to one of the most innovative practitioners of corporate sustainability.
 
Even though Wall Street investors reacted poorly to Interface's new mission, the company stayed the course pioneering recycling programs; installing solar energy even when electricity was cheap; and changing manufacturing processes and materials to "climb the mountain of sustainability" as Anderson described it.
 
Even after Anderson's death in 2011, Interface continued his legacy by setting a new goal: solving global climate change by becoming a carbon negative company, which the company reports it has now achieved.
Discussing 'Beyond Zero'
 
Through efficiencies, recycling and processes, Interface carpet now "sequesters more carbon than it took to make," said Interface Director of Technical Sustainability Mikhail Davis in a post-screening discussion with "Beyond Zero" writer/director Nathan Havey and moderated by Kent Gregoire, Conscious Capitalism consultant with Symphony Advantage.
 
"It's still a beginning of a journey, but it's very much a stake in the ground to say, 'We did it for a really weird, complicated, demon-layered cake of plastics you call carpet. Now who else can do this? Who else can create a product that if you actually sell more of it, global warning gets helped, not harmed?'" Davis said. "I love the contradiction of how mundane the product is versus how high-falutin our purpose is because it really shows if we can do it, anyone can do it. If you're some sort of fancy biotech company in San Diego, you guys are a lot smarter than us, you should be able to figure this out, too."
 
Havey said he was inspired to write and direct "Beyond Zero" – his first film – after reading Anderson's book "Confessions of a Radical Industrialist." Because of COVID, the screening in San Diego was only the 15th time he has attended an in-person screening, which has won multiple awards at film festivals across the world.
 
"What is going on with this film is well beyond anything I could have hoped for," he said, adding that he especially proud the film has been screened for corporate clients like the entire portfolio of KKR & Co. companies and thousands of employees at UPS.
 
The film is also now being taught at Harvard, Yale, University of Michigan and business schools in Mexico, Europe, Moscow, Hong Kong and Australia.  

Concluding the discussion, Havey said the key take away from the film should be that there is a lot of work to do to reverse climate change, but by unifying work with purpose it can be achieved.  
 
"We are already two years into the time that we have to make enough progress to have more time, as far as we know," he said. "I don't think that's a doomsday clock, I think it's a game clock. I think it's a 'How much we can get done?'" 
Conscious Capitalism

Founded: 2010
Headquarters: Warren, MI
CEO: Karen Sammon (interim)
Business: Nonprofit dedicated to promoting sustainability in business.
Revenue: $3.3 million (2019 per ProPublica)
Chapters: 28 worldwide
Website:
consciouscapitalism.org
Notable: Well-known Conscious Capitalism businesses include Whole Foods, Starbucks, Southwest Airlines, Costco, Google and Ben & Jerry's.