HEALTHCARE: EXPANSION AT SERRA MESA HOSPITAL PART OF 'ENVISION'
Sharp Launches Funding Campaign at Groundbreaking
Tuesday, June 7, 2022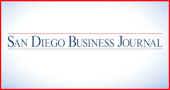 Sharp HealthCare
 is already bringing its "ENVISION" to life.
 
On May 26, the Foundations of Sharp HealthCare broke ground on Sharp Memorial Hospital's emergency and trauma center expansion – and used the occasion to announce a $250 million fundraising campaign to advance improvements at Sharp's corporate headquarters, regional medical centers and specialty hospitals.
"At Sharp, we believe a first-class health care system is a vital part of a community," said Bill Littlejohn, senior vice president and CEO of the Foundations of Sharp HealthCare. "This is perhaps the most sweeping group of initiatives to enhance health care delivery in San Diego's history."  

The ENVISION campaign is part of a $2 billion investment in technology, innovation and new facilities over the next decade.
Sharp reports it has raised already $86 million in the campaign's first phase.
 
The expansion at Sharp Memorial in Serra Mesa is an example of what kinds of projects the ENVISION campaign will fund.  The Cushman Emergency and Trauma Center expansion will provide 31 new treatment rooms, a new CT room, two specialized rooms for patients with contagious diseases and an expanded quick-care pod.
"Sharp Memorial is at the forefront of expert care, and we are thrilled to expand upon that legacy. Our Level II trauma center provides critical services to San Diego," said Tim Smith, senior vice president and CEO of Sharp Memorial Hospital. "This expansion is an investment in our community and furthers our commitment to patient-centered care."
 
Through ENVISION, Sharp HealthCare Foundation has committed to raising $100 million in support the expansion of Sharp's Serra Mesa medical campus - $15 million of which has already been raised, including a $4 million gift from the Cushman Foundation, most of which designated for the emergency and trauma center expansion.
Future Projects at Memorial
 
Over the next decade, ENVISION will fund several additional projects to transform and modernize Memorial Hospital. The centerpiece project is a seven-story patient tower with 152 beds in advanced medical and surgical units. The tower will also include dining facilities and office and conference space for clinical and specialty programs.  

On the north end of the hospital, the Sharp Mary Birch Hospital for Women & Newborns will be expanded with a six-story addition with 15 beds for women's' services.
 
To better connect the different areas of care at the hospital, a "Critical Care Podium" is planned to integrate all surgical and procedural areas at Sharp Memorial, Sharp Mary Birch and Sharp Memorial Outpatient Pavilion onto the same level.  

Additional features of the projects will include enhancements to safety, expanded pharmacy services and improved dining experiences.
Construction on the Memorial Hospital project will be led by McCarthy Building Companies, Inc.
 
"We are excited to be a part of the modernization of Sharp's largest medical campus," said Robert Betz, executive vice president of McCarthy Building Companies. "For more than a decade, McCarthy has been a proud philanthropic partner to the Sharp HealthCare Foundation in support of the services they provide to our local community. We look forward to supporting Sharp HealthCare in the years to come as they transform the health care experience in San Diego."  
More ENVISION Expansions
 
In addition to expansion at Memorial Hospital, the ENVISION campaign includes more than a dozen other initiatives, such as:
 
A new Prebys Innovation and Education Center – a $20 million project to build 70,000 square feet of state-of-the-art spaces for simulating, demonstrating and exploring innovations to health care technology.
 
Continued growth of Sharp Chula Vista Medical Center – a $25 million project to transform the empty sixth floor of the Ocean View Tower into an innovation unit.
 
Enhancements to mental health services at Sharp Mesa Vista Hospital – $10 million to fund multiple modernization projects throughout the hospital, including the Behavioral Health Intensive Care Unit (BHICU) Modernization Project and the East Wing II renovation.
 
Expanded emergency and intensive care services at Sharp Coronado Hospital – a $43.9 million project to relocate the ICU to a unit with seven private rooms; expand the emergency department from eight to 15 beds; and upgrade the exterior and parking areas of the hospital.
 
A new Sharp Grossmont Hospital Neurosciences Center – a $10 fund toward a $58.2 million facility for patients needing advanced neurosurgical, neurological and comprehensive-spine care. The space will feature an inpatient progressive care unit, an inpatient rehabilitation unit and a new 16-bed neuro-intensive care unit and a physical therapy/occupational therapy gymnasium.

The Moore MountainView Hospice Home – a $5 million project in Poway to build Sharp's fourth hospice home, which will include six bedrooms, multiple family rooms, kitchen, nurses' station and garden area.
 
Department expansion of the Sharp Rees-Stealy clinic network - $10 million to fund investments in telemedicine technology and build or expand facilities at key locations like the Shawline Medical Clinic, a replacement clinic in Chula Vista, a new clinic in Otay Ranch, the Frost Street Pharmacy at the Sharp Metropolitan Medical Campus and new medical offices for clinical and wellness programs at the Campus at Horton.
An addition $10 million is earmarked for Sharp institutes and specialty centers, such as the Terrence and Barbara Caster Institute for Nursing Excellence, Arts for Healing, Sharp Allison DeRose Rehabilitation Center, Laurel Amtower Cancer Institute and Center for Neuro-Oncology, Neonatal Research Institute, Nemeth NICU Follow-up Clinic, the Heart and Lung Institute and the Hip Preservation and Hypermobility Center at Sharp Memorial Hospital.
 
"At Sharp, we are guided by a relentless devotion to doing what's best for our community and our patients every time," says Chris Howard, president and CEO of Sharp HealthCare. "We are excited to embark on this inspiring initiative that further drives our commitment to The Sharp Experience – delivering the advanced technology, medical expertise and modern health care centers that will serve San Diego for generations to come."
Sharp HealthCare

Founded: 1950
CEO: Chris Howard
Headquarters: San Diego
Business: Not-for-profit regional health care group
Revenue: $4.4 billion (2021)
Employees: 19,000
Website: 
sharp.com
 
Notable: For the last seven years, the Sharp Health Plan was named the highest member-rated plan in California