CATERING TO HILLCREST'S 'IN' AND 'OUT' CROWD
California Cuisine and Much More at InsideOUT
Thursday, May 19, 2022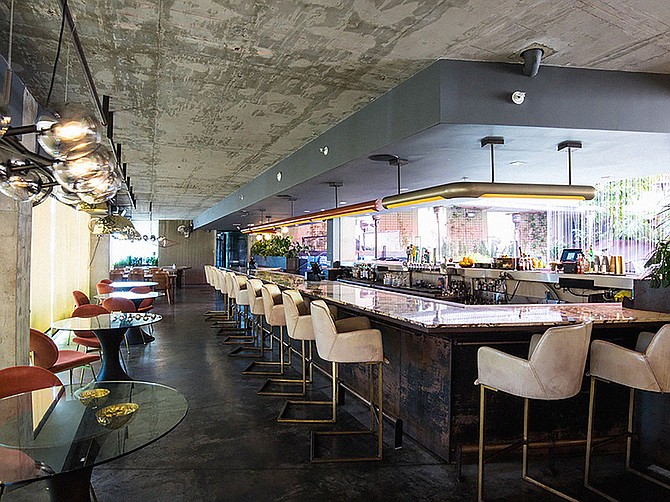 Native San Diegan Paris Quion, who started her career in the Hillcrest LGBTQ community as an entertainer and volunteer, is now general manager of one of the area's top restaurants.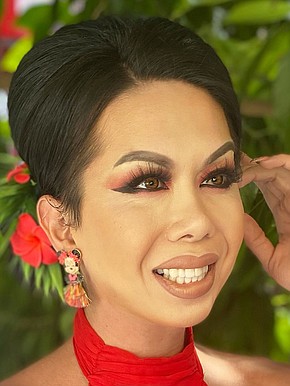 Born into a family of Filipino immigrants with strong business backgrounds, Quion said that from a young age, she felt drawn to creativity, but that in her culture "at times… creativity is looked at as a hobby and not a career path."

During high school, she found a niche making homecoming and prom dresses for friends, which led to her attending design and business school Fashion Institute of Design & Merchandising. But Quion said she didn't feel that was her best future path.

"While I found a great way to merge both worlds of creativity and business, I did find myself still missing other aspects I needed in what my career would be," Quion said. "I was missing the social side of myself, and the ability to lead but also the experience of being with a team and work collaboratively."

Now as an adult, Quion has found a way to allow her creativity to mesh with her business know-how and need for teamwork.

Well known as a drag star throughout the LGBTQ community, Quion helps operate 
InsideOUT
, a restaurant and lounge that opened in April 2018 in Hillcrest's Eitol Towers, upscale apartments on University Avenue.

InsideOUT is a casual but elegant restaurant and lounge with food and cocktail menus that are updated seasonally.

"I began my career in the Hillcrest LGBTQ community in entertainment and volunteering," she said. "This community raised me from pretty much the time I came out as a gay person in middle school and then eventually a transgender woman, so giving back was the initial goal. Little did I know, it would actually end up as my career."

Quion said she started performing as a drag entertainer when she was 18 "in pretty much every venue we have within our community, which helped get my name out there."

She said she then started booking entertainment and assisting in the production side of different shows, and from there came opportunities to work as a server and bartender, all of which eventually led to management.

Quion said that Chris Shaw, co-founder of the largest LGBTQ restaurant group in Southern California, Mo's Universe Restaurant Group and "well known for his love of creating ownership opportunities for his managers" helped tab her for a new role when InsideOUT was opening.

"(Shaw) has created four vibrant and unique locations along with managers that he's moved up into owners prior to InsideOUT so when (owner) Matt Ramon got his opportunity to build this new concept he brought me along for the ride," Quion said. "At this point, I saw that everything personally and professionally was well aligned to take this step."
Part of Mo's Universe
 
Mo's Universe Group operates InsideOUT as well as several other establishments -- Urban Mo's Bar & Grill, Baja Betty's, Barrel & Board, Salad To Go Go, Gossip Grill and Hillcrest Brewing Company.

One of InsideOUT's most unique offerings is an open-air atrium with an "urban oasis" feel in an area that includes a switchback walkway with seating nooks near water features.

Quion said that the venue began with a Mediterranean menu concept, and that eventually evolved to "California Cuisine," because, she said, "much like California, our menu is a beautiful mix of different influences from multiple cultures, styles and backgrounds."

Quion said she is proud of her Filipino heritage and "in this industry I'm so glad to be from a culture that prides ourselves in our style of hospitality and sharing our good vibes anywhere we go. We aim to make everyone feel at home no matter where we are and that has taken me so far in this industry. To me, that is priceless."
InsideOUT
FOUNDED: 2018
OWNER: Matt Ramon
GENERAL MANAGER: Paris Antonette Quion
HEADQUARTERS: Hillcrest
BUSINESS: Restaurant and Lounge
EMPLOYEES: 56
WEBSITE: 
insideoutsd.com

CONTACT: (619) 888-8623
NOTABLE: GM Paris Quion says the establishment's name speaks for itself: "Once you step 'in,' you're welcomed back 'out' but when the definition of 'out' is up to you."