New Hires & Promotions in San Diego
PEOPLE ON THE MOVE is a weekly feature that is seen by 45,000 of the most influential people in the San Diego business community. This is an opportunity to announce new hires, promotions, award recipients and board appointments. Click Here

September 9, 2019
---
August 5, 2019
---
July 22, 2019
---
July 15, 2019
---
July 1, 2019
---
July 1, 2019
---
June 24, 2019
---
June 10, 2019
---
June 3, 2019
---
May 27, 2019
---
May 20, 2019
---
May 13, 2019
---
May 6, 2019
---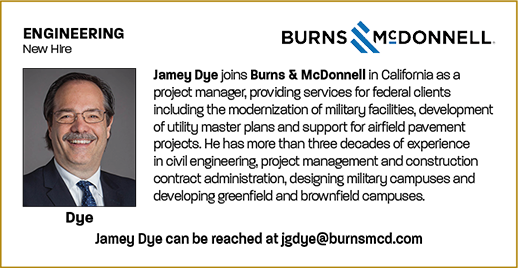 | | | | | |
| --- | --- | --- | --- | --- |
| | | | | |
---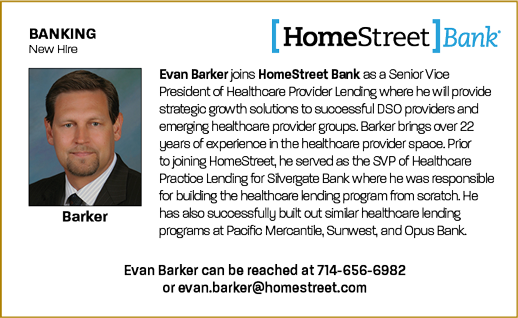 ---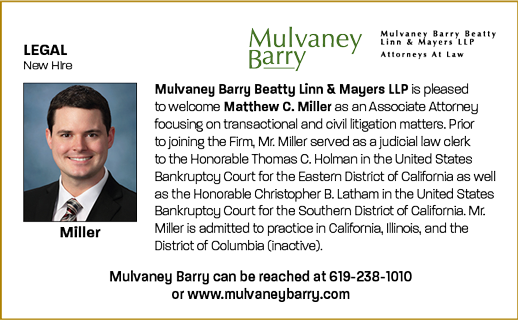 ---
April 29, 2019
---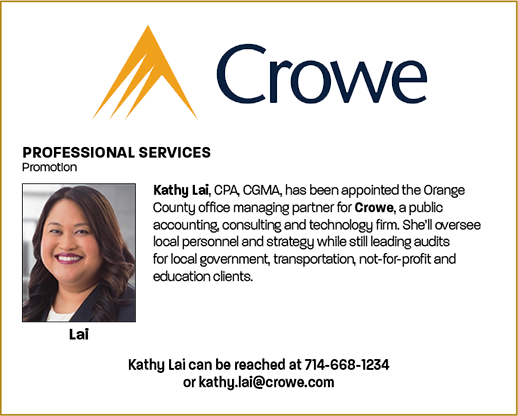 ---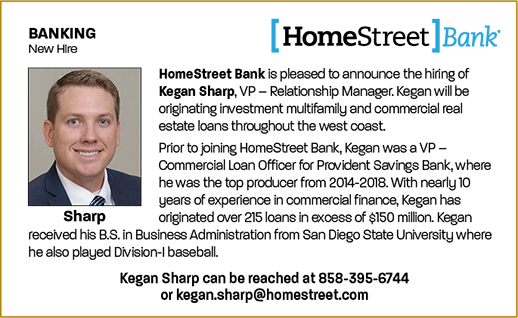 ---
April 22, 2019
---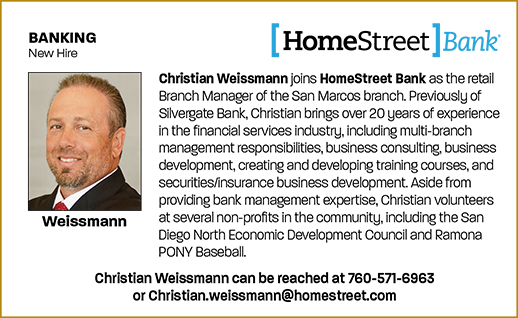 April 15, 2019
---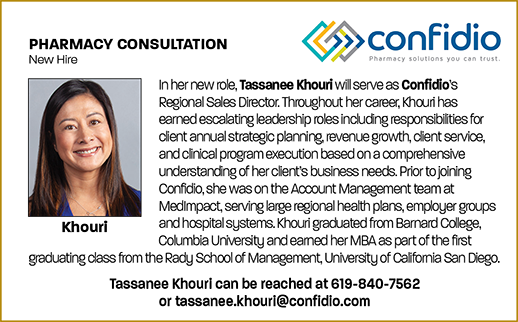 ---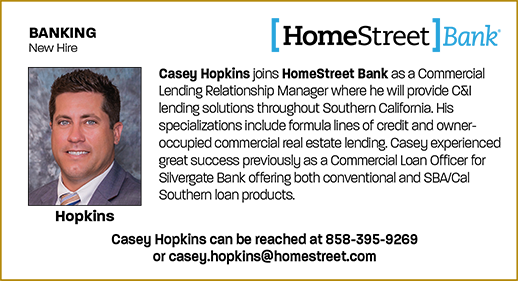 ---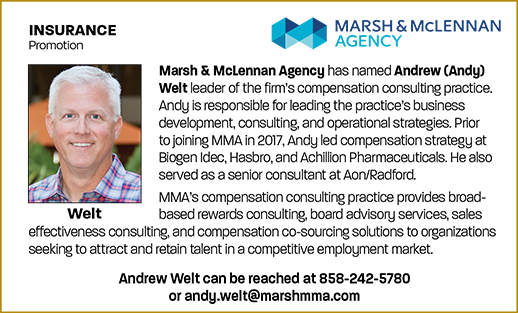 ---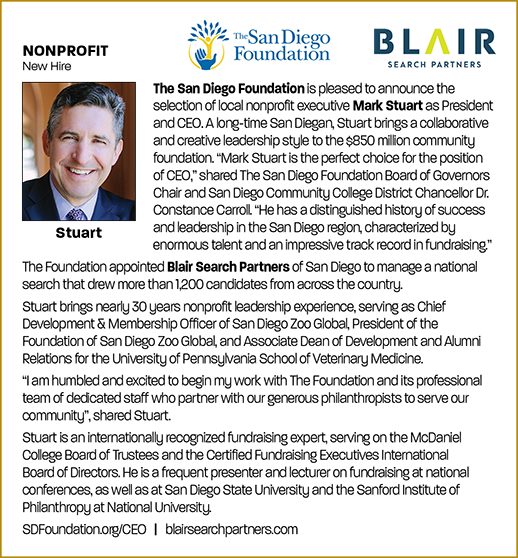 ---
April 8, 2019
---
---
March 18, 2019
---
---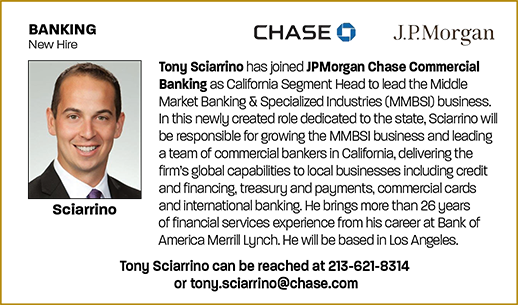 March 11, 2019
---
---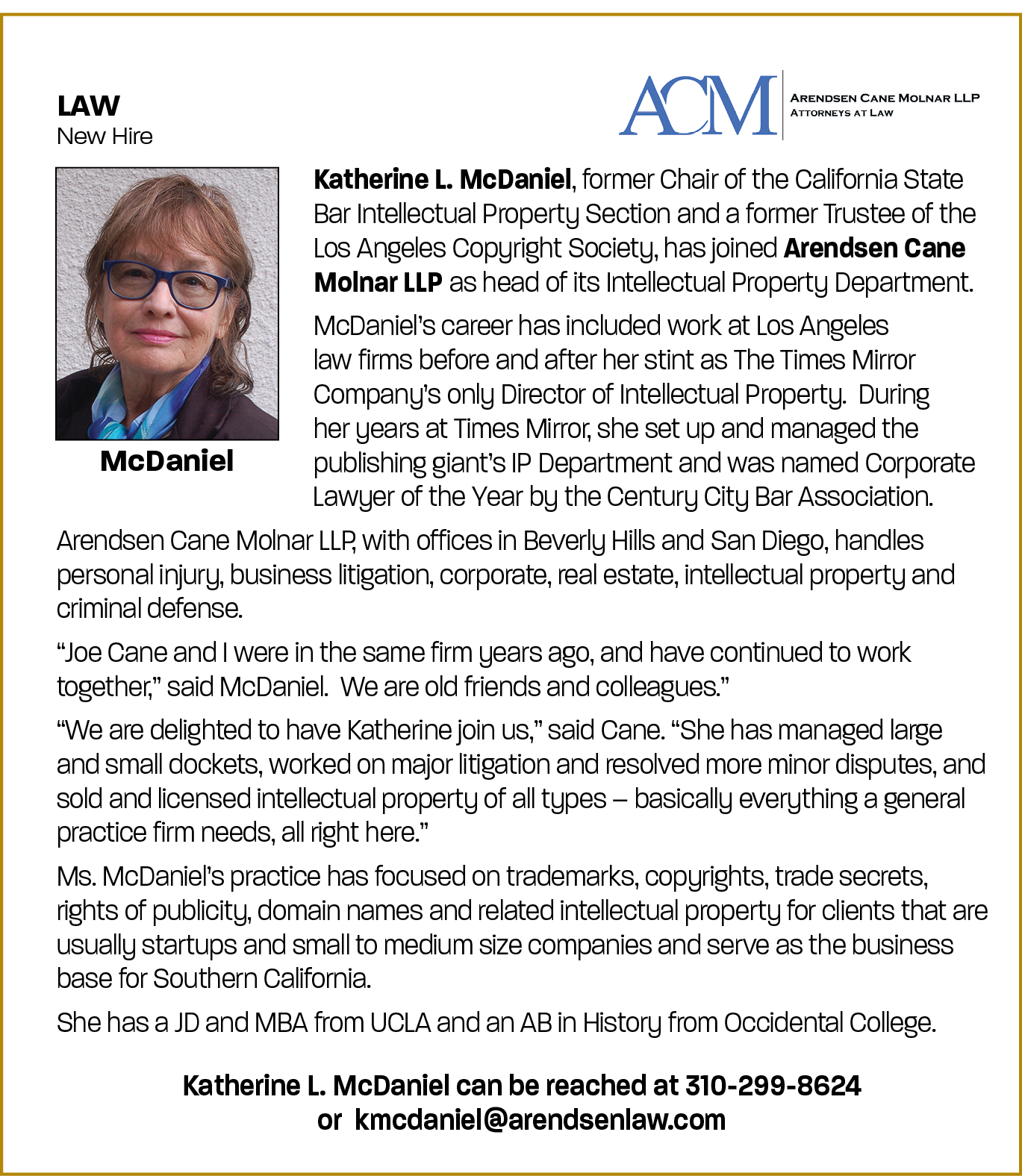 March 4, 2019
---
February 25, 2019
---
---
---
---
---
February 18, 2019
---
---
---
February 11, 2019
---
| | | | | |
| --- | --- | --- | --- | --- |
| | | | | |
---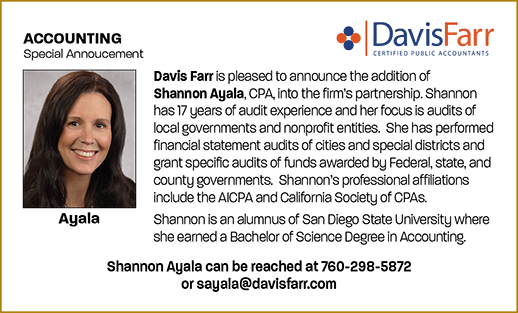 ---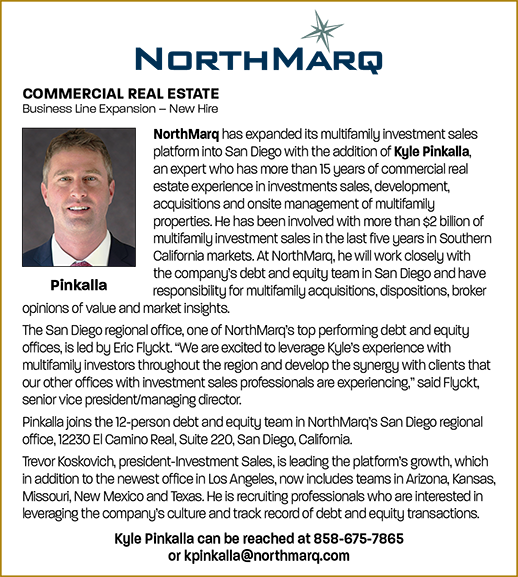 February 4, 2019
---
January 28, 2019
---
---
---
January 21, 2019
---
January 14, 2019
---
---
---
---
January 7, 2019
---
---
---
---
---
---
December 17, 2018
---
November 26, 2018
---
November 12, 2018
---
---
---
---
November 5, 2018
---
---
October 29, 2018
---
---
October 22, 2018
---

Steele

BANKING

Managing Director & Private Client and Institutional Advisor





U.S. Trust is pleased to announce that DeAnne Steele has accepted the position of Managing Director and Private Client and Institutional Advisor in San Diego.

"DeAnne has grown her career at U.S. Trust over the last decade, rising in the organization to bigger and bigger roles in investments, trust and leadership across the country. She has guided clients, mentored fellow employees and gained incredible knowledge, experience and access to resources. We look forward to her focusing all her energy and expertise on those in San Diego."
- Clark Guy, Market Executive, U.S. Trust

In her new role, DeAnne will be responsible for providing families, executives, entrepreneurs, and non-profit organizations with comprehensive wealth management services. She and her team will work with her clients' trusted advisors to provide integrated strategies including investment management, customized credit and lending, wealth structuring, trust and estate planning services, philanthropy, and other private banking services.

DeAnne brings years of national and regional leadership experience to her role. In her prior role as Head of the National Portfolio Management and Consultancy Practice, she integrated the firm's outlook and guidance from the Chief Investment Office into day to day investment management strategies to help broaden portfolio impact for clients' long term goals. She streamlined access and resources to help clients better navigate the evolving complexities of wealth using the latest research and analytics. DeAnne is a frequent speaker on topics such as the global economy, navigating the financial markets, ESG (Environmental, Social and Governance) and Women and Wealth and is passionate about educating her clients and empowering them with knowledge.

DeAnne earned her Masters Degree in Business Administration from UCLA Anderson and her Bachelor of Arts in English and Political Science from UCLA. She holds the Chartered Financial Analyst®(CFA®) and Chartered Alternative Investment Analyst (CAIA®) designations. She is a member of the CFA® Institute and CFA® Society of Los Angeles. She is a board member of the San Diego Center for Children.

"I have never been more excited to live and work in San Diego. Our economy is so dynamic with technology a thread in everything we do across many industries including healthcare, tourism, defense, research and manufacturing. I look forward to serving the entrepreneurs, executives, families and philanthropic organizations who are behind our incredible growth and our future."
- DeAnne Steele, Managing Director

DeAnne Steele can be reached at 619-515-5607 or deanne.steele@ustrust.com
October 15, 2018
---

Gentile

ENGINEERING

Executive Vice President





Russ Gentile joins San Diego based Lopez Engineering, Inc. (LEI) as Executive Vice President. Russ leads the company focus on mission critical projects at military installations, healthcare facilities, transportation hubs, and commercial nuclear plants. Russ brings Nuclear NQA-1 experience from Sargent Lundy, Chicago, IL with a background in Management Consulting.

Russ Gentile can be reached at 619-275-5658 or rgentile@lopezengineering.com
---

Dusi

ACCOUNTING

Partner



Kevin Dusi was admitted as a partner with Moss Adams in the San Diego, Calif., office. He provides tax consulting and compliance services to multinational corporate clients in the Technology and Life Sciences Practice. Kevin specializes in federal and state tax compliance, international tax consulting, and income tax consulting.

Kevin Dusi can be reached at 858-627-1400 or kevin.dusi@mossadams.com
October 8, 2018
---

Lohr

ACCOUNTING

Partner





RSM US LLP – the nation's leading provider of audit, tax and consulting services focused on the middle market – congratulates Adam Lohr on his promotion to partner.

Adam works closely with high growth companies that are globally active in the technology, SaaS, and consumer products industries. He specializes in providing financial audit services and helping clients respond to technical, regulatory and economic changes that impact their businesses. Adam's background also includes performance of fraud investigations, business process analysis, and development of effective oversight and governance environments.

RSM's purpose is to deliver the power of being understood to our clients, colleagues and communities through world-class audit, tax and consulting services focused on middle market businesses. The clients we serve are the engine of global commerce and economic growth, and we are focused on developing leading professionals and services to meet their evolving needs in today's ever-changing business environment.

RSM US LLP is the U.S. member of RSM International, a global network of independent, audit, tax and consulting firms with more than 43,000 people in over 120 countries. For more information, visit rsmus.com.
---

Nessen

CONSTRUCTION

VP and San Diego Regional Director



Ryan Nessen, CPC, CCM, DBIA, LEED AP, CM-Lean, has been promoted to VP and San Diego Regional Director. In this position, he will be responsible for business development, preconstruction and project execution throughout the region. Nessen brings nearly 25 years of construction experience, including 14 years at Sundt.
---

Sherman

CONSTRUCTION

Business Development Manager





Cannon Building welcomes Hal Sherman as Business Development Manager in San Diego. Hal brings with him over 30 years of experience and a background in marketing and business development for commercial real estate development, leasing, property management, project management, and construction. Hal has been involved in development, construction, marketing, and leasing of commercial properties, totaling over 10 million square feet. His career includes positions as West Coast Director of Business Development at Cushman & Wakefield and Vice President of Leasing for Pacific Medical Buildings. Hal will focus on Cannon Building's Life Science and Healthcare markets in the San Diego area.
---

Amin

ENGINEERING

Senior Environmental Scientist



Sundeep Amin has joined Burns & McDonnell to help grow and expand the firm's services and capabilities in establishing conservation banks. As senior environmental scientist, Amin will focus on moving conservation banking projects through entitlement efforts, including land acquisition, property analysis and baseline data establishment. He brings more than 14 years of experience.
October 1, 2018
---

Crawford



ENGINEERING

Associate Partner and Business Development Manager



Jennifer Crawford, a leading strategist in business development and marketing for the architecture, engineering, and construction industry, has returned to Syska Hennessy Group as an associate partner and business development manager for Syska's West region, targeting both Southern California and Northern California offices and sectors.
September 24, 2018
---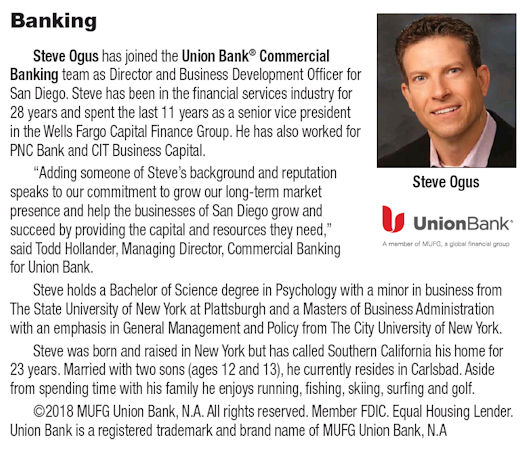 ---

Parker

CONSULTING

Certified Turnaround Professional



On Thursday, August 9th, The Turnaround Management Association granted William H. Parker the Certified Turnaround Professional (CTP) designation. The Certified Turnaround Professional (CTP) designation provides evidence of an individual's commitment to the turnaround and corporate renewal industry and also attests to a level of expertise that non-certified professionals may find difficult to prove.

Bill transitioned from corporate executive to entrepreneur and founded Tara Jayde Capital Partners in 2005 to serve as an Independent Sponsor working exclusively with private equity firms to acquire, grow and exit mid-size companies.

In October 2018, based on client demand and input, William Parker is refocusing his efforts to rebrand Tara Jayde Capital Partners to Parker Revenue Growth Strategies to provide professional management services to small and medium sized businesses who need to grow or turnaround their companies to enhance and accelerate value creation. The industries that Parker Revenue Growth Strategies will focus on are, retail, consumer products, construction, light manufacturing, healthcare industries and non-profit organizations.

He has also developed and executed a number of strategic plans for early stage and growth companies that led to private equity multi-million capital raises and bank lines of credit for mid-growth stage and privately-owned companies.

Bill has served our country as an NCO in the United States Marine Corps and was awarded several meritorious masts while serving our country for five years in active and reserve duty as a Communications Chief, Military Policeman and Infantryman.
September 10, 2018
---

Edwards

FINANCE

Director, IT Security Consulting



Mark Edwards joins Moss Adams as Director, IT Security Consulting. His background includes experience working as a global cybersecurity and privacy consultant covering a wide range of industry groups, regulations and security frameworks.
---

Carabia

GOVERNMENT CONTRACTING

Senior Director of Business Development & Capture



Metronome, LLC is proud to announce the addition of Matt Carabia as Senior Director of Business Development & Capture. Matt is responsible for the cultivation of new business on the West Coast. Metronome is a culture-driven organization headquartered in Virginia providing varied technical and mission support services to Federal customers.
September 3, 2018
---

Dixon


Peterson

ARCHITECTURE

President & Senior Director




Togawa Smith Martin (TSM) announces new leadership changes. Jim Dixon, AIA, LEED AP, has been appointed President of the prominent architectural firm specializing in multi-family residential and mixed-use design. As President, Jim will be responsible for leading the firm in major projects, pursuing new business opportunities, and interfacing with current and future clients. He brings over 30 years of specialized experience, and has been a vital part of TSM since 2012.

Another leadership addition to the TSM family is Kyle Peterson, who will be the new Senior Director focusing on business development, as well as the startup and early management of projects. Fluent in Mandarin, Kyle's early career in global business before entering the architectural field brings a unique perspective to the firm.

Former President, Tom Hsieh, has been elevated to the President of TSM's parent company, Planning Architecture and Engineering Alliance (PAEA.)
---

Walker

IT

Cloud Services Manager


Big Green IT welcomes Wade Walker as its Cloud Services Manager. Wade will work out of the company's new San Diego office and oversees Cloud services strategy and implementation for medium- and enterprise-sized companies. Wade has more than two decades of IT consulting experience and holds multiple Microsoft certifications.
---

DeWitt

BANKING

VP Area Manager


HomeStreet Bank, one of the largest community banks in the West, is proud to announce that Mark DeWitt (NMLS ID# 633221) has taken on a new role as VP Area Manager based in the Del Mar Home Loan Center. Mark is a 15-year industry veteran, previously serving as an outstanding HomeStreet Bank branch manager and holding several roles as a home loan officer. Mark and his team provide loan origination, processing and underwriting services to the greater San Diego community for a variety of loan programs, including Conventional, FHA, VA, and Jumbo loans.
August 20, 2018
---

Wright

PUBLIC RELATIONS

Account Manager


Intesa Communications Group has welcomed Account Manager Mindy Wright to their team, complementing an already deep strategic communications and government relations capacity with her extensive experience in copywriting, media relations, and social media. Mindy comes to Intesa from San Diego's nonprofit sector where she specialized in public relations and development.
---

Fradet

TECHNOLOGY

Senior Vice President


Inseego Corp. (INSG), an industry leader in solutions for mobile enterprises, recently announced that Jacques Fradet has joined the Company as Senior Vice President of Operations, reporting directly to Steve Smith, Executive Vice President and Chief Financial Officer.

Fradet brings nearly 30 years of experience driving companies to achieve profitability by effectively connecting the dots between operational goals and the impact on financials.

Prior to joining Inseego, Fradet spent 12 years at Kyocera Communications in a number of senior leadership roles. He was most recently Divisional Vice President of Operations, responsible for supply chain, manufacturing, fulfillment, logistics, engineering and customer care.

Fradet earned a Master of Business Administration from the University of San Diego and a Bachelor of Science in Electrical Engineering from the University of California, San Diego.
August 6, 2018
---

Senk

MARITIME REPAIR

General Manager



Colonna's Shipyard, Inc. is pleased to announce that Steve Senk has been named General Manager of Colonna's Shipyard West, LLC.

Retired from the U.S. Navy, Steve Senk is a decorated Vietnam veteran, having earned numerous commendations, to include: Silver Star, Purple Heart, Meritorious Service Medal, Combat Action Ribbon and four Navy Achievement Medals. A tenured member of the San Diego ship repair community, Senk brings a broad base of experience managing repair availabilities for the U.S. Navy. Upon retirement from the Navy, Senk joined Continental Maritime of San Diego (CMSD) as CV/CVN Program Manager before earning promotion to Director of Operations. Upon retirement from CMSD in 2017, he joined Colonna's Shipyard West in July of 2017 as a Senior Business Advisor.

"We are pleased to have the opportunity to have a leader like Steve managing our Colonna's Shipyard West division, which expands our 143-year history of service and quality to our West Coast customers", said Tom Godfrey, President & CEO of Colonna's Shipyard, Inc.

Based in San Diego, Colonna's Shipyard West, LLC, delivers quality, customer-focused service, the hallmark of Colonna's Shipyard and its divisions and affiliates. Our west coast operation is a full-service marine repair contractor utilizing skilled workforce representing the full spectrum of marine trades, including welders, shipfitters, electricians, pipefitters, machinists, and painters.

A family-owned shipyard, founded in 1875 and based in Norfolk, Virginia, Colonna's is a diversified industrial company with unique capabilities in ship repair, marine and industrial machining and steel fabrication. Visit www.colonnaship.com
---

Giamo

ACCOUNTING

CPA



BDO's San Diego office welcomes Mark Giamo, CPA as a new partner in the assurance practice. Significant growth of the San Diego office has led BDO to expand its partner team. Mark's skills will be integral to the continued growth and success of BDO in the market.

Mark joins us from BDO's New Jersey office and has been with BDO since 1997. Mark has extensive experience servicing publicly-traded, private, multinational, private equity sponsored, and growth-oriented companies across several industry sectors. He also has significant experience with M&A, complex equity and debt transactions, and complex accounting issues. In addition, he acts as a facilitator for continuing education and plays an active role in the firm's quality assurance programs.

Mark has depth of experience in several industries with a strong focus on technology, including software, as well as telecommunications, life sciences, pharmaceutical, and manufacturing and distribution. Mark will be accompanied by his wife, Terri, and two children. "We look forward to being a part of this wonderful San Diego community and a successful practice in San Diego." stated Mark.
---

Kempner

LEGAL

Associate


Intellectual property law firm Patterson + Sheridan LLP has added associate Casey Kempner in the San Diego office of the firm. Kempner's practice will focus on preparing and prosecuting patents for electronic, medical and mechanical devices.
---

Williams

LEGAL

Associate Attorney


Charles Williams joined Hahn Loeser & Parks LLP as an associate attorney where he will focus on taxation matters and counsel clients through various aspects of trust and estate planning. Prior to building his practice, Charles served as a Judge Advocate General (JAG) in the United States Marine Corps.
July 30, 2018
---

Danni

BANKING

Global Treasury and Payments Advisor - Orange County and San Diego Technology and Life Science


Silicon Valley Bank, the bank of the world's most innovative companies and their investors, is proud to announce that Laura Danni has joined its Southern California team as a Global Treasury and Payments Advisor for its Orange County and San Diego Technology and Life Science practice. Learn more at svb.com/socal.
July 23, 2018
---

Cunio

BUSINESS MANAGEMENT

Real Estate Business Broker



San Diego Transworld Franchisee Robert Cunio Achieves Prestigious CBI Certification


Recently, 71 business brokers from around the world took on a big challenge: earning the prestigious Certified Business Intermediary (CBI) certification from the International Business Brokers Association (IBBA), the gold standard in the business brokerage industry. Among the designees is Transworld Business Advisor Robert Cunio, CBI, CBB, MBA. Cunio, a licensed California real estate professional, has been a Transworld Franchisee since February 2016 (DRE # 02019152). He is an accomplished executive and entrepreneur with more than 30 years experience, including leadership of mult-billion programs, mergers and acquisition (M&A) and organizational change management. "The CBI is a clear indicator of knowledge and experience, achieving it demonstrates a personal commitment to excellence and dedication to the craft of being a business broker," said Jeff Snell, IBBA Credentialing Committee Chair and 2019 Board Chair-Elect. "We encourage business sellers and buyers to look for the CBI designation when selecting a business broker to work with," added Snell. At Transworld, a member of United Franchise Group (UFG), Business Advisors are considered professional "tour guides" that help businessmen and women navigate and smooth the landscape of selling their businesses. Helping entrepreneurs closely aligns with Cunio's expertise in marketing, program and financial management, due diligence, and strategic integration. "I get 100 percent satisfaction achieving good deals for good people. My company demonstrates results that exceed sellers and buyers objectives," added Cunio, who holds an MBA from Bentley University.
Already a Certified Business Broker through the California Association of Business Brokers (CABB), Cunio's CBI certification was conferred after his completion of required course work, followed by passing an extensive competency exam and agreement to uphold the IBBA's professional standards/code of ethics. CBIs are also required to demonstrate proficiency in selling businesses by meeting a minimum number of escrow closings and sustaining such results over time.
"Mr. Cunio is an invaluable asset for companies looking to divest or grow, both domestically and internationally and his new achievement with the IBBA is proof of that," said Bill Luce, President of Transworld Business Advisors, "It speaks volumes of Transworld's reputation, our agents are top class professionals, recognizing the complexity of unique challenges of the business world." To learn more, and gain insight to selling or buying a business, visit www.tworld.com/sandiegocentral or contact Robert Cunio directly at the Transworld San Diego Central office (888) 604-TBA1.
---

Mullins

SPORTS MARKETING

Senior Vice President of Client Development


rEvolution, the integrated global sports marketing and media agency, welcomes former GMR executive Dave Mullins as Senior Vice President of Client Development. Working from San Diego, Mullins will lead rEvolution's business development efforts, particularly identifying and delivering impactful marketing strategies for both prospective and current clients.
---

Blatt

LAW

Plantiffs' Steering Committee


Gayle M. Blatt, a longtime partner at CaseyGerry – San Diego's oldest plaintiffs' law firm – has been selected to serve on the Plaintiffs' Steering Committee in national litigation against global chip maker Intel. She is the only San Diego attorney appointed to a leadership role in this litigation, recently centralized in the District of Oregon.
July 16, 2018
---

Stuckey

BANKING

Area Vice President


Mutual of Omaha Bank is pleased to announce that Steven Stuckey has been named Area President III. He will be responsible for growing the bank's west region and leading the San Diego and Pasadena locations. He holds an MS in Finance from San Diego State University.
---

Ceniceros

ARCHITECTURE AND ENGINEERING

Associate and Studio Leader


HED welcomes Enrique Ceniceros to the firm as Associate and Studio Leader in the San Diego and Los Angeles offices. He will oversee Science + Technology and Higher Education projects in Southern California. With 27 years of experience, his extensive portfolio has established him as an expert in his field.

---

Baroni

CONSTRUCTION

Director of Field Operations


Pacific Building Group continues to build its roster of experienced local construction professionals with the addition of Matt Baroni as director of field operations. Named 2015 and 2017 San Diego County Superintendent of the Year by Associated Subcontractors Alliance, Baroni is helping manage PBG's projects, including Portside Pier and NuVasive. Baroni's responsibilities include ensuring projects are on schedule and on budget; maintaining a safe work environment; mentoring and supporting the team; and aligning team members with the jobs best suited to their skill sets. Baroni's expertise complements the company's core services of ground-up construction and tenant improvements across various markets. pacificbuildinggroup.com.
---

Thompson

EXECUTIVE SEARCH

Director



Blair Search Partners (BSP) is pleased to announce Sarah Thompson has joined the team earlier this month as Director. Working closely with Founder Trevor Blair, Sarah will manage executive search and recruiting engagements for the firm's nonprofit clients in the San Diego area. Sarah brings 16 years of nonprofit sector experience to the firm, serving in workforce development, leadership programs and youth programs. She most recently served as the Executive Director of the Eric Paredes Save A Life Foundation, an organization providing free heart screenings for teens in San Diego. Sarah's prior leadership roles include Program Director for Athena San Diego and Director of Community Relations for the San Diego Workforce Partnership. "I'm excited to join Trevor and the team at Blair Search Partners," shared Thompson, "The firm's mission of building and retaining San Diego's talent base is really inspiring, and I'm thrilled to play a role in connecting local nonprofit organizations with great talent." Sarah's community engagement includes her current role as Chair of the United Way of San Diego County's Women's Leadership Council and LEAD San Diego. She is also a nominee for the San Diego NEXT Top Business Leaders Under 40. Blair Search Partners is a retained executive search and recruiting firm, serving nonprofit and public-sector clients in San Diego and Orange Counties. BSP manages search engagements at all levels, including c-suite, director, manager, and program/staff levels. For more information about Blair Search Partners, please visit blairsearchpartners.com.
July 9, 2018
---

Allred

FINANCIAL

Investment Analyst



SAN DIEGO (June 28, 2018) – Casey Allred recently joined NorthMarq Capital as an analyst for the San Diego offic Casey's responsibilities include originating real estate financing for apartments and commercial properties, underwriting, due diligence, and assisting the production team. Prior to joining NorthMarq, Casey worked on the acquisitions team at Realty Income Corporation where he underwrote over $3 billion in transactions and assisted in the closing of over $1 billion in retail and industrial properties.
Allred graduated from Southern Methodist University in 2008 with a B.S. in Financial Economics. "I am very pleased to have Casey join our outstanding team," said Eric Flyckt, managing director of the San Diego Office. Our clients and colleagues will benefit from his industry experience, analytical skills and business relationships." About NorthMarq Capital NorthMarq Capital, the largest privately held commercial real estate financial intermediary in the U.S, provides debt, equity and commercial loan servicing through offices across the U.S. As a leader in capital solutions through long-term relationships with life companies, CMBS platforms and local, regional and national banks, the company also has a long track record of multifamily loan origination through Freddie Mac, Fannie Mae and FHA/HUD. The company services a loan portfolio of more than $52 billion and has over 300 loan origination experts in regional offices coast-to-coast. For more information please visit www.northmarq.com.
---

Couvillion

REAL ESTATE

Senior Vice President and Director of Development



John R. Couvillion has joined Murphy Development Company (MDC) as senior vice president and director of development. He will be responsible for overseeing the development process at all MDC projects from acquisition and construction through leasing or disposition, as well as analysis of new development opportunities. Couvillion is a real estate development executive who has entitled and developed more than 2.5 million square feet of office and industrial properties and entitled thousands of residences during his 30+-year career. Most recently, he served as vice president of development for Badiee Development, involved with the acquisition, entitlement and design of six industrial properties totaling 420,000 square feet in North County. In 2011 he established Integritas Holdings LLC. and served as Stone Brewing Company's real estate development and construction liaison for the recent development of its 55,000-square-foot Packaging Hall in Escondido and newest restaurant, Stone Brewing World Bistro & Gardens in Liberty Station. Earlier, Couvillion was director of development for JRMC Real Estate, Inc., a commercial real estate development company specializing in government entitlement processing, land development and commercial construction management of company-owned assets.
He has also served as regional director/vice president of the Southern California region for Brandywine Realty Trust (formerly Prentiss Properties) and as vice president of development for Newport National Corporation of Carlsbad. Couvillion earned a bachelor's degree in Real Estate Finance from the California State University, Fullerton. He is a member and former board member of NAIOP and a member of the Building Industry Association of Southern California.
July 2, 2018
---

Chesley

FINANCIAL SERVICES

Regional Sales Director


As Regional Sales Director, Rachael Chesley is responsible for Purchasing Power's strategic sales efforts directed toward benefit brokers and their employer clients. Chesley will focus her sales activity in Southern California, Arizona, Colorado, Utah, New Mexico and the southern half of Nevada. She is charged with building new broker segments to generate lasting business relationships.
---

Khoury

ARCHITECTURE

Senior Project Manager


Sami Khoury, AIA, has joined RJC | Steinberg Hart, a leading full-service architecture firm, as a Senior Project Manager. As a seasoned architect and project manager, he brings extensive experience managing designs from concept and master planning to implementation for diversified projects across mixed-use, civic, higher education, and hospitality markets.
June 25, 2018
---

Bjorn


Engrechit



BANKING




Private Bankers
City National Bank, California's Premier Private and Business Bank®, has hired Karen Bjorn and Rick Engbrecht, both highly regarded qualified private banking professionals, as private bankers in its Private Banking Division in San Diego. Bjorn and Engbrecht, along with their families, are longtime residents of San Diego County, and have combined experience of more than 43 years in the financial services industry. Bjorn joined City National from Wells Fargo Bank where she served as vice president and senior private banker for 12 years. During her more than 25 years of experience in the banking industry, she has also worked for Palm Desert National Bank, First Community Bank, FirstBank NA, and Foothill Independent Bank. Bjorn is a graduate of California State University, San Bernardino, where she earned a Bachelor of Science degree in Business Administration. She also earned an Associates degree in Business Administration from the College of the Desert in Palm Desert, California. She currently holds securities licenses including Series 7 and 66 licenses as well as a Life Insurance license. Engbrecht joined City National from Union Bank where he served as a private banker for nine years. During his more than 18 years of banking experience, Engbrecht also worked for Merrill Lynch, MetLife and Wells Fargo Bank. Engbrecht is a graduate of San Diego State University where he earned a Bachelor of Science degree in Economics. He also holds securities licenses including Series 7 and 66 as well as his Life Insurance license.
June 18, 2018
---

Choi

TELECOMMUNICATIONS

Vice President of New Product Planning & Innovation


Coolpad has announced John Choi, a proven leader in smartphones, wearables and IoT, as Vice President of New Product Planning & Innovation for Coolpad Technologies, Inc. in North America, where he is responsible for directing the company's IoT, Wearables and AI product planning and innovation initiatives from concept through to market launch.
June 11, 2018
---

Fiore


Robles




Zaugg

ACCOUNTING




Senior Managers


RSM US LLP – the nation's leading provider of audit, tax, and consulting services focused on the middle market – is pleased to welcome three senior managers to its San Diego practice.

Justin Fiore is a technical accounting consultant helping clients resolve challenging accounting and financial reporting issues that arise from unique, complex transactions, including business combinations, convertible debt and equity transactions, and foreign currency translation adjustments. Justin also assists clients with the implementation of new accounting standards, including the new Revenue (ASC 606) and Leasing (ASC 842) standards. He serves clients nationwide in the technology, software, life sciences, consumer products and industrial products sectors.

Edward Robles serves clients through coordinating global tax service delivery for US-based multinational corporations and foreign-headquartered companies with significant US operations. He has significant experience with ASC 740, including assisting with the purchase accounting, reviewing and preparing multi-national tax provisions, and analyzing uncertain tax positions. Edward predominantly works with companies in the biotech, life sciences, technology, and SaaS sectors.

Talmage Zaugg advises domestic and multinational public and private companies on issues and opportunities related to federal, state and cross-border taxation, including entity selection, federal and state tax incentives, intellectual property planning, global restructuring, cash repatriation, Subpart F, earnings and profits, and tax credit planning. He has worked with companies in a wide range of industries, including technology and software, manufacturing, consumer products, restaurants, biotech and life sciences.

"We are delighted to have Justin, Edward, and Talmage aboard and are confident that their leadership and experience will make an excellent addition to our team and our firm's ability to add value for our clients," said Jerry Varga, San Diego Office Managing Partner.

About RSM US LLP-- RSM's purpose is to deliver the power of being understood to our clients, colleagues, and communities through world-class audit, tax, and consulting services focused on middle market businesses. The clients we serve are the engine of global commerce and economic growth, and we are focused on developing leading professionals and services to meet their evolving needs in today's ever-changing business environment. RSM US LLP is the US member of RSM International, a global network of independent audit, tax, and consulting firms with more than 43,000 people in over 120 countries.
For more information, visit rsmus.com.
---

Conner

PROFESSIONAL SERVICES

Partner


PwC is pleased to announce that Kristen Conner has been elevated to partner. Kristen has been with the firm for 20 years and is in the Assurance practice in Real Estate – Asset Management with a focus on serving real estate companies with their accounting and financial reporting needs. Kristen holds a BS from California State University San Marcos.
---

Smith

PROFESSIONAL SERVICES

Partner


PwC is pleased to announce that Joshua Smith has been elevated to partner. Joshua has been with the firm for 11 years and he is in the Federal Tax practice working with a wide range of companies from start-ups to Fortune 50. He holds a BS in Finance from Siena College.
---

Feldmann
Financial Planner

Kahn
Financial Planner

Carlson Portfolio Management Associate

FINANCE





Dowling & Yahnke, LLC, a wealth advisory firm managing over $3.5 billion of assets for more than 1,000 clients, is proud to announce the addition of three new professionals: Kelly Feldmann, Peggy Kahn, and Hope Carlson.

Kelly and Peggy have joined Dowling & Yahnke as Financial Planners, providing clients with tailored financial planning strategies including financial goals analysis, estate planning, education planning, tax efficiencies, college savings, social security, and executive compensation.
Kelly holds a Master of Business Administration (MBA) from San Diego State University. She completed her undergraduate work in Finance at San Diego State University. Born and raised in New Mexico, Kelly moved to San Diego in 2005.

Peggy holds an Executive Certificate in Advanced Financial Planning from San Diego State University. She completed her undergraduate work in Business Administration at California State University San Marcos graduating cum laude. Originally from Minnesota, Peggy moved to San Diego in 1997.

Hope Carlson joined Dowling & Yahnke as a Portfolio Management Associate. Prior to Dowling & Yahnke, Hope spent six years as the Chief Development Officer for the San Diego Museum of Man. In addition, she has served as the Interim Executive Director for the San Diego Civic Youth Ballet and spent four years as a strategy consultant with the Boston Consulting Group. Hope holds a Master of Business Administration (MBA) from Harvard Business School where she was a Baker Scholar, graduating in the top 5% of her class. She earned her Bachelor of Arts in Economics at the University of Virginia.
---

McMorris
Right of Way Project Manager


Saltzman
Associate Engineer

CIVIL ENGINEERING





TSAC Engineering, a Civil Engineering, Land Surveying, Right of Way Acquisition, and Construction Management firm is pleased to announce the hiring of Peter McMorris and Brian Saltzman.

Peter McMorris, SR/WA, R/W-NAC has joined TSAC Engineering as a Right of Way Project Manager. McMorris has over 25 years of experience in right of way acquisition, negotiation and project management at San Diego Gas & Electric and Caltrans. At SDG&E, McMorris was a Principal Right of Way Agent for the Sunrise Powerlink – 117 miles of new Right of Way for a 500kV transmission corridor. Other projects include: Right of Way Project Management and Acquisition Agent for the Wood-to-Steel Replacement Project in the Cleveland National Forest, the 14-Mile East County Substation Transmission Tie Line 13844, the Otay-Metro Powerloop and Silvergate Substation. McMorris was responsible for the acquisition of land rights for several projects including complex fee acquisitions involving residential and business displacement/relocation, loss of business goodwill valuation, and eminent domain support. McMorris has a BA from San Diego State University in Sociology, Political Science and History and a J.D. from California Western School of Law in San Diego. Brian Saltzman, P.E., Q.S.D has joined TSAC Engineering as an Associate Engineer. With ten years of extensive land development and Project Management experience, he will lead a design team working on projects with the SDG&E Civil Structural Engineering Department. Saltzman is an expert in storm water management, particularly on constrained sites requiring specialized treatment facilities. His grading and storm water experience includes work with the military, public parks, hospitals, education, commercial developments and churches. Saltzman has degrees in Civil Engineering from the University of Illinois and in Biology from UC Davis. Saltzman is a licensed Civil Engineer in the State of California. Prior to pursuing his career in Civil Engineering, he worked for a private military contractor training dolphins for mine hunting and enemy swimmer detection. TSAC Engineering is a team of experienced professionals whose passion is addressing complex challenges with innovative solutions. We are dedicated to providing exceptional service to our clients.
---

Vienna
Chief Operating Officer

Zadrozny
Chief Technology Officer

NONPROFIT

Benefunder has announced that Silicon Valley veterans, Rocky Vienna and Peter Zadrozny, have joined the Benefunder executive team as Chief Operating Officer and Chief Technology Officer.

Leading Benefunder's business operations, growth strategy, and expense management, Vienna has over 30 years of experience in technology and business operations and has held both CIO and COO positions. Rocky has been responsible for international technology operations in Europe, Asia, and Mexico with companies including Bank of America, Apple Computer, Macromedia, and KIO Networks.

As CTO, Zadrozny is responsible for Benefunder's technology strategy, architecture and delivery. Peter's global technology background in the US, Europe, Middle East, Africa and Latin America, includes executive and technical roles in companies including Oracle, Macromedia, BEA Systems, McKesson, Electronic Data Systems, and Sun Microsystems. "As Benefunder looks to distribute access to its broad range of world leading experts and causes through philanthropic and wealth management channels, bringing Peter and Rocky on board is a key step toward delivering on the promise of the Benefunder platform." said Christian Braemer, CEO and co-founder of Benefunder. He added; "As we continue to develop partnerships with donor advised fund administrators, private foundations, and wealth management firms, we need enterprise level tools for our stakeholders. Rocky and Peter have the experience and acumen to take the platform to the next level."

"Philanthropy has long been the engine of research and innovation." said Rocky Vienna, COO of Benefunder. "The same philanthropist that funds research is often the seed investment to bring that research to market. In Benefunder we are creating a very efficient Lab-to-Market path."

"Research in science and humanities is a key step for any successful innovation," said Peter Zadrozny, CTO of Benefunder. "Being able to optimize this as part of the philanthropic process will effectively increase the impact and reach of a donors gift."

Reinventing the philanthropic user experience is no small endeavor. We envision a world where donors have access to world leading experts that are innovating in the fields they care most about, providing an efficient funding mechanism, and fueling the big breakthroughs of tomorrow.



About Benefunder-- We believe in the power of research-based philanthropy to change the world and we have reinvented the philanthropic experience so more of your gift is directed to the impact causes that mean the most to you. For information, visit: www.benefunder.com. Contact: info@benefunder.com,
(858) 215-1136.
June 4, 2018
---

Mandala

ACCOUNTING

Consulting Supervisor


RSM US LLP – the nation's leading provider of audit, tax and consulting services focused on the middle market – congratulates Kyle Mandala, a consulting supervisor in our San Diego office, for being named one of Consulting magazine's Rising Stars of the Profession for 2018, in the category of Information Technology. The annual list honors 35 consultants under the age of 35 who have distinguished themselves in the profession through a multitude of accomplishments. "We are proud of Kyle for receiving this recognition," said Brian Becker, national consulting leader. "Through his unwavering determination and dedication, such as with his involvement in the creation and expansion of the technical training program for college hires in the West region, it's clear that Kyle demonstrates the characteristics of a 'rising star' and possesses the necessary skills to be a trusted advisor to our clients." "Kyle couldn't be more deserving of this honor, given his commitment to excellence, hard work, client service and his great attitude," said JuliAn Coy, West region NetSuite practice leader. "His clients are often delighted with his deliverables and engage him as a trusted NetSuite advisor. Kyle not only does his part on the team as a consultant, but always does a little bit more, and the team knows they can depend on him." RSM's purpose is to deliver the power of being understood to our clients, colleagues and communities through world-class audit, tax and consulting services focused on middle market businesses. For more information, visit rsmus.com.
---

Francis

NONPROFIT

Executive Director


Janet Francis, CFRE has joined the EastLake Educational Foundation as their new Executive Director. She brings 27-years of nonprofit leadership to her new role, most recently serving as the Executive Director at the Coronado Historical Association. Francis will help guide the EEF to pivot and re-innovate itself for the next stage of strategic growth and impact — to expand technology and STEAM programs in public schools. Since its inception in 1995, EEF has raised over $2,000,000 to fund technology and innovation in our public schools. The EEF serves over 8,000 kids in EastLake, a community in Eastern Chula Vista, CA.
May 21, 2018
---

McCadden

ACCOUNTING

Business Development Executive


Moss Adams is pleased to announce that Tom McCadden has accepted the role of Business Development Executive for our San Diego Office. Tom brings deep industry knowledge and experience to the firm, with an extensive business and sales background. He has worked directly with several hundred C-level executives throughout Southern California. With his strong connections in the San Diego business community and deep understanding of the key business challenges facing our clients, we are excited to have Tom on board. Tom can be reached at (858) 627-5552 or tom.mccadden@mossadams.com.
---

Gonzalez

ENGINEERING

Principal

David Gonzalez, PE, SE has returned to Degenkolb Engineers as principal in the San Diego office. Gonzalez was previously a principal engineer with San Diego firm Reid Middleton, Inc., and prior to that, principal and group director for Degenkolb's Seattle office. He will focus on the forensics and federal markets.
May 14, 2018
---

Biel

LEGAL

Partner


Scott Biel has joined Solomon Ward Seidenwurm & Smith, LLP as a partner in the firm's real estate department. With more 25 years of broad commercial real estate experience, his practice focuses on commercial lease transactions and lease-related issues, particularly involving research and development (R&D) and manufacturing facilities of technology-based companies. He represents both landlords and tenants of office, medical, retail, industrial and mixed-use projects, including several Fortune 500 companies. swsslaw.com
---

Gonzalez

ENGINEERING

Principal

David Gonzalez, PE, SE has returned to Degenkolb Engineers as principal in the San Diego office. Gonzalez was previously a principal engineer with San Diego firm Reid Middleton, Inc., and prior to that, principal and group director for Degenkolb's Seattle office. He will focus on the forensics and federal markets.
April 23, 2018
---

Lamberth

ARCHITECTURE

Marketing Principal


Chris Lamberth is the new marketing principal for HOK's Los Angeles studio. He is dedicated to expanding the office's client base and developing new business. Lamberth was previously director of business development for HOK's global Sports + Recreation + Entertainment practice. Lamberth will continue to collaborate with HOK leaders to serve clients across markets in southern California and Arizona.
---

Fletcher

ARCHITECTURE

Managing Principal

HOK has named Anne Fletcher, AIA, LEED AP, as managing principal of its Los Angeles office. She is responsible for the strategic direction and overall performance of the practice. Fletcher was previously a senior project manager in HOK's New York office. Fletcher will continue to collaborate with HOK leaders to serve clients across markets in southern California and Arizona.
April 9, 2018
---

Fisher

FINANCIAL

Senior Vice President and Senior Portfolio Manager


Tom Fisher, formerly with Wells Fargo Private Bank in San Diego, has joined the Wealth Management team at Montecito Bank & Trust in Santa Barbara, California as senior vice president and senior portfolio manager. He will continue to serve his Southern California clients, but is also excited about the opportunity to return to his hometown after more than 20 years in the San Diego area. Fisher brings over 30 years of investment management experience and most recently managed over $800 million in assets for individuals, families, private foundations and other charitable organizations. With deep roots in the banking industry and a passion for exceptional service, Fisher is a highly distinguished portfolio manager with a focused and knowledgeable approach to providing his clients with objective investment advice and unparalleled results. Montecito Bank & Trust, an S Corporation, is the oldest and largest locally owned community bank in the Santa Barbara and Ventura counties. Founded in 1975, the bank celebrates its 43nd anniversary on March 17, 2018 and operates 11 branch offices in Santa Barbara, Goleta, Solvang, Montecito, Carpinteria, Ventura, Camarillo and Westlake Village. Awarded the 2017 Bank of the Year by Western Independent Bankers, the bank offers a variety of competitive deposit and lending solutions for businesses and consumers. Its Wealth Management Division provides comprehensive trust services and full investment management for all branch office markets.
March 26, 2018
---

Toohill

LEGAL

Partner


Stephen T. Toohill has joined Solomon Ward Seidenwurm & Smith, LLP as a partner in the firm's real estate department. Previously a partner at Dentons, he has 30 years of broad commercial real estate experience with a focus on the representation of commercial, retail, hospitality, industrial and biotech developers, owners and tenants, in acquisition, development, leasing and sale of improved and unimproved property. swsslaw.com
---

Lewis

Nonprofit

President


Del Lewis to lead 2018 Holiday Bowl push

Del Lewis has been elected president of the 2018 San Diego Bowl Game Association by the nonprofit organization's board of directors. He succeeds Marlee J Ehrenfeld. "I am honored to be at the helm of this outstanding civic-minded organization in 2018," Lewis said. "I have thoroughly enjoyed every minute of my involvement with the Holiday Bowl. I think Bowl Week is one of the most exciting and fun-filled weeks of the year here in San Diego." The association's signature event, the San Diego County Credit Union Holiday Bowl, celebrates its 41st anniversary this year. Lewis is a graduate of The United States Merchant Marine Academy. He holds a U.S. Coast Guard Merchant Mariner's license and held the rank of Lieutenant Commander in the U.S. Naval Reserve before honorably resigning his commission. He has served on several non-profit boards, including Hospice of the North Coast, the San Diego Chapter of the March of Dimes and currently as an officer on the Conscious Capitalism San Diego board of directors. Through the company he founded, TriClare Business Holdings, Inc. (TriClare), Lewis builds privately held businesses by partnering with entrepreneurs to create profitable business systems. TriClare invests, and/or raises capital and provides various business resources focused around business operations and corporate finance.
March 19, 2018
---

Tinney

ARCHITECTURE

Senior Workplace Director


Elif Tinney, NCIDQ, IIDA, LEED AP has joined Gensler, the leading global design firm, as Senior Workplace Director. With more than 17 years of experience, Tinney will work with office leadership to drive growth for the interiors team, enhancing the design dialogue along with a focus on client development.
March 12, 2018
---

Buckingham

LEGAL

Partner


Ann Buckingham has been elected a partner of Latham & Watkins in San Diego. A member of the Mergers & Acquisitions Practice, her practice focuses on M&A and joint venture transactions, as well as LLC structures, debt and equity offerings, technology transactions, and general public company representation across industry sectors.
---

Mann

LEGAL

Partner


James I. Mann has been elected a partner of Latham & Watkins in San Diego. A member of the Real Estate Practice, he advises clients on a range of real estate transactions, including acquisitions, dispositions, joint ventures, and development and financing transactions for all property types and a range of projects.
March 5, 2018
---

Wilson Hassig

NONPROFIT

Chief Development Officer


Promises2Kids is pleased to announce the promotion of Emily Wilson Hassig to Chief Development Officer. Hassig comes to the organization with more than eight years of development experience and has been serving as the Director of Major Gifts for Promises. Prior to joining Promises2Kids, Hassig oversaw fundraising initiatives at two Scripps Health hospitals – Scripps Memorial Hospital Encinitas and Scripps Mercy Hospital. "Education and support are the biggest gifts that we can give to our children, because they are the future of our society. It is something that the entire community should make a priority. The programming and services that Promises2Kids provides to the foster youth in San Diego County helps ensure their growth and success in life and I am proud to lead the efforts to make this possible," said Hassig. Promises2Kids creates a brighter future for foster children in San Diego County. From the moment they come into foster care and through to adulthood, Promises2Kids provides the hope, support, and opportunities these special individuals need to change their lives for the better… now and for years to come. Our programs include the A.B. and Jessie Polinsky Children's Center, Camp Connect, Foster Funds, and Guardian Scholars. These programs assist Promises2Kids in its mission to create a brighter future for foster youth®. To learn more about Promises2Kids, please visit www.promises2kids.org.
---

Laug

ACCOUNTING

Partner


Bessolo Haworth, a leading West Coast accounting, tax and business-advisory firm, has promoted a new partner of the firm effective January 1, 2018. Chris Laug, CPA has been a tax and assurance professional with Bessolo Haworth since 2008, working with major corporate clients, high net worth individuals and family groups. The announcement was made by John Bessolo, partner and co-founder of Bessolo Haworth.
---

Whitchurch

ACCOUNTING

Client Relationship Manager


TAG Family CFO is proud to announce that Margo Whitchurch has been promoted to Client Relationship Manager. She will oversee a team of accountants to provide personal financial reporting and bill pay services to the high-net-worth. Working in partnership with trusted advisors, TAG delivers a holistic view of assets and financial holdings.
February 26, 2018
---

Lejuwaan

LAW FIRMS

Partner


Randal Lejuwaan has joined Troutman Sanders' Real Estate practice as a partner in the law firm's San Diego office. Lejuwaan focuses on real property acquisitions, dispositions, leasing and development on behalf of shopping center developers, owners and retailers. He is also a California Real Estate Broker.
February 5, 2018
---

Miller

NONPROFIT

Vice President Risk Management & General Counsel


Mary Miller an R.N. and 15 years working as an attorney in the long-term care industry. Mary has also spent 10 years as a litigator defending care providers across California.
---

Maxwell

Construction

Executive Vice President for Business Development


Bob Maxwell recently joined Layton Construction as Executive Vice President for Business Development in Southern California. Maxwell will use his construction expertise and experience to expand opportunities for Layton Construction within California, focusing on the Los Angeles, Irvine and San Diego areas. More info can be found at laytonconstruction.com.
---

Ritchie

Nonprofit

President


Lisa Ritchie has been elected president of the Association of Fundraising Professionals, San Diego, part of the largest global network stimulating greater philanthropy and positive social change. Vice president with Netzel Grigsby Associates, inc., Ritchie has 28 years of experience working with nonprofits throughout San Diego and the western U.S. A Certified Fundraising Executive (CFRE) with an M.A. in Organizational Management and a B.A. from Scripps College, Ritchie previously worked at Rady Children's Hospital, Scripps Hospitals, and the Jewish Federation. Her awards include American Society of Safety Engineers' Speaker of the Year and Society of Professional Journalists' Distinguished Service Award. Quarterly AFP Learning Labs will be offered this year in collaboration with Sharp HealthCare; University of San Diego and North County Philanthropy Council; and San Diego Zoo Global. Each 2-3 hour intensive session will address compelling topics to improve philanthropic results for many of the region's 10,000 nonprofits and the region, by equipping development professionals, nonprofit executives, board members, and others with fundraising best practices and the most current tools and approaches for success. Ritchie has served on AFP's Board of Directors as an Officer, Vice President of Resource Development, and Vice President of Community Relations. In her work at Netzel Grigsby, she has provided counsel in planning, management, and fundraising to many local nonprofits including: Boys & Girls Clubs of San Diego, Chicano Federation, Flying Leatherneck Historical Foundation, Hope Village Chesed Home, Hubbs-SeaWorld Research Institute, La Jolla Country Day School, Neighborhood Healthcare, Imperial Valley Food Bank, Mission San Luis Rey Parish, and Sanford Burnham Medical Research Institute.
---

Brennan

Economic Development

President & CEO


The Downtown San Diego Partnership is proud to announce Betsy Brennan as its new President and CEO. A New York native, Brennan returns to San Diego as a respected and innovative leader with vast experience in business and economic development, quality of life initiatives, public relations, marketing, fundraising, and political advocacy.
Brennan was selected through an extensive national search, led by San Diego's Blair Search Partners. "The CEO selection process was robust," said Craig Benedetto, Chairman of the Downtown San Diego Partnership Board of Directors. "With more than 400 applicants, the committee worked hard to find the candidate who could best lead the Partnership into the future. Betsy really stood out and had all the pieces we were looking for. We couldn't be more excited about her becoming our new leader and helping us take the organization to the next level." A friend and colleague to many in San Diego, Brennan obtained her Juris Doctor, with a specialization in land use, at USD. Her prior roles include Chief of Staff for then Council President Scott Peters, as well as Chief of Staff to former SDSU President Stephen Weber. Most recently, Brennan served as VP of Development and Stewardship for the Coastal Community Foundation of South Carolina. Brennan will begin her position in late February and will be formally introduced as President and CEO at the Downtown Partnership's Installation Dinner at the Hilton San Diego Bayfront Hotel on March 1st. Please visit https://downtownsandiego.org/ and http://blairsearchpartners.com/ for more information.
---

Valencia

Philanthropic

President & CEO


The Board and Staff at Voices for Children are pleased to announce the appointment of John Valencia as President & CEO. Founded in 1980, Voices for Children (VFC) transforms the lives of abused and neglected children in foster care in San Diego and Riverside Counties by providing them with trained volunteer Court Appointed Special Advocates (CASAs). Last year, VFC CASAs and staff served more than 3,400 foster children across San Diego and Riverside Counties. John Valencia has two decades of senior nonprofit management experience in the areas of higher education, youth mobilization, and environmental sustainability. Most recently, he served as the Vice Chancellor, Workforce and Organizational Development for Grossmont-Cuyamaca Community College District, where he led a team of 180 employees and oversaw a $50 million budget. He is a passionate advocate for foster youth, and has been integral in helping them pursue their education during his time with the Community College District. "I am honored to be joining such an exceptional organization as Voices for Children," said Valencia. "The Board has a clear vision for VFC's continued success, and I look forward to working with the staff, volunteers, donors, and community partners who make this vital program possible for our youth." Valencia was selected through an extensive national search engagement, led by Blair Search Partners of San Diego. Valencia will officially assume the position on February 13, 2018 and will report directly to the Board of Directors. Please visit https://www.speakupnow.org/ and http://blairsearchpartners.com/ for more information.
January 22, 2018
---

Neumann

INSURANCE

Broker and Owner


William Neumann, health insurance broker and owner of Neumann Insurance Agency in San Diego, has been selected by UnitedHealthcare to serve on the AARP Services Inc. (ASI) Agent Advisory Council, a forum established to gather information to help enhance the products and services that benefit AARP members. Neumann is Honorary Chair of the council and one of only 12 health insurance agents nationwide selected to serve on this volunteer council. He was selected for the ASI Agent Advisory Council based on his commitment to serving AARP members, knowledge of Medicare and knowledge of the San Diego community.
---

Chang

ENGINEERING

Regional Manager


Psomas has appointed Agustin Chang as a principal of the firm. Regional manager in the firm's San Diego office, Chang has made significant contributions in the field of engineering during his 40-year career, providing leadership on transportation public works projects for Psomas clients across Southern California.
January 15, 2018
---

Ohanian

BANKING

Senior Vice President and Regional Manager


City National Bank, California's Premier Private and Business Bank®, has hired David Ohanian as senior vice president and regional manager for the Private Banking Division in Orange County and San Diego. Ohanian joins City National with over 21 years of experience in the banking and finance industry. In his new role with City National, Ohanian will be responsible for managing the Private Banking offices in both Orange County and San Diego. Ohanian and his highly skilled Private Banking team provides tailored solutions for high-net-worth families, business owners, corporate executives, as well as professionals and their firms, challenging and solving for their unique goals and objectives. He and his colleagues also work closely with other areas of the bank to deliver an unparalled experience, including Personal and Business Banking's 11 branches throughout Orange County and San Diego, Commercial Banking, and Real Estate Banking. Ohanian served as managing director for Union Bank's Private Bank in San Diego prior to joining City National. During his career, Ohanian has also worked for Comerica, Bank of America, and Morgan Stanley. Ohanian graduated Cum Laude from California State University Fresno, where he majored in Biology. His graduate studies include the University of Pennsylvania, Wharton and National University MBA programs. He is also FINRA licensed.
Ohanian is actively involved in the community serving as a current board member of The Old Globe Theatre in San Diego. He is a past board member of Metro San Diego YMCA and the San Diego Chamber of Commerce.
---

Lacourciere

CONSTRUCTION

Chief Estimator


The Raymond Group, a commercial subcontractor, congratulates Jeff Lacourciere on his promotion to Chief Estimator of its San Diego region. Jeff has 22 years of experience in the industry and detailed construction knowledge. Raymond is confident in his ability to lead the estimating department and drive sales for the division.